Future Treasures: Temple of Elemental Evil Board Game
Future Treasures: Temple of Elemental Evil Board Game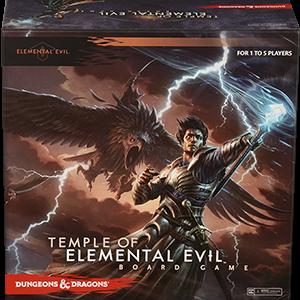 The Temple of Elemental Evil, written by Gary Gygax and Frank Metzner and published by TSR in 1985, is considered one of the greatest RPG adventures ever created. When Dungeon magazine ranked them in 2004, on the 30th anniversary of the Dungeons & Dragons game, The Temple of Elemental Evil was voted the 4th greatest D&D adventure of all time. In his 1991 history of role-playing games, Heroic Worlds, Lawrence Schick wrote "If you like huge classic dungeon crawls, this is probably the best of the lot."
It has seen several incarnations since its original release, including a Fourth Edition re-release of the first chapter, The Village of Hommlet, and a popular computer game version, developed by Troika Games and published by Atari. It remains the only computer game ever released set in Greyhawk.
Now Wizards of the Coast is converting this grandaddy of all dungeons crawls into a board game, to be released in April of this year. Here's the description from the WotC website:
In the Temple of Elemental Evil board game, you play as a heroic adventurer. With amazing abilities, spells and magic weapons, you must explore the dungeons beneath the Sword Coast where you will fight monsters, overcome hazards and find treasure. Are you ready for adventure?

The Temple of Elemental Evil board game features multiple scenarios, challenging quests and cooperative game play designed for 1-5 players. The contents can also be combined with other D&D Adventure System Cooperative play board games, including The Legend of Drizzt and Castle Ravenloft.
The Temple of Elemental Evil board game is part of the Elemental Evil product line launched earlier this year, as reported by Andrew Zimmerman Jones in his Jan 24th article "Elemental Evil Attacks Dungeons & Dragons."
We don't have a lot of additional details on the rules, but WotC did release this pic of the box contents, which look very promising: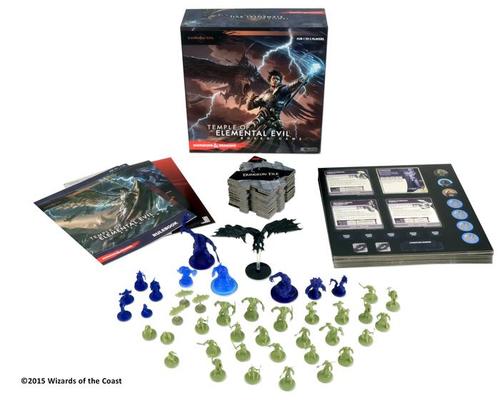 We've covered The Temple of Elemental Evil and its various reprints before, most recently in the following articles:
Art of the Genre: The Artistic Mystery of The Temple of Elemental Evil and the Turmoil of 1985 TSR by Scott Taylor
The Dungeons (and Dragons) of My Life, Part One by Jon Sprunk
Four Modules by James Maliszewski
io9 Looks at the Megadungeon
Get The Temple of Elemental Evil for Free at DriveThruRPG
The Secret Supplement: Greyhawk, Gygax, and Outdoor Survival
The Seven Greyhawk Classics of the Ancient World
A Return to The Village of Hommlet (4E Style)
The Art of Storytelling and The Temple of Elemental Evil by Matthew David Surridge
Black Gate Recommends… The Temple of Elemental Evil
Wizards of the Coast has released several D&D board games, including:
Castle Ravenloft
The Legend of Drizzt
Wrath of Ashardalon
Lords of Waterdeep
Conquest of Nerath
Temple of Elemental Evil will be published on April 30, 2015 by Wizards of the Coast. The retail price is $64.99. See more details at the WotC website.