A Return to The Village of Hommlet (4E Style)
A Return to The Village of Hommlet (4E Style)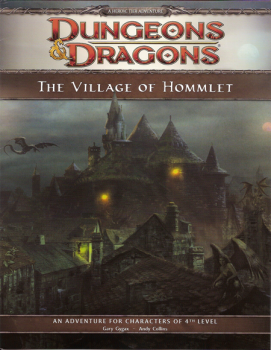 How cool is this? Wizards of the Coast has released an updated version of Gary Gygax's 1979 classic The Village of Hommlet, one of the most celebrated AD&D adventures and the first part of the notoriously difficult Temple of Elemental Evil mega-campaign, revised to run in the 4th Edition of Dungeons and Dragons. The new version was updated by Andy Collins and is suitable for fourth level characters.
Oh, wait. "Released" is too strong a word. The module was actually a free giveaway WotC mailed to RPGA  members as a DM Reward, and is not available for sale (unless you count eBay, where copies are currently selling for around $50.) Curses!
If you're the creative sort, Familiar Ground is offering a free copy for one lucky winner, selected randomly from all those who leave a comment with a "gaming or RPG related joke or funny incident." Deadline is Aug 31.
The original module is still played today by die-hard fans.  It's been converted to a popular computer game, and the back-story behind it all is annually re-enacted as a tabletop miniatures game at Garycon.  Not bad for a module that's been out of print for over two decades.
I have fond memories of the original.  And when I'm 80, I hope to have fond memories of tracking down this one.  Let the search begin.