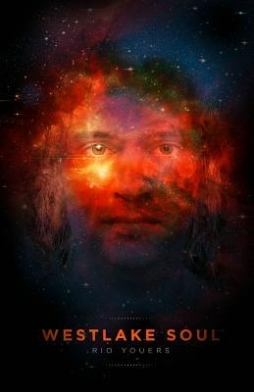 Westlake Soul is twenty-three, a good-natured surfing champion with a loving family, loving girlfriend, and loving dog. Then a terrible fall leaves him in a vegetative state, unresponsive to the outside world — but, locked in his own mind, he's a superintelligent superhero, astrally projecting to the moon and battling the mysterious villain named Doctor Quietus. Westlake can't affect the outside world; can't even twitch a finger, can only sit and be cared for by his mother and father and little sister, and the nurses they hire. But he can see what goes on around him, and react, if only internally.
Rio Youers' novel Westlake Soul is Westlake's account of his life and opinions, and of his fights against Doctor Quietus. Youers pulls off a tricky proposition; Westlake's completely incapable of actually doing anything, of changing anything in his physical environment. He can only view the world, describing what he sees and how he feels. That ought to make him too passive to work as the centre of a story — and make no mistake, more than simply a narrator, Westlake is the heart of his own story, speaking as he does with the unselfconscious egocentrism of youth — but it is precisely his struggle to make a change, to accomplish even the smallest of actions, that becomes involving.
In fact, the book succeeds due to its directness of affect. Westlake Soul's had no choice but to become thoughtul and empathic, and those qualities, along with a certain precision of diction, make his voice endearing and highly readable. The book doesn't hesitate to tug at the heartstrings, but the writing's effective: it feels like a kind young man's voice. And Youers deploys that voice nicely, giving us Westlake's observations of both his exterior and interior worlds, keeping things moving briskly.
---