Aqueduct Press releases The Moment of Change, an Anthology of Feminist Speculative Poetry
Aqueduct Press releases The Moment of Change, an Anthology of Feminist Speculative Poetry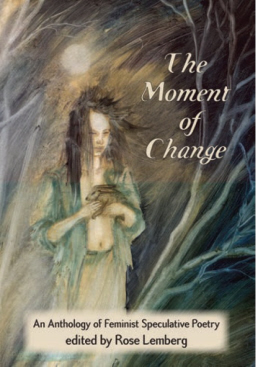 I've received word this morning that contributor copies of Aqueduct Press's The Moment of Change have started to arrive, and the book is now available for order on their website.
The Moment of Change is an anthology of feminist speculative poetry with an absolutely stellar line-up of contributors, including Ursula K. Le Guin, Jo Walton, Delia Sherman, Catherynne M. Valente, Theodora Goss, Phyllis Gotlieb, Yoon Ha Lee, Nisi Shawl, Greer Gilman, Sonya Taaffe, JoSelle Vanderhooft, and Nicole Kornher-Stace.
It also includes two members of Team Black Gate: two poems by Amal El-Mohtar, "Pieces" and "On the Division of Labour," and a long poem by our website editor, C.S.E. Cooney,  "The Last Crone on the Moon." The anthology is edited by Rose Lemberg, and she's posted the complete Table of Contents here. In her introduction she writes:
In these pages you will find works in a variety of genres — works that can be labeled mythic, fantastic, science fictional, historical, surreal, magic realist, and unclassifiable; poems by people of color and white folks; by poets based in the US, Canada, Britain, India, Spain, and the Philippines; by first- and second-generation immigrants; by the able-bodied and the disabled; by straight and queer poets who may identify as women, men, trans, and genderqueer.
I had the pleasure of listening to C.S.E. read "The Last Crone on the Moon" last year at the monthly Top Shelf Books Open Mic here in Chicago, and it is worth the price of the book alone.
Rose Lemberg and many of the contributors will be reading from The Moment of Change at Wiscon in Madison, Wisconsin this weekend. I'll be there, and I'm looking forward to it.
The Moment of Change is 174 pages in paperback. The cover art is by  Terri Windling. It sells for $20.