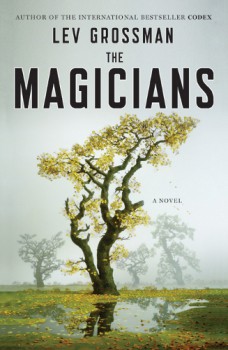 The Magicians
Lev Grossman
Viking (416 pp, $16.00, August 2009 – May 2010 paperback edition)
Reviewed by Chris Braak
Lev Grossman's The Magicians makes an admirable attempt at an ambitious premise: is it possible to use the form and structure of Harry Potter to tell a story about ennui, dissipation, and cynicism? What is the difference between the childhood wonder evoked by the "you're such a special child" childrens' fantastic literature — with its black and white morality, its uplifting sense of meaning and hope — and the obdurate, insistent messiness of real grown-up life?
The Magicians follows Quentin Coldwater, a brilliant, industrious high school student who spends his time working obscenely hard at schoolwork for ends that are not entirely clear to him, as he is selected for and matriculates at a secret school for wizards in upstate New York. The story self-consciously mimics such similar novels as Harry Potter and the Sorcerer's Stone, except it equally self-consciously subtracts the moral clarity, the battle against ultimate evil, and the soul-building trials of its main character's childhood.
---