R.I.P. Realms of Fantasy
R.I.P. Realms of Fantasy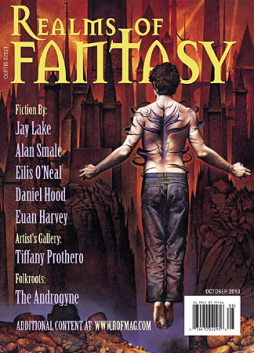 Tir Na Nog Press has shuttered Realms of Fantasy magazine, this time apparently for good. Its last issue was September/October, pictured at left.
Realms of Fantasy was one of the few remaining professional fantasy fiction magazines. Founded in October 1994 by Sovereign Media as a sister magazine for Science Fiction Age, it published acclaimed  fiction from some of the biggest names in the industry. Its long-time fiction editor was Shawna McCarthy.
In addition to fiction and top-notch review columns, the magazine was well known for its slick look and thoroughly professional design, and it pioneered a mix of art and fiction with gorgeous color galleries of top fantasy artists virtually every issue.
In a controversial move early this summer, publisher Warren Lapine threatened to close the magazine if enough subscribers didn't renew — which generated some lively discussion on whether publicizing approaching doom was a workable marketing tactic for a modern magazine. [Looks like it wasn't.]
In his farewell note, Lapine complains about how much money the magazine cost him, and offers to sell it to "a responsible party" for $1. He claims the December issue is ready for publication, and will be released in PDF format on the website for free download by subscribers. He is also closing his vampire magazine Dreams of Decadence.
Realms of Fantasy was well known for discovering and nurturing writers who have since gone on to stellar careers, something done by fewer and fewer magazines. Its departure leaves a significant void in the industry.