The end of Realms of Fantasy begs the question: Too much fantasy on the market?
The end of Realms of Fantasy begs the question: Too much fantasy on the market?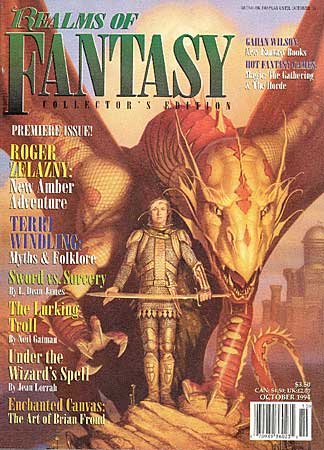 This post over on the Cyclopeatron blog closely mirrors my own thoughts on why I think Realms of Fantasy and other magazines in the short fiction market are largely a dying or endangered breed.
It's not necessarily the bad economy (though I don't doubt this is a contributing factor). And it's not necessarily the changing face of publishing, which is moving from print periodicals to PDF and/or web delivery (though this likely is a contributing factor, since publishers of all stripes have struggled with monetizing content delivered on the web).
Rather, like Cyclopeatron, I've long believed that there's simply too much fantasy fiction on the market, and that magazines have gotten the squeeze as a result.
At first this may seem like a ridiculous notion. Realms of Fantasy, one of the few remaining print fantasy magazines in the market, goes under, and it's because there's too much fantasy for it to complete against? Yes, at least in my opinion. Here's why.
When a new book or magazine arrives in the market, it's got to vie for its audience's limited reading time with a metric ton of competition. And this competition is not just in the form of other new releases currently on the shelves. It's from the tremendous backlog of already published stories now available to your average fantasy reader.
Realms of Fantasy was never my cup of tea (too much high fantasy and not enough shield walls and treasure plundering heroes), but out of curiosity, its high production values, and a sense of obligation to the fantasy market, I have purchased a few issues over the years. But inevitably I never made it through an entire issue. I meant to, but after I brought them home they had to compete with the towering unread stack of books on my groaning bookshelf, all of whose subject matter relates to and competes with the stories you might find in Realms of Fantasy. For example:
• The Wind's Twelve Quarters (Ursula LeGuin)
• Swords from the Sea and Swords from the East (Harold Lamb)
• Heroic Visions (Jessica Amanda Salmonson, ed.)
• Flashing Swords (Lin Carter, ed.)
• The Swords series (Fritz Lieber's tales of Fafhrd and the Gray Mouser)
• Dark Forces (Kirby McCauley, ed.)
• The Mammoth Book of Best New Horror (Stephen Jones, ed.)
• The Year's Best Fantasy Stories (Arthur W. Saha, ed.)
• Tales of Mystery and Imagination (Edgar Allen Poe)
• Excalibur (Richard Gilliam, Martin Greenberg, Edward Kramer, eds.)
• Winners (Poul Anderson)
• The Coming of Conan, The Savage Tales of Solomon Kane, and Kull: Exile of Atlantis (Robert E. Howard)
The above is just a small sampling of the short stories I have at my disposal. Realms of Fantasy has to compete with anthologies. Collected short stories of grand masters and talented mid-listers alike. More books than I can read in the next couple years if I quit my day job and dedicated myself to the task.
And the above are just the short stories. If you throw in novels—books by authors like George R.R. Martin, Bernard Cornwell, Gene Wolfe, Neil Gaiman (the list goes on and on)—what hope does a fantasy magazine truly have? There are some great new and mostly unknown authors working the fantasy field today (I know, I've read a few) but there's also a world of old material still waiting to be explored. And fantasy fiction does not get dated—I still love reading H. Rider Haggard and William Morris as much as Martin, for example.
This post is not written to discourage new authors from writing and publishing in the field (the good ones, the driven ones, won't let anything I or anyone else write stop them anyway, and they shouldn't), but this is just one avid reader's honest appraisal of the situation. Between new books hitting the market, and older books readily available in used bookstores or on sites like Abebooks.com, the market is fairly saturated. To be successful in this environment you need a niche. Black Gate for example focuses mainly on heroic/swords and sorcery style fiction, a sorely underrepresented sub-genre of fantasy in my opinion, and continues to roll the presses. If you don't, chances are you'll just get lost in the shuffle.
In short, it's a great time to be a fantasy reader. I'm just not sure it's a great time to be a publisher.