Realms of Fantasy on Realms of Fantasy
Realms of Fantasy on Realms of Fantasy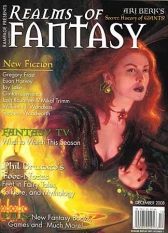 Following some of the recent discussion on the future of the magazine, including the Wednesday report here on the Black Gate blog that publisher Warren Lapine had written to warn subscribers that it might be shut down, Realms of Fantasy editor Douglas Cohen has weighed in with a State of the Union piece on the Realms website.
Creatively speaking, RoF's future is looking bright and there is a lot to be excited about. Financially speaking… It's fair to say we're currently navigating some choppy waters. Behind the scenes, there has been some sacrifice involved in RoF reaching this point…. If we can get through this rough patch the magazine could be secure and stable for a very long time.
There's been plenty of debate on both the announcement and just how fans should respond in other quarters as well, including a discussion kicked off by Nick Mamatas on how the magazine might have gotten the message out without appearing quite so doomed, some comments from long-time RoF (and Black Gate) author Richard Parks, a news story at Examiner.com, an exchange with editor Douglas Cohen at The Dreaded Sword, and of course ongoing discussion right here at Black Gate.
It's tempting to treat this as just a news story and remain objective, but I'm not going to do that. Regardless of how you feel about how the message got out, Realms of Fantasy is a terrific magazine, one of the few professional fantasy publications that will publish and promote new writers, and it deserves your support. 
You can buy a subscription here for just $19.99 for a full year.