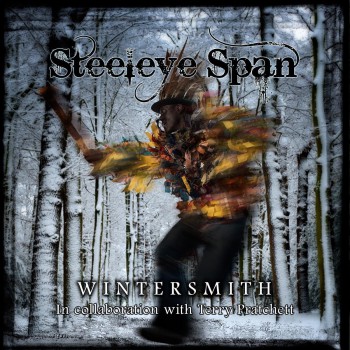 In late 2013, a strange event occurred: Steeleye Span, a British band that has outlived just about all other contenders except the Rolling Stones, released a CD entitled Wintersmith.
Coincidence? After all, there's a Discworld spin-off by that name, too, a Terry Pratchett novel aimed at the young adult market and starring the infinitely resourceful tween witch, Tiffany Aching. Could there be a connection?
Indeed. It turns out that Pratchett has been a fan of Steeleye since the early seventies ("Boys Of Bedlam" was a particular favorite), and Steeleye's lead vocalist, the incomparable Maddy Prior, has been, in turn, an unabashed fan of Pratchett's. They got to talking, and next thing you know, the world was gifted with a terrific fantasy-driven album of folk, rock, and traditional Morris dances, all tied together by the Great A'Tuin and a nasty case of winter.
Pratchett's Wintersmith is the third installment in the irregular Tiffany Aching series, a sort of sideline to the "official" Discworld novels (The Color Magic, et al). The story centers on Tiffany's impulsive decision to "dance the Dark Morris," a rite that shifts summer to winter – except that when Tiffany includes herself, both summer and winter, elemental godlings, take note of her and seek, in their own ways, to possess her. Tiffany now faces the possibility of endless winter, in the demi-human form of a smitten teenage boy.
---