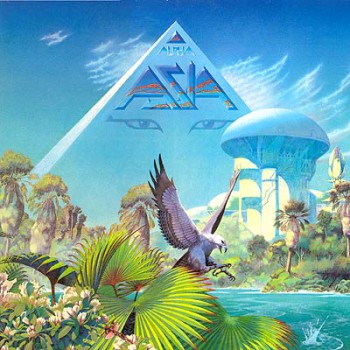 There was a time back in my middle-school days when friends of mine were allowed to join those 'record clubs' that you could find in magazine ads. You might remember these deals, where you'd pay like a penny and get twelve cassette tapes if you promised to buy six at regular price over the next year. Now for an eleven-year-old, this was a pretty significant addition to a small tape collection, so imagine my chagrin when I'd see friends show up with all this new music and me still with such a modest collection.
It was during one of these bulk purchases that my best friend at the time, Jason, picked up a copy of Asia Alpha. Jason eventually moved away after 7th grade, but years later, we became roommates in college during our freshman and sophomore years in the dorm. During our time together, around 1990, I purchased an Asia collection (Then and Now) on disc and Jason asked what I'd purchased. When I told him, he replied 'I don't know that band', and I was like, 'What!? You owned Asia Alpha back in middle school!' and he was like 'I did?' I guess the moral of that particular story is that when providing twelve tapes at once to an eleven-year-old, it might be more about the bragging rights and cool factor than the music.
Anyway, the prime reason I'd remembered he had the tape was that the album cover was so incredibly cool. It was far beyond anything I'd seen at the time and to this day I'm still pretty enchanted with it. Many years would pass before I discovered that the artist was Roger Dean, and that he'd been doing funky and incredible alternate fantasy images for more years than I'd been alive.
---