Future Treasures: Sustenance, A Novel of the Count Saint-Germain, by Chelsea Quinn Yarbro
Future Treasures: Sustenance, A Novel of the Count Saint-Germain, by Chelsea Quinn Yarbro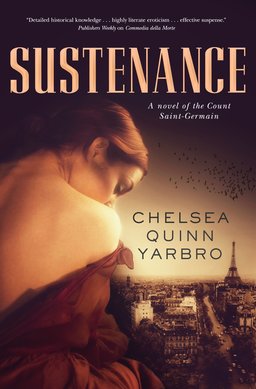 I was pleased to be at the Awards ceremony at the World Fantasy Awards last weekend when Chelsea Quinn Yarbro was presented with a Lifetime Achievement Award. Yarbro virtually invented the vampire romance, perhaps the most popular fantasy sub-genre of the past decade, with her popular Count Saint-Germain novels, the tales of gentleman vampire Saint-Germain and his adventures down through the centuries, beginning with Hôtel Transylvania in 1978. Sustenance, the 27th novel in the series, which finds the Count caught up in Cold War politics in 20th Century Europe, will be released next month.
Just after World War II, Saint-Germain travels throughout Europe, determining what of his business and properties survived the war, and offering what comfort and aid he can to refugees. Charis Treat, an American writer, academic, and professor, is one such. Persecuted by the House Un-American Activities Committee, Charis has left her husband and young sons in the United States and fled to Paris, falling in with a community of expatriate intellectuals.

When they meet, Saint-Germain is taken by Charis's intelligence and by her grace under pressure, and they soon begin an affair. She introduces him to the other expats, and in so doing, brings him under the scrutiny of the fledgling CIA, who are determined to squelch Communist sympathizers at home and abroad. Such close examination might expose the vampire's true nature, but Saint-Germain has long practice at convincing duplicity.

The expats are not so lucky. Illniss, accidents, and death begin to winnow their numbers, Saint-Germain wonders if the accidents are truly accidents, or if there is a traitor in their midst. In an international game of cat and mouse, it's difficult to determine who is the prey and who is the predator.
Sustenance will be published on Dec 2 by Tor Books. It is 480 pages, priced at $29.99 in hardcover and $14.99 for the digital edition. Read an excerpt here.
We've covered several Chelsea Quinn Yarbro novels in previous articles:
Hôtel Transylvania
Sustenance, A Novel of the Count Saint-Germain
Night Pilgrims: A Saint-Germain Novel
To the High Redoubt
Ariosto
Goth Chick News: Vampire Novel of the Century? I'll Be the Judge of That