Vintage Treasures: Hôtel Transylvania by Chelsea Quinn Yarbro
Vintage Treasures: Hôtel Transylvania by Chelsea Quinn Yarbro
Chelsea Quinn Yarbro has written over 70 novels, and has received many of the highest honors the field can bestow. She was named a Grand Master at the World Horror Convention in 2003, and the International Horror Guild named her a "Living Legend" in 2005. In 2009 the Horror Writers' Association presented her with the Bram Stoker Lifetime Achievement Award, and in 2014 she was honored with the World Fantasy Award for Life Achievement.
But she is most widely known for her long-running historical horror series featuring the vampire Count of Saint-Germain. The gentleman vampire Saint-Germain has featured in 26 novels and two collections, detailing his adventures down through the centuries, from the reign of emperor Heliogabalus in 3rd century Rome (Roman Dusk) to his escape from Genghis Khan in Tibet and India (Path of the Eclipse), 6th Century China (Dark of the Sun), France during the Reign of Terror (Commedia della Morte), and the rise of the Nazi party in Germany (Tempting Fate).
The Count first appeared in Hôtel Transylvania in 1978, set in Paris in 1744. The novel was an immediate success, and he returned in The Palace the same year. The Palace was nominated for a World Fantasy Award (and was voted #11 for the Locus Award for Best Novel of the Year), and thus began one of the most successful horror series in the English language.
[Click the images for bigger versions.]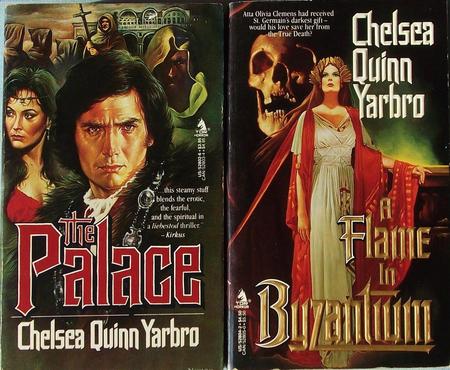 Hotel Transylvania was reprinted in paperback by Signet in 1979 (above left; cover artist unknown), and has appeared in several editions since. Tor reprinted it in February 1988, with a wraparound cover (above middle), and Warner Books published another mass market edition in September 2002 (above right, cover by Phil Heffernan.)
There was also a spin-off series of Atta Olivia Clemens novels, featuring the woman Saint-Germain turned into a vampire. It consisted of three novels:
A Flame in Byzantium (1987)
Crusader's Torch (1988)
A Candle For D'Artagnan (1989)
Horror/romance became one of the most popular fantasy genres of the 21st Century, and countless tales of doomed love affairs between vampires and humans have been told in the last 20 years, from Buffy the Vampire Slayer to Twilight to The Vampire Dairies. But Chelsea Quinn Yarbro pioneered the genre nearly 40 years ago, and arguably did it better.
Here's the book description for Hotel Transylvania:
House of Eternal Passion — Paris, 1744

It was the nightmare home of occult rites of ravishment, where beauty was made to serve evil, and the jaws of horror closed over innocence.

It was the decadent playground of an aristocratic society riddled with rumors about the handsome, charming man any woman would die to love…

It was here that the irresistible Count Saint Germain and the exquisite Madelaine De Montalia came together. He, doomed to live forever and always to kill the one he loved, struggling now against the purest passion and most gnawing temptation he had ever known. She, desperately enamored of this compelling vampire who refused to grant her his ultimate act of love, and threatened by a fate that made the kiss of death seem sweet….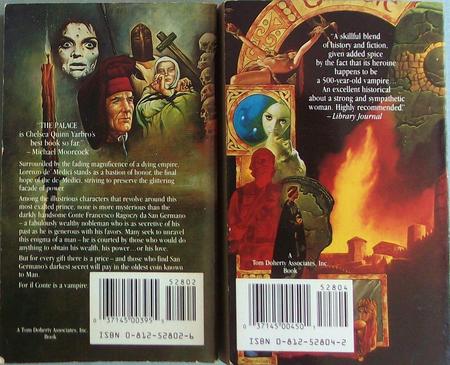 Art by Maren (left) and Sanjulian (right)
As of 2015, the tales of the Count of Saint-Germain encompass 26 novels and two short story collections:
Hôtel Transylvania (1978)
The Palace (1978)
Blood Games (1980)
Path of the Eclipse (1981)
Tempting Fate (1982)
The Saint-Germain Chronicles (collection, 1983)
Out of the House of Life (1990)
Darker Jewels (1993)
Better In The Dark (1993)
Mansions of Darkness (1996)
Writ in Blood (1997)
Blood Roses (1998)
Communion Blood (1999)
Come Twilight (2000)
A Feast in Exile (2001)
Night Blooming (2002)
Midnight Harvest (2003)
Dark of the Sun (2004)
States of Grace (2005)
Roman Dusk (2006)
Borne in Blood (2007)
Saint-Germain: Memoirs (collection, 2007)
A Dangerous Climate (2008)
Burning Shadows (2009)
An Embarrassment of Riches (2011)
Commedia della Morte (2012)
Night Pilgrims (2013)
Sustenance (December 2014)
We've covered several Chelsea Quinn Yarbro novels in previous articles:
Hôtel Transylvania
Sustenance, A Novel of the Count Saint-Germain
Night Pilgrims: A Saint-Germain Novel
To the High Redoubt
Ariosto
Goth Chick News: Vampire Novel of the Century? I'll Be the Judge of That
Hotel Transylvania was first published in hardcover by St. Martin's Press in 1978, and reprinted by Signet / New American Library in January 1979. It is 279 pages in paperback, priced at $1.95. The cover artist is unknown.
See all of our recent Vintage Treasures here.