The Ballantine Adult Fantasy Series: The King of Elfland's Daughter by Lord Dunsany
The Ballantine Adult Fantasy Series: The King of Elfland's Daughter by Lord Dunsany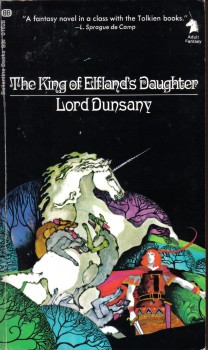 The King of Elfland's Daughter
Lord Dunsany
Ballantine Books (242 pages, June 1969, $0.95)
Cover art by Bob Pepper
The second volume Lin Carter chose for the Adult Fantasy line was Lord Dunsany's The King of Elfland's Daughter. In my opinion, it is it far superior to Fletcher Pratt's The Blue Star.
The "Lord" in the author's byline isn't an affectation. Edward John Moreton Drax Plunkett was the 18th Baron Dunsany (1878-1957). He was a tall, lean man. His accomplishments could put most people to shame. Soldier, Member of Parliament, author, poet, playwright, chess champion, hunter, and sportsman.
Dunsany began his writing career with short fiction, set mostly in imaginary lands and much of it slight in terms of plot and character. These tales greatly influenced H. P. Lovecraft, who wrote in this vein until moving on to develop the Cthulhu mythos.
Dunsany's later series about Jorkens concerns a man who tells tall tales in a bar for drinks. These stories were the precursors of and influences on Arthur C. Clarke's White Hart, L. Sprague de Camp and Fletcher Pratt's Gavagan's Bar, and Sterling E. Lanier's Brigadier Ffellowes. A further discussion of Dunsany's influence can be found here.
Dunsany turned to writing novels after publishing a number of short fiction collections. Among his novels, many consider The King of Elfland's Daughter to be his finest. Lin Carter gives a brief introduction, not only discussing this particular work,but Dunsany's work in general.
Set in the kingdom of Erl, the story opens with a parliament of craftsmen making an unusual request of the king. They want to be ruled over by a monarch who is "a magic lord." He grants their request, but tells his son Alveric that it is not from wisdom that they make this request. And indeed, the parliament will come to deeply regret their request before the book's final page is turned.
In order to have a magic lord, someone of magic blood must marry into the royal line. Alveric visits a witch who lives on the heights above the valley. Following her instructions, he gathers lightning bolts from under her cabbages. With them she makes a magic sword.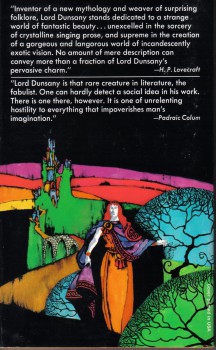 Alveric then heads towards Elfland. While there, he meets the King's daughter, Lirazel, and convinces her to return with him. Avleric has to slay the King's champions with his sword so they can escape.
Upon his return, Alveric learns that ten years have passed in Erl, although he was only gone a couple of days by his reckoning. He and Lirazel marry and have a son, Orion. They enlist the witch who made his sword to be his nurse. Although she loves Alveric, Lirazel is never able to make the transition to the lands of men, called by Dunsany "the fields we know".
The King of Elfland, meanwhile, is not pleased. He summons a troll and sends him with a rune to give to Lirazel. This isn't your Tolkien troll that will turn to stone when exposed to sunlight. Rather, he's more of a free spirited, simple-minded boy. The troll delivers the rune, but rather than reading it, Lirazel puts it away.
Not long afterwards, she has a spat with Alveric and reads it. Immediately, a wind blows her back to Elfland. The borders of Elfland roll up and withdraw from near the fields we know, leaving a vast wasteland.
Consumed by grief,Alveric gathers a small band of misfits, dreamers, and madmen and goes on a quest to find Lirazel. Orion, like his namesake, grows up to become a hunter. It's at this point that Dunsany's love of hunting and the outdoors shows. The chapters devoted to Orion hunting are among the most detailed in the book.
At first, Orion hunts stags, but then he catches sight of a unicorn which has wandered over the border from Elfland. Unicorns become Orion's preferred prey and he becomes consumed with hunting them. The lengths to which he goes in hunting unicorns will bring more magic to Erl than the parliament ever dreamed.
All these threads are brought together, but I'll let you read the book to find out how. I'd like discuss some things in general about this novel.
First, Dunsany's prose, which has a distinct style all its own. But it definitely isn't written in a style that is common today. It's an older, almost archaic type of writing. I suspect most modern readers would find it not to their liking.
And that's a shame, because it's quite beautiful and I found it easy to read. The prose in The Blue Star is in a style that, while also old fashioned, isn't nearly as out of date as The King of Elfland's Daughter. Yet I found the latter much more enjoyable. Dunsany's prose has a poetry and a lyricism to it that Pratt's is sorely lacking. Dunsany was a joy to read at times. Too often Pratt felt like work.
Here's an example, where the troll who is bringing the rune to Lirazel is chased by a dog:
The troll began at once to rise and dip over the buttercups as though he had almost borrowed its speed from the swallow and were riding the lower air. Such speed was new to the dog, and he went in a long curve after the troll, leaning over as he went, his mouth open and silent, the wind rippling all the way from his nose to his tail in one wavy current. The curve was made by the dog's baffled hopes to catch the troll as he slanted across. Soon he was straight behind; and the troll toyed with speed; breathing the flowery air in long fresh draughts above the tops of the buttercups. He thought no more of the dog, but he did not cease in the flight that the dog had caused, because of the joy of the speed.
Or this one where Orion is hunting a unicorn:
In that first rush the hounds drew far ahead of Orion, and this enabled him to head the unicorn off whenever it tried to turn to the magical land; and at such turnings he came near his hounds again. And the third time that Orion turned the unicorn it galloped straight away, and so continued over the fields of men. The cry of the hounds went through the calm of the evening like a long ripple across a sleeping lake following the unseen way of some strange diver. In that straight gallop the unicorn gained so much on the hounds that soon Orion only saw him far off, a white spot moving along a slope in the gloaming. Then it reached the top of a valley and passed from view.
I realize that I may be in the minority here. Most modern readers, especially those whose reading has been limited mainly to works published in the last few decades, will find Dunsany more work than they're used to.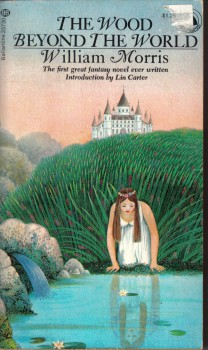 The only quibble I have with Dunsany was that he tended to use the phrase "the fields we know" a bit overmuch. I should mention that he also occasionally broke authorial voice and directly spoke to the reader. While this didn't really bother me, I know it will annoy some people.
The King of Elfland's Daughter isn't sword and sorcery, but there are things in it, such as the sword forged from lightning bolts, that will appeal to S&S readers. Dunsany blends several diverse elements in the book, creating something that doesn't really fall into any of the subgenres in the field today. There are elements of fairy tales, quests, and tragedy in the book. In my opinion, the sum is greater than the whole of its parts.
Overall, I found The King of Elfland's Daughter highly enjoyable. This is one I heartily recommend, with the caveat that it probably won't be a style of writing you're used to. Also, don't read it right before bed. Dunsany takes his time telling the stories, describing things. While the book never drags, it doesn't race ahead with the breakneck pace of, say, Robert E. Howard.
There are two additional novels and three short story collections by Dunsany in the Adult Fantasy series. My general rule of thumb is one title per author in this series, at least until I've covered a number of the authors. After reading the King of Elfland's Daughter, I'm certainly interested in reading them at some point.
The next book in the series is The Wood Beyond the World by William Morris. I tried Morris about 10 years ago. He's going to be work. I don't guarantee I'll finish it, but I'll give it my best. If I don't make to the end, I'll at least publicly acknowledge my failure and tell you why.