Blogging Marvel's The Tomb of Dracula, Part Twelve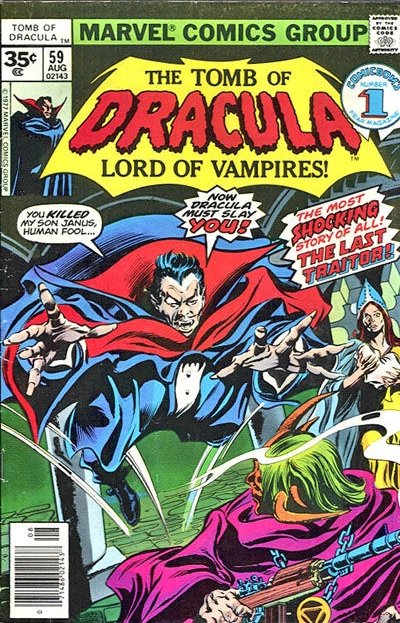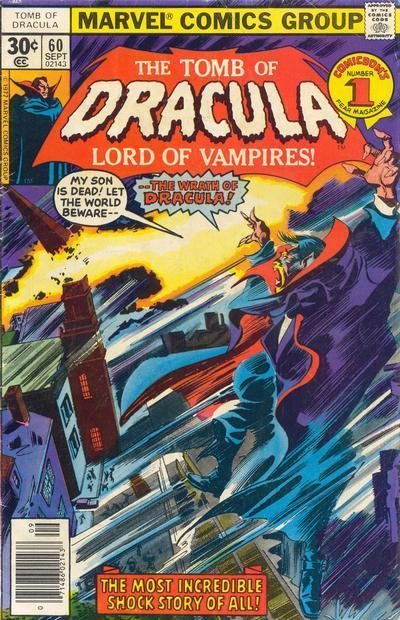 The Tomb of Dracula #59, "The Last Traitor" starts off with Quincy Harker, Frank Drake, Rachel Van Helsing, and Harold H. Harold feeling uneasy that Anton Lupeski has armed them with rifles and silver bullets as the group plots to assassinate Dracula at a feast in honor of his son's birth to be held that weekend. Gene Colan's depiction of Lupeski is eerily lifelike. The group is conflicted by their contempt for Lupeski and their desire to end Dracula's reign of terror. Marv Wolfman gets in some nice digs about Freedom of Religion protecting Satanists as well as Christians with Lupeski saying that one day they will see whose God is stronger. We then switch to a brief domestic scene between Dracula and Domini as the vampire expresses his awareness that Lupeski seeks to undermine his power at the upcoming feast in his son's honor. The vampire then sets out to hunt and picks as his victim an attractive night school teacher whom Dracula saves from an attempted rape by one of her students only to attack her himself. From there the action quickly shifts to the night of the feast in Janus' honor. Lupeski, clad in his ceremonial mask and robes, proclaims the infant Janus the New Leader of the Dark Church just as Quincy, Rachel, Frank, and Harold burst in and the gunplay begins. Lupeski's bloodlust gets the better of him and he brandishes a rifle as well and in the ensuing battle, Janus is inadvertently struck by a bullet and killed. Dracula is overcome with rage as he knocks Lupeski to the ground and crushes his face with his bare hands, killing the treacherous high priest. Domini turns in prayer to the portrait of Christ that hangs in the deconsecrated church and declares there are to be no more deaths. She orders Quincy, Rachel, Frank and Harold to depart quickly. She then informs Dracula that she acts on Christ's commands and beseeches her husband to turn aside from his dark path and embrace her Savior. Dracula's anger gives way to bewilderment as he transforms into a bat and flees from the church telling Domini he cannot do what she asks of him.
#60, "The Wrath of Dracula" is simply a stunning character study of an enraged lost soul in his darkest hour. Dracula drives Domini off and proceeds to destroy the deconsecrated church (with the exception of the painting of Christ that he is unable to touch). As his anger subsides, his grief turns to introspection as he recalls his cruelty to his first wife and his misogynistic behavior toward his female servants and finally his broken relationship with his daughter, Lilith. Overcome with emotion, he flies to the top of a building in downtown Boston in the midst of a terrible storm and declares that his entire life has been a lie that must finally end. Filled with all of the pain he and his family have endured, he swoops down to attack an attractive woman braving the rain far below only to check himself when confronted by her young son. Climbing atop a church tower in the heart of the storm, Dracula begs God to strike him down and end his suffering. When the lightning fails to kill him, he is once again enraged believing that God mocks him because he is already damned. Dracula vows to end God's power over mankind and transforming into a bat, he flies off into the night. The issue ends with a brief epilogue showing Domini at Janus' grave at dawn as she promises her son to find a means of resurrecting him.