Blogging Marvel's The Tomb of Dracula, Part Nine
Blogging Marvel's The Tomb of Dracula, Part Nine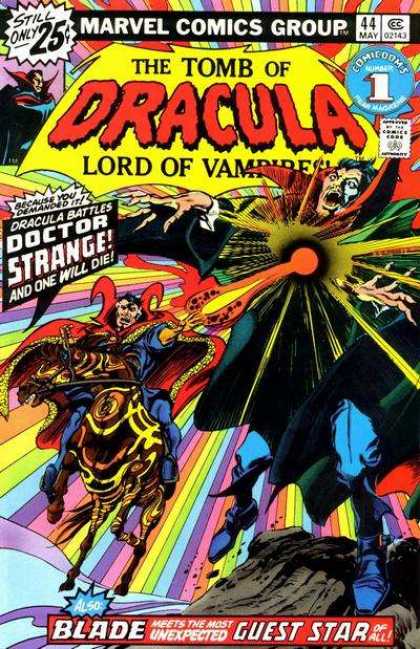 The Tomb of Dracula #44, "His Name is Doctor Strange" kicks off the series' crossover with Marvel's flagship occult title, Doctor Strange. The crossover was a natural choice given the characters and the fact that artist Gene Colan had a past association with Marvel's Master of the Mystic Arts. Admittedly, the physical resemblance between Colan's rendition of Stephen Strange and the Lord of Vampires is a bit too close for comfort, but Marv Wolfman delivers a solid script that makes the crossover fun despite failing to live up to the potential of what the meeting between these two characters might have been.
The story gets underway with Strange retrieving his faithful manservant, Wong from the crystal ball he had mystically disappeared into only to find his valet has been bitten by a vampire. Strange enters the crystal ball and visits the past to see Wong interrupting Dracula's attack on an innocent woman and then watches through Wong's eyes as the vampire turns on his manservant. This intriguing set-up sets Strange off to put an end to Dracula's reign of terror. From here, we segue to a largely pointless comic relief subplot where tabloid journalist Harold H. Harold is incensed to learn that his publisher's sexy, but dimwitted receptionist Aurora Rabinowitz has sold her story about their encounter with Dracula and earned a byline.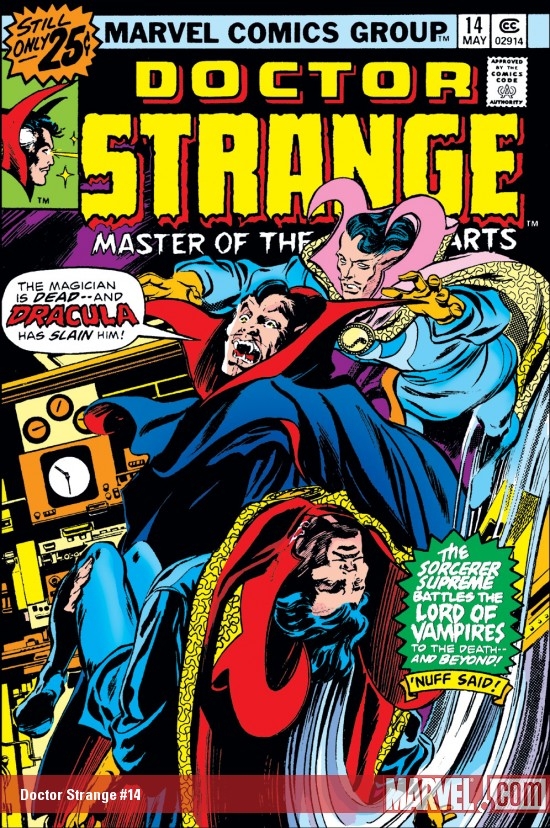 From there, we move to the much more interesting subplot involving the white-haired vampire who is being sought by both Blade and Hannibal King. The actual conflict between Dracula and Dr. Strange comes off rather well with the sorcerer tracking the vampire to his coffin and entering an astral battle with the vampire in 15th Century Wallachia. Unsurprisingly, Strange underestimates the vampire's hypnotic powers and is attacked and bitten by Dracula. The issue's real climax sees Blade and Hannibal King meeting for the first time on the trail of the white-haired vampire who ruined both of their lives.
Doctor Strange #14, "The Tomb of Doctor Strange" concludes the crossover with Steve Englehart's script fitting as seamlessly into Wolfman's storyline as Wolfman did with his in the first part. This uncommonly effective crossover can be contributed to the fact that Wolfman edited both titles. As the story gets underway, we learn that Strange's astral form is still free while his physical body has fallen victim to the vampire. More significantly, Dracula first stumbles upon the deconsecrated Boston church in this issue which will play such an important role in the next story arc. Englehart also begins a continuing storyline with Dracula being pursued by an unseen spirit who taunts him with visions from his past. Dracula returns to feast on Strange and the magician's astral form re-enters his body, awakening him. Strange calls on Jehovah and creates an astral cross which causes the vampire's death. The effects of Strange and Wong's vampire bits are reversed with Dracula's death at the issue's rushed conclusion.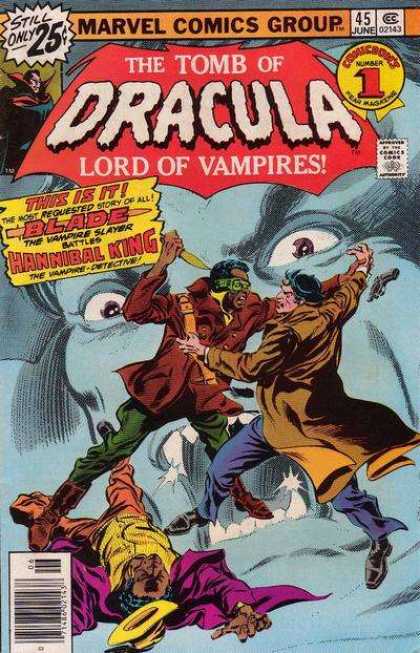 The Tomb of Dracula #45, "Crossfire" gets underway with Blade and Hannibal King forging an uneasy alliance to track down the white-haired vampire. King has discovered the vampire's name is Deacon Frost. Blade is wary of trusting the vampire detective, but resolves to do so until they hunt down Frost. The setting switches to Dracula where, perhaps the result of Wolfman being cognizant of having killed off and quickly resurrected the vampire too many times already, we learn that Dracula only hypnotized Strange into believing he had witnessed his disintegration before the astral cross. The vampire is undead and well and immediately sets out to the deconsecrated church that caught his interest earlier. An oil painting of Christ still hangs in the church and Dracula is unable to remove it. Dracula pays a visit to Harold H. Harold and extracts from him the name of the head of Boston's Satanic cult, Anton Lupeski. Wolfman finally returns us to Quincy Harker, Rachel Van Helsing and Frank Drake. The trio is growing restless at their ineffectiveness to end Dracula's menace now that they have followed him from London to Boston. Frank and Rachel are both yearning to build a life together and desire freedom that can only be won by ending Dracula's life forever.
This storyline will play itself out brilliantly over the next 25 issues of the book. From here, Wolfman and Colan are seen at their most daring as they depict a realistic Satanic ceremony as Anton Lupeski (arrayed in garish devil mask and ceremonial robes) consecrates a nude young woman named Domini to Satan. Just as she is about to perish in their ritual sacrifice, Dracula appears in the rafters of the room before Lupeski and his chanting followers as they call upon Satan to claim his bride. Dracula agrees to wed Domini in a Satanic marriage in three days to be held in the deconsecrated church he found. Lupeski plots to betray the vampire and ultimately use his Church of Satan to become a One World Army.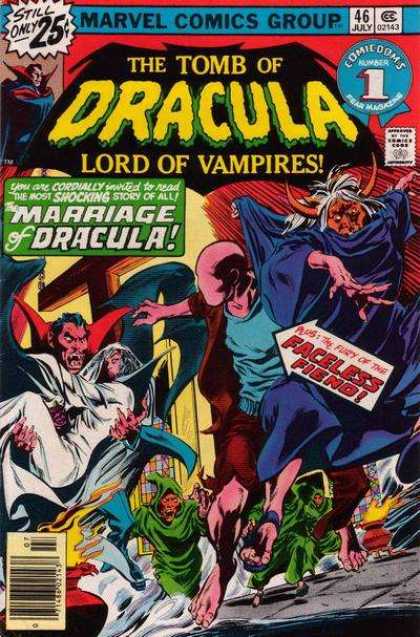 The economy of storytelling in these few pages is simply amazing and leads to an equally stunning climax as Blade and Hannibal King interrogate (okay, torture) a captured vampire working with Deacon Frost into revealing that Frost has a vampire doppelganger of Blade and that with it he plans to rule the world. In one brief issue, Wolfman and Colan have completely changed the tone for the book, leaving behind the offbeat comic relief and bringing the series on an inevitable track that can only end with the greatest of climaxes. This is quite simply brilliant work that has never been bettered not only in the field of comics, but in all of fantastic fiction.
Issue #46, "Let Us Be Wed in Unholy Matrimony" kicks off with Lupeski presiding over the Satanic wedding of Dracula and Domini in the deconsecrated church. In the previous issue, Wolfman has Dracula note ironically that his bride's name means "belonging to God," this point is brought home as Colan depicts the oil painting of Christ mystically crying as the sacrilegious ceremony is held in His church. Not many writers could successfully blend Christian mysticism with Satanic mysticism, but Wolfman treats them both as dramatically valid and pulls it off remarkably well without ever slipping into proselytizing for one or the other.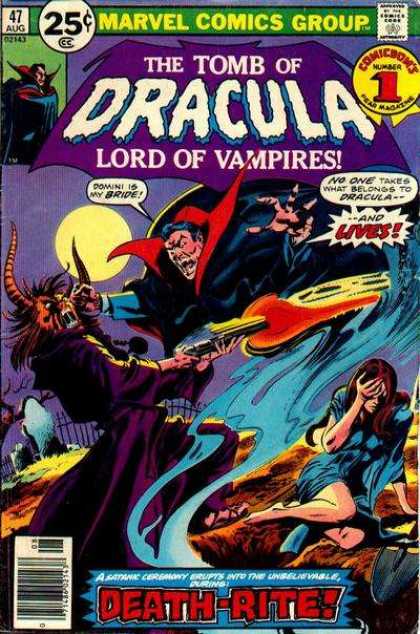 This is masterful handling of primal Good vs. Evil storytelling by a writer and artist both at the top of their form. From here we switch to the local Chemron Industries plant where a toxic waste situation shows Capitalism at its worst with a whistle-blower being murdered by management and dumped into a vat of chemicals which resurrects him as a mutated faceless avenger. There is a brief interlude of Blade and Hannibal King tracking Deacon Frost before we segue to Dracula leaving to enjoy Domini on their wedding night.
As in the previous Sheila Whittier storyline, Wolfman depicts young women involved in the occult as victims of men who seek only to abuse them. Dracula, in spite of his predatory nature, regains his humanity when faced with these situations and, as with Sheila, chooses to leave Domini's side to find an innocent victim for his bloodlust. Colan's artwork is superb as he illustrates the faceless avenger taking bits and pieces from his victims' faces to reconstruct his own identity. Dracula stumbles into this storyline which would not have been out of place in a horror anthology with its tale of just, if horrific retribution.
Issue #47, "Birth-Rite: Death" starts off Dracula's marriage to a rocky start as the vampire is troubled by his perceived weakness in treating his wife with compassion and questioning his own Satanic nature. Wolfman segues to Blade and Hannibal King at the airport to meet Saffron who has flown over from London to be with Blade. From there we switch to Harold H. Harold who arrives at Aurora's house to take her to dinner only to find that she had completely forgotten about their platonic date. From there we see Rachel breaking up with Frank. After hounding him to be more assertive, Rachel finds the "new" Frank to be too aggressive for her liking. Wolfman inherited a troubled character in Frank Drake, but rather than turning him into an angst-ridden hero, he chose to treat him like a genuinely flawed person.
The remainder of the issue is a lengthy sequence set in an unholy depiction of ceremonial wedlock as a nude Dracula and Domini are depicted conceiving a child in front of Lupeski's Satanic followers in the deconsecrated church. A lone gunman interrupts the ceremony and manages to kill one of the Satanists before Dracula kills the intruder who Domini recognizes as her father who had tracked his missing daughter down at last and had come to rescue her. The tragedy of this ending is offset by Domini's fascination with the oil painting of Christ in the church. As Wolfman and Colan had shown with Dracula a few issues earlier, those who behold the image feel as if the Son of God is somehow communicating to them. While Dracula was enraged at his feeling of helplessness before God, Domini finds comfort. The issue ends with Dracula rejoicing in the news that Domini is expecting his child while Domini quietly rejoices that her soul has been saved and that of the child in her womb for she has accepted Christ as her Savior. This is heady stuff that still makes for remarkable and highly unorthodox material nearly 35 years later.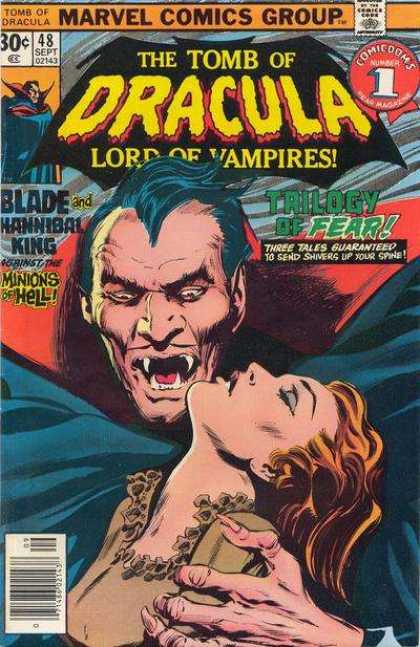 Issue #48, "Song for Marianne" is a filler issue, but an effective one focused on the reluctant vampire, Marianne who tells her tale as a plea to be freed from her vampiric curse. The story begins several centuries in the past with a tale of piracy on the high seas and the unexpected arrival of Dracula who slays Marianne's father in front of the child's eyes. Marianne is then seen grown to adulthood caring for her vampire father by stealing blood that he requires to slake his thirst. Dracula again visits her and this time Marianne is victimized herself and her father is killed forever when he fights to protect his innocent daughter from becoming a vampire. Marianne's third unfortunate encounter with Dracula occurs in Europe when Dracula crosses paths with her and her newlywed husband. Dracula kills her husband who in turn hade his wife his first victim three nights later. We then see that Marianne is standing before Dracula and Domini with a stake and hammer asking him to release her from her cursed existence. Dracula, having grown more compassionate, agrees to give her permanent rest.
Harold and Aurora join up with Quincy and Frank and tell them about Dracula's involvement with Lupeski. Frank and Harold set off to investigate with Rachel trailing them. Aurora leaves Quincy alone as the reader learns the old man has been having a series of heart attacks and that his end is near. The issue concludes with Blade and Hannibal King believing yet again they have tracked down Deacon Frost only to find themselves facing Blade's vampire doppelganger in the cliffhanger ending.
---
William Patrick Maynard was authorized to continue Sax Rohmer's Fu Manchu thrillers beginning with The Terror of Fu Manchu (2009; Black Coat Press). A sequel, The Destiny of Fu Manchu is due for publication in December 2011. Also forthcoming is a collection of short stories featuring an original Edwardian detective, The Occult Case Book of Shankar Hardwicke and an original hardboiled detective novel, Lawhead. To see additional articles by William, visit his blog at SetiSays.blogspot.com