Weird Tales Deep Read: July 1933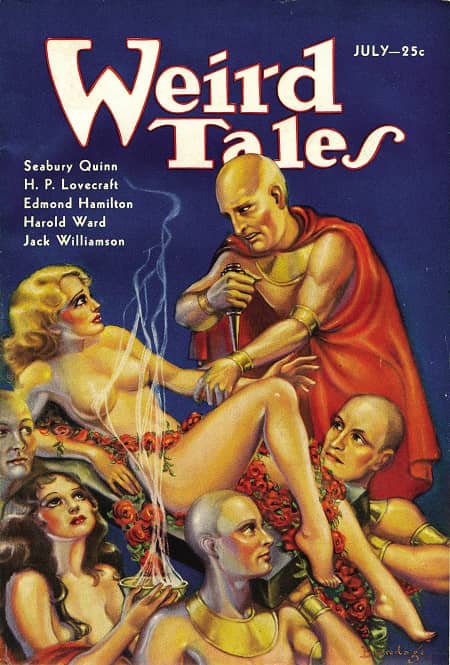 Somewhat fanciful Brundage cover for "Hand of Glory"
This is the first in a series of posts I've wanted to do for awhile now, a detailed look at a single issue of Weird Tales magazine where I do a short analysis of each story, the famous, the infamous, and the forgotten. Just to make things a little confusing, I rate these stories, unlike movies, on a 1-5 scale, with the lower the number, the better the story. You can look at these ratings as A-B-C-D-F, or Excellent – Good – Mediocre – Below Average – Poor.
I wanted to start with a memorable issue, so I chose the July 1933 entry, one of the best I've read so far. I'll start with a short overview and then get into the specifics of each story.
This issue is at the beginning of the Unique Magazine's (as it sometimes called itself) Golden Age (roughly the early to late 1930's) with a total of four of the nine stories penned by what I like to think of as the Holy Trinity of Weird Tales writers, Robert E. Howard, H. P. Lovecraft, and Clark Ashton Smith. The ubiquitous Seabury Quinn is also present with one of his ninety-three Jules de Grandin stories, along with tales by early giants of science fiction Edmond Hamilton and Jack Williamson. Sheridan Le Fanu contributes a classic reprint. The final story is by Harold Ward, a fairly prolific pulp writer noted for complicated plots often bordering on the incoherent.
The Howard story is one of his slightest, but moderately effective. The Smith, set in what is probably the first shared-world universe in science fiction — the Cthulhu Mythos — is also rather slight, but vastly more imaginative. The Lovecraft story under his byline is one of his classic Cthulhu Mythos tales. His second story in this issue appears under the name of Hazel Heald, which requires a bit of explanation.