Edgar Rice Burroughs's Pellucidar Saga: Back to the Stone Age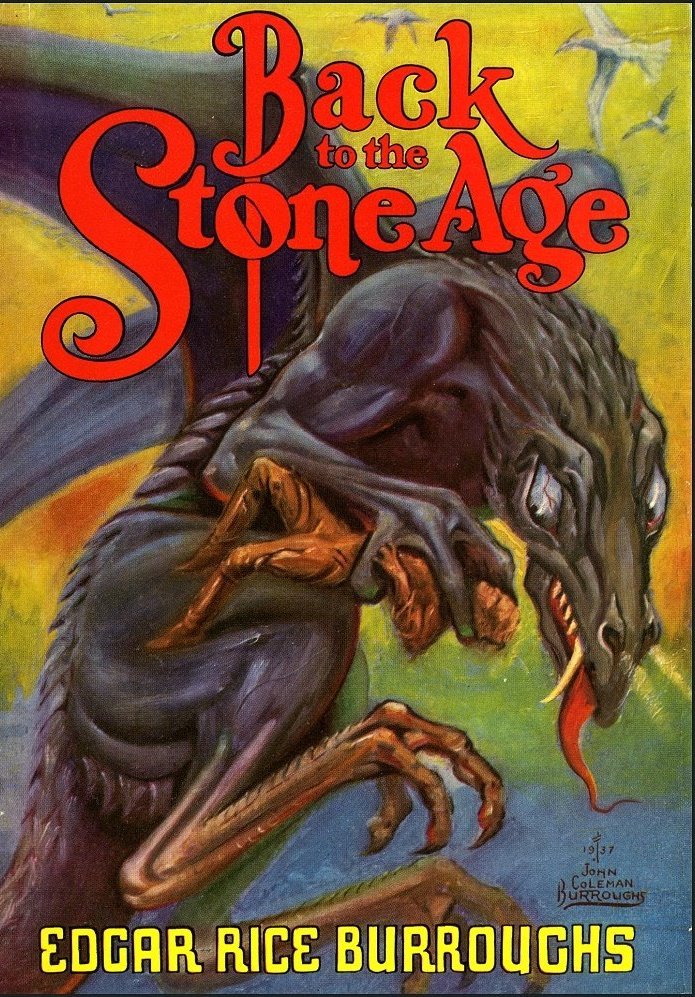 I've now arrived at that period in the Pellucidar series. The period any Edgar Rice Burroughs series eventually reaches: the late 1930s. I took a break from my Pellucidar retrospective to look at Burroughs's 1913 horror-adventure novel The Monster Men just to delay taking the next step and driving my snowmobile headfirst into the hard ice of the poorest period of Burroughs's career. But now I'm here and must accept the facts of the late '30s and an author trudging through his weakest creative years. Maybe it won't be so bad. Perhaps I'll discover a few pleasures in the last three Pellucidar books.
Anyway, enough procrastination. I'm getting on the snowmobile.
Our Saga: Beneath our feet lies a realm beyond the most vivid daydreams of the fantastic … Pellucidar. A subterranean world formed along the concave curve inside the earth's crust, surrounding an eternally stationary sun that eliminates the concept of time. A land of savage humanoids, fierce beasts, and reptilian overlords, Pellucidar is the weird stage for adventurers from the topside layer — including a certain Lord Greystoke. The series consists of six novels, one which crosses over with the Tarzan series, plus a volume of linked novellas, published between 1914 and 1963.
Today's Installment: Back to the Stone Age (1937)
Previous Installments: At the Earth's Core (1914), Pellucidar (1915), Tanar of Pellucidar (1929), Tarzan at the Earth's Core (1929–30)
The Backstory
The ending of Tarzan at the Earth's Core set the scene for a direct follow-up. Wilhelm von Horst, one of the German members of the O-220 expedition to Pellucidar to rescue David Innes, was still stranded somewhere in the inner world, and Jason Gridley chose to remain in Pellucidar to locate him. But other projects and business concerns prevented Burroughs from moving fast into writing this proposed sequel. He wouldn't start work on the new Pellucidar novel until January 1935, writing it under the working title Back to the Stone Age: A Romance of the Inner World. It took him eight months to finish the 80,000-word novel, an unusually protracted length for him. And that was only the beginning of the difficulties.