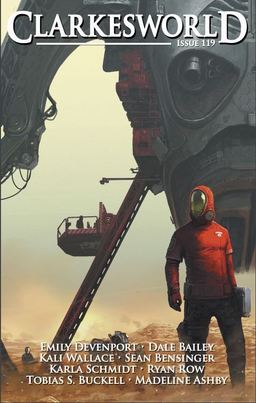 I've been enjoying Charles Payseur's short fiction reviews at his website, Quick Sip Reviews. Here's what he says about the August issue of Clarkesworld:
It's a month of surprises at Clarkesworld this August, as there is an extra original story plus a story in translation from German instead of the usual Chinese translation. So there's definitely a lot to see with four short stories and two longer novelettes. The good news is that it's all weird. Seriously, these are stories that push at the boundaries of the imagination. That conjure up strange worlds and uncertain realities and the vastness and power of both space and violence. Stories that set aliens next to 50's greasers and mix time travel, tragedy, and immigration. And through it all there's a sense of yearning that pervades. For a brighter future, a peaceful cooperation, and the comfort of another presence. To the reviews!
To the reviews, indeed. After a lead-in like that, it's hard to resist. Read his complete review here.
I'm not completely used to longer fiction at Clarkesworld yet — and there are some longer pieces in this issue, including Dale Bailey's "Teenagers from Outer Space" (11,690 words), and Karla Schmidt's "Alone, on the Wind" (13,449 words, translated from the German). There's also original fiction from Kali Wallace, Emily Devenport, Sean Bensinger, and Ryan Row, and reprints by Tobias S. Buckell and Madeline Ashby.
Here's the complete list of stories featured this issue.
---