Future Treasures: King of Shards by Matthew Kressel
Future Treasures: King of Shards by Matthew Kressel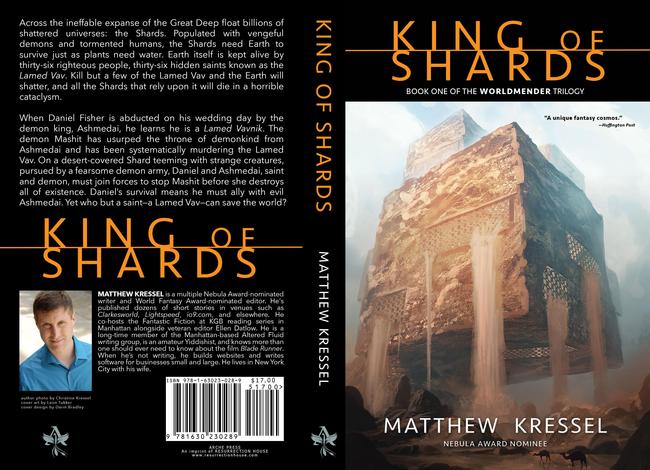 Matthew Kressel has had an impressive career over the past decade. He started publishing fiction in his own magazine, Sybil's Garage, and quickly branched out to Electric Velocipede, Interzone, Lightspeed, Clarkesworld, and Beneath Ceaseless Skies. He received his first Nebula Nomination for "The Sounds of Old Earth" in 2013, and his second for "The Meeker and the All-Seeing Eye" earlier this year. He has also been nominated for the World Fantasy Award, for editing Sybil's Garage.
King of Shards is his debut novel. It will be published by Arche Press, a quality small press who this year have also produced Marguerite Reed's Archangel, and The End of the End of Everything by Dale Bailey. It is the first novel in The Worldmender Trilogy, and N.K. Jemisin called it "A surreal and exotic adventure in a unique mythological setting. Scary, exhilarating fun!" It follows Daniel Fisher, abducted on his wedding day by the demon king, Ashmedai, who been supplanted by the demon Mashit. Daniel and Ashmedai must work together to stop Mashit, before she destroys all of existence.
King of Shards will be published by Arche Press on October 13, 2015. It is 320 pages, priced at $17 in trade paperback. The striking cover is by Leon Tukker (click the image above for a bigger version). Read more at Matthew's website.