March 2016 Asimov's Science Fiction Now on Sale
March 2016 Asimov's Science Fiction Now on Sale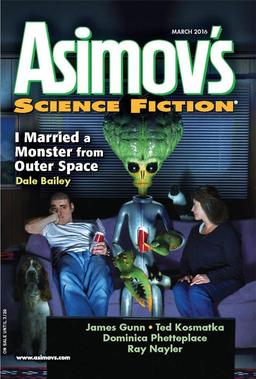 In her editorial in the latest issue of Asimov's Science Fiction, Sheila Williams pens a passionate and thoughtful defense of Young Adult fiction.
I'm used to being told that the engineering in one story is too realistic or the fantasy in another too pervasive. The critic will avow that the tale would have been better off in Analog or F&SF. On rarer occasions, I have been criticized for featuring tales about children and young adults. The implication is that Asimov's is a magazine for adults, which means the tales should all be about adults as well. This last criticism has always been the one that most surprises me.

It's hard to imagine a magazine that purports to cover all the conditions of humanity not covering the early years every so often. Any reader of Asimov's has certainly experienced childhood and the 'tween years. Many of the issues that faced us then reverberate throughout our lives. With any luck, some of our readers picked up the magazine as precocious young adults….

It can be argued that there are two types of stories about young protagonists. One is really written for the adult who is looking back on those early years…. The other seems to be written specifically for the child or young adult… I've also enjoyed many works that fall into the second category… That young people will learn much about the world from reading adult literature does not mean that adults can't find pleasure and illumination in works that were primarily written for the young.
Hear, hear! You tell 'em, Sheila. I discovered Asimov's with the Summer 1977 issue at the tender age of 12, and the fact that the magazine was very friendly to young readers was a huge plus for me. I hope it continues to attract young readers, and having an occasional YA component to the fiction is a huge piece of that.
Read Sheila's complete editorial here.
The March issue of Asimov's Science Fiction contains novelettes from Ted Kosmatka, Dominica Phetteplace, and Dale Bailey, plus five short stories, all packaged in a marvelous cover by Fred Gambino. Here's the description from the website:
March 2016's lead novelette by Ted Kosmatka will chill you to the bone. Caitlin's difficult life has prepared her for tense confrontations, but that doesn't mean she'll survive an encounter with a terrifying cabal. There are no easy answers or solutions in a tale that will have you looking over your shoulder long after you've faced "The Bewilderness of Lions."

Dale Bailey's "I Married a Monster from Outer Space" enthralls us with the story of a young couple who share their modest home with an unusual houseguest; "Do Not Forget Me," the eerie new tale by Ray Nayler, gives up its unsettling secrets like a matryoshka nesting doll; new author Sunil Patel's hapless mad scientist has secrets of his own to reveal in "A Partial List of Lists I Have Lost Over Time"; on a voyage that may alter time and space, new author Julie Nováková introduces us to "The Ship Whisper"; explorers find grave danger on SFWA Grand Master James Gunn's "New Earth"; alas, R. Neube's humans and aliens both engage in "A Little Bigotry"; and a popular teenage girl is the subject of an odd experiment in Dominica Phetteplace's "Project Empathy."

In his March Reflections Robert Silverberg looks back at his literary antecedents to explain what it means to be "Writing Under the Influence"; James Patrick Kelly tells us "Seriously, Series" in On the Net; Paul Di Filippo discourses wisely on Tom Holt and K.J. Parker, Carolyn Ives Gilman, Fran Wilde, and Samuel R. Delany in On Books; plus we'll have an array of poetry and other features you're sure to enjoy.
Here's the complete Table of Contents.
NOVELETTES
"The Bewilderness of Lions," Ted Kosmatka
Caitlin was six when she learned the truth of ants. There were three different kinds in the yard behind her house. Big black ones that crawled amid the woodpile; small brown ones, hardly bigger than fleas, which streamed in formation across the cement patio; and small red ones that scavenged near the great oak.

"Project Empathy," Dominica Phetteplace

"I Married a Monster from Outer Space," Dale Bailey
Third shift, three in the morning, even the Walmart in Crittenden, Pennsylvania, is quiet. Just the soothing hum of the buffer over in grocery and a few zombies cruising the aisles looking for something they'll never find, because there's some things even Walmart doesn't carry and never will.
SHORT STORIES
"The Ship Whisperer," Julie Novakova
"A Partial List of Lists I Have Lost Over Time," Sunil Patel
"Do Not Forget Me," Ray Nayler
"A Little Bigotry," R. Neube
"New Earth," James Gunn
POETRY
Cinderella 2300, Ken Poyner
Red Slippers, Mark C. Childs
Nice Touch, Jane Yolen
Fabled Black Taj Mahal, Vincent Miskell
Typo, Robert Borski
DEPARTMENTS
Editorial: Age Diversity in Asimov's, Sheila Williams
Reflections: Writing Under the Influence, Robert Silverberg
On the Net, James Patrick Kelly
Next Issue
On Books, Paul Di Filippo
The SF Conventional Calendar, Erwin S. Strauss
See the current issue, with story excerpts and links to free online content, here.
The March issue went on sale February 23. It will be on sale until March 29.
Asimov's Science Fiction is edited by Sheila Williams and published by Dell Magazines. The cover price is $4.99 for 112 pages; a one-year subscription is $34.97 (US) or $49.97 (International). It is also available in a variety of digital formats.
We last covered Asimov's SF with the February 2016 issue.
Our March Fantasy Magazine Rack is here. See all of our recent fantasy magazine coverage here.