New Treasures: Son of the Morning by Mark Alder
New Treasures: Son of the Morning by Mark Alder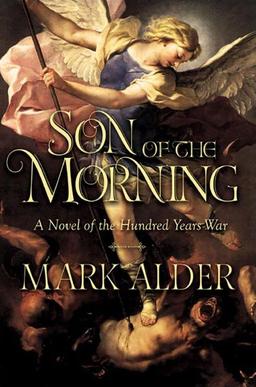 Under the name M.D. Lachlan, Mark Alder has written four novels in the Wolfsangel fantasy series; under the name Mark Barrowcliffe, he's the author of the D&D memoir The Elfish Gene, Lucky Dog and Girlfriend 44. His newest is the opening volume of a fantasy retelling of the Hundred Years War, in a world where angels and demons choose sides on the battlefield, and England and France are locked in a true holy war. Publishers Weekly calls it "alternate history leavened with wry humor… [a] fast-moving epic."
England, 1337: Edward III is beset on all sides, plagued by debt and surrounded by doubters. He refuses to pay homage to the newly crowned Philip Valois of France and seeks to secure his French holdings, but he's outmanned. Philip can put 50,000 men in the field, but he is having his own problems: he has summoned the angels themselves to fight for France, but the angels refuse to fight. Both kings send priests far and wide, seeking holy relics and heavenly beings to take up the cause of their country, but God remains stubbornly silent, refusing to grant favor to either side.

Meanwhile, among the poor and downtrodden, heretical whispers are taking hold: what if God — who has never been seen to do anything for them — is not the rightful leader of the heavens after all? And as Edward's situation becomes increasingly desperate, even his counselors begin to believe that if God won't listen, perhaps they can find a savior not from Heaven, but from Hell.

In a sweeping tale packed with courtiers and kings, knights and priests, and devils and angels, Mark Alder breathes fresh and imaginative life into the Hundred Years War in this unique historical epic.
Son of the Morning was published by Pegasus on February 15, 2016. It is 727 pages, priced at $26.95 in hardcover and $12.99 for the digital version. The cover painting is a detail from Luca Giordano's painting of St. Michael.