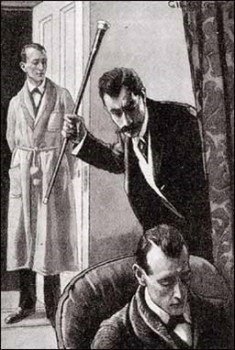 Current writers of Sherlock Holmes stories (such stories are known as 'pastiches') are held to the standard of Sir Arthur Conan Doyle's originals. And rightfully so. But that's not to say that all sixty of Doyle's tales featuring his famous detective are of the same quality. Followers of the great detective debate the merits of various stories. I myself am less than thrilled with "The Dying Detective," since Holmes doesn't do much of anything in it. He's less mobile than Nero Wolfe in that one.
But I can't think of too many fellow Sherlockians (and I don't mean followers of the BBC television show) who are enamored with "The Mazarin Stone." I definitely am not and consider it one of the weakest in the entire Canon. Of course, if you haven't read it, you probably should do so before continuing. You're back? Good.
The Play's the Thing
Jack Tracy's The Published Apocrypha contains the full text of the play The Crown Diamond, as well as an informative essay. "The Adventure of the Mazarin Stone" and The Crown Diamond are pretty much the same story and share much dialogue, differing only in a few minor details.
One of those details worth noting is that Colonel Sebastian Moran is the villain in play, whereas it is Count Negreto Sylvius in the story. Using Moran makes sense, since playgoers likely would know the character, based on his feature role in "The Empty House." Both men like air guns and are big game hunters, so the real difference is negligible.
Dennis Neilson Terry starred as Holmes in the stage production of The Crown Diamond.  It's nowhere near as good as Doyle's play, The Speckled Band, which I wrote about in this post.
---