The Public Life of Sherlock Holmes: At the Movies with Basil (Rathbone)
The Public Life of Sherlock Holmes: At the Movies with Basil (Rathbone)
I started writing a regular column for Black Gate in March of 2014. I've covered a lot of ground, but today we're going to try something new. Earlier this year, I was watching Casablanca (yet AGAIN) on TCM, and I decided to do do a running commentary about it on my FB page. I know a LOT about that movie. TCM showed it again a little over a month later, so I did it again. It was fun.
I decided to do the same thing with a Basil Rathbone Sherlock Holmes movie. But I watched it on Youtube, which let me pause it while I typed comments, and took screenshots. That worked satisfactorily. During Casablanca, I was so busy (mis)typing comments, I missed half of the movie.
So, this is a mix of my running commentary, with more information and fun stuff added in during composition of the essay. It's a hybrid, but not as detailed as I normally write. We'll see how it goes as we look at two films: Terror By Night, and The Scarlet Claw. I already wrote a full post on the second movie. I just felt like watching it again.
Of course, all fourteen Holmes films starring Basil Rathbone and Nigel Bruce were black and white. But colorized versions, both official and not, have been around for a while. I watched colorized versions of both films, via Youtube. Terror By Night was done by TCC (Timeless Classics now in Color). They've got a bunch of movies on their website. And the quality of this one was excellent. The best colorized Holmes I've seen. The Scarlet Claw was by ATC, and it was muddy.
TERROR BY NIGHT
We start with number eleven of twelve in the Universal Pictures series. Only one more Holmes movie remained, as Rathbone, tired of being typecast, walked away from the franchise (and the associated radio show).
Well – this isn't Murder on the Orient Express. Holmes agrees to escort the snooty Lady Margaret Carstairs, her weak-chinned son Ronald, and the fabulous gem, the Star of Rhodesia, to Scotland aboard the Scotch Express. Inspector Lestrade, supposedly on a fishing vacation (which fools not Holmes), is also aboard.
The opening of the movie tells us that ownership of the Star has led to violence and death. It's brief, but it reminds me of the backstory of possession of the One Ring in Peter Jackson's LOTR movies. It's a ridiculously large diamond of 423 carats.
Basil Rathbone, seventy-four years later, still looks the perfect Sherlock Holmes – if a bit too handsome.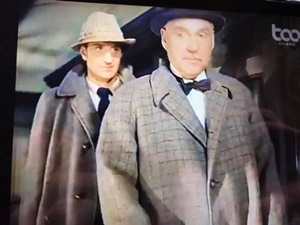 Watson had lost track of the time and has to sprint aboard the departing train. He's a doofus from the outset. Which is the case in all twelve Universal movies. Why Holmes would saddle himself with this drip is beyond me. I get he's comic relief in a movie: it's a viable role. But he's literally, totally useless. H. Marion Crawford was a bit of a goofball in the Ronald Howard television series, but sometimes he was okay, and he did contribute his physical skills in some episodes. There's a Watson sequence in Sherlock Holmes Faces Death that is like watching the Keystone Cops. It's beyond ridiculous. Anywhoo…
Not long into the movie, Ronald is found dead, the Star gone. Holmes is off to quite a start! Watson examines the body and favors a heart attack. Later, Rathbone has to drag information out of Watson, leading him to posit poison.
Lady Margaret walks into her compartment to find it full of people. Holmes shows her the empty jewel box, then steps aside and lets her see her dead son's body. As Holmes himself then admits, it was thoughtless. Quite!
There are lots of suspicious characters and much skulking around, giving us several suspects in the closed environment of a moving train.
If there's going to be a femme fatale in this film, it's going to be Rene Godfrey, playing Vivian Vedder. She is escorting her late mother's coffin to Esinburgh. This was her biggest part. She got mostly supporting roles, and then she took some time off to raise a family. Her career had stalled when she came back to acting, and sadly, she died of cancer at only 44.
Lestrade goes off to talk to her. Watson takes it upon himself to question a suspect. He picks Professor Kilbane, played by Frederick Worlock. This is an instance where Watson playing the Boobus Brittanicus works. Worlock is annoyed to find himself under suspicion and he turns the interview around, going on the offensive and demanding that Watson account for himself. Kilbane has Watson denying he did the killing, and insisting that Holmes will vouch for him! Holmes comes by and Watson escapes, after which the detective slyly pokes fun at him. It's a good scene.
Watson's next interview is ridiculous in a different way, and involves a crowd. Later, he boasts that he knew it was murder all along (wrongly guessing the delivery method), and implying he out thinks Holmes sometimes. I have a hard time watching more than two Rathbone movies in a short time. Bruce just bothers me too much. I wish Rathbone had someone like Kenneth Welsh, who was Matt Frewer's Watson. He gave a good performance.
Worlock was an uncredited radio announcer in Sherlock Holmes in Washington. He played Geoffrey Musgrave in Sherlock Holmes Faces Death (one of my favorites in the series). Next up was The Woman in Green, and then Pursuit to Algiers. He followed Terror by Night with an appearance in Dressed to Kill. I think he was well-cast in this movie.
Alan Mowbray is Major Duncan Bleek, a mamber of Watson's club. His and Watson's talk of curry bores Holmes at dinner. Mowbray was also in Clive Brook's 1932 Sherlock Holmes, as well as Reginald Owens' 1933 A Study in Scarlet. -which you already know I wrote about here, right?????

Dennis Hooey is back as Inspector Lestrade. He's incompetent, as usual. Lady Carstairs is complaining about Holmes and says that she will complain to Scorland Yard. Lestrade, looking pitiful, saying, "But I am Scotland Yard" as Lady Margaret storms off, sums up his character in the series.
If you've seen him in any of the other Rathbone films, you've seen him in this one. There's not much to add. He does come through at the end and contributes to capturing the killer, so that is positive.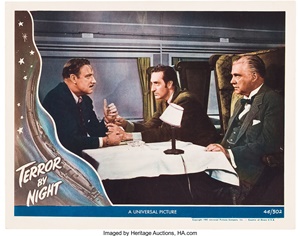 Holmes is attacked from behind and knocked through an open door, hanging on to the outside of the train. He breaks the window and manages to get back inside. He comes to the conclusion that the late Professor Moriarty's right-hand man, Colonel Sebastian Moran, is behind the whole affair.
Holmes reveals that he has the Stone. If you watch closely when Holmes had examined the stone earlier, you can see that he switched it out.
There's a lot more going on, and I'll let you watch the movie yourself, which is only 58 minutes long. It's full of twists right up to the improbable end.
Frank Gruber wrote this screenplay. He was a prolific pulp writer of mysteries and westerns, then became a successful screenwriter. His autobiography is considered the definitive look into the life of a pulpster.
Harry Cording appeared in seven of the Rathbone/Bruce movies, in bit parts. He wasn't even credited in six of them. I didn't notice him in this one.
This was one of four films in the series that fell into the public domain. Low quality VHS tapes showed up for years, and crappy DVDs are still sold of it. Buy the UCLA Archives restored version; which applies to all fourteen Rathbone/Bruce films.
THE SCARLET CLAW
I've already written about this movie, so I won't give it the full treatment. I'll mostly just flesh out my FB comments. This was the sixth of twelve in the Universal series.
This screenplay by Edward Hartmann, who produced over 300 episodes of My Three Sons. He wrote the screenplay for SH & The Secret Weapon, and several for Abbott & Costello, and Bob Hope. He also wrote the script and produced the pilot for Erle Stanley Gardner's Cool and Lam proposed series, which I wrote about here.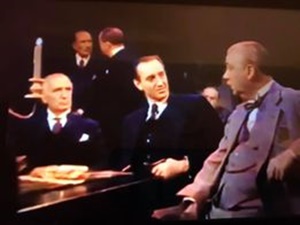 This is a muddy colorization. It's not a TCC (Timless Classics now in Color) job. TCC has done Terror by Night, Dressed to Kill, The Secret Weapon, and The Woman in Green.
Peter Cavanagh, who plays Lord Penrose, was a Royal Canadian Mountie before becoming an actor.
Ian Wolfe, playing Drake, the Butler, appeared in 304 films in a career from 1934 to 1990. He was in the second Nero Wolfe movie, 1937's The League of Frightened Men. He also played Septimus in the Star Trek episode where they discovered a Roman society on an alien planet.
He also appeared in arguably Humphrey Bogart's worst movie, The Return of Doctor X. Which I wrote about here at Black Gate.
Arthur Hohl, who plays Emile Journet, appeared in The Spider Woman, and The Adventures of Sherlock Holmes. I think he's the only supporting actor to appear in both a 20th Century Fox, and a Universal, Sherlock Holmes movie. I didn't like him roughing up his daughter, at all. Hohl was in the comedy gangster movie, Jimmy the Gent.
Gerald Hamer also appeared in Sherlock Holmes in Washington, Sherlock Holmes Faces Death, Pursuit to Algiers, and Terror By Night. He actually has triple-duty in this one.
Watson, drunk, talks about a Father Brown story, in the pub. That's amusing.
This is really a horror movie with a Sherlock Holmes overlay. It differs from all the others in the Universal series in that regard. The special effects of the phantom stood out for the time. George Robertson's cinematography is heavy on the shadows. It definitely stands out from the rest of the series with the supernatural overlay. I think that Sherlock Holmes Faces Death is the only one somewhat similar, and the stormy weather plays a big part in the atmosphere of that one.
Kay Harding, as Marie, has a credited part in The Woman in Green. She was Victim no. 4. Quite a major role.
Go ahead and click on to my earlier post if you haven't already and read more about the The Scarlet Claw.
---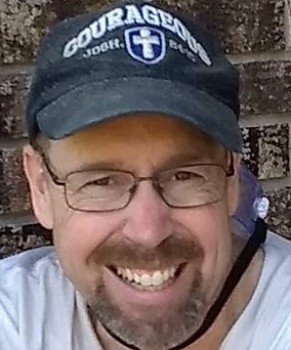 Bob Byrne's 'A (Black) Gat in the Hand' was a regular Monday morning hardboiled pulp column from May through December, 2018 and again from August through December, 2019. It returned in June, 2020.

His 'The Public Life of Sherlock Holmes' column ran every Monday morning at Black Gate  from March, 2014 through March, 2017 (still making an occasional return appearance!).
He organized 'Hither Came Conan,' as well as Black Gate's award-nominated 'Discovering Robert E. Howard' series.
He is a member of the Praed Street Irregulars, founded www.SolarPons.com (the only website dedicated to the 'Sherlock Holmes of Praed Street') and blogs about Holmes and other mystery matters at Almost Holmes. That's also the name of his podcast.

He has contributed stories to The MX Book of New Sherlock Holmes Stories – Parts III, IV,  V, VI and XXI.
---