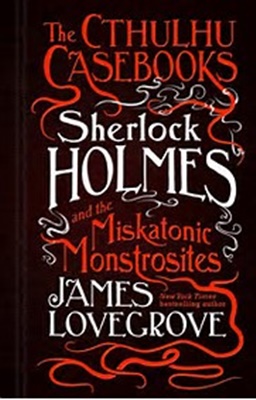 Last December I wrote about Sherlock Holmes & the Shadwell Shadows, volume one of James Lovegrove's Cthulhu Casebooks trilogy. And this December, it's on to book two, Sherlock Holmes and the Miskatonic Monstrosities. I wasn't quite as fond of the second installment, though not because it's a bad book.
As I wrote in that first review:
The basic premise of the… trilogy is that Watson made up the sixty stories in the Canon. He did so to cover up the real truth behind Holmes' work. And that's because the truth is too horrible to reveal. In a nutshell, Watson has written three journals, each covering events fifteen years apart, to try and get some of the darkness out of his soul.
The darkness exists because Holmes, with Watsons's assistance, waged a career-long war with the otherworld beings of the Cthulhu mythos.
Somewhere in another Black Gate post, I calculated the percentage that Holmes is absent in each of the four novellas which Doyle wrote featuring the great detective. Lovegrove chose to use that novella model and it's my biggest complaint about the book. Holmes and Watson find a journal and read it. It reminds me of the Mormon interlude in A Study in Scarlet and it takes up thirty-five percent of the book.
Fully one-third of this novel has nothing to do with Holmes or Watson. It provides background to the mystery, but it could be a standalone story and it would have no more tie-in to Holmes than an account of my going out to lunch yesterday.
The flashback takes place in Arkham and it is essentially a Cthulhu short novella. Lovegrove got to write a Lovecraft pastiche within a Holmes pastiche. Of course, these three books are aimed at fans of the Cthulhu stories, so it's not totally out there. I've read stories by Lovecraft, Derleth and others. I don't mind them, but I'm not a particularly big fan. So, I'm not the target audience for the trilogy.
Those who are avid Holmes and Cthulhu fans are likely to enjoy this second book more than I did. But the fact is that this was a third of the book with no Holmes and/or Watson.
---