Hither Came Conan: Ryan Harvey on "Hour of the Dragon"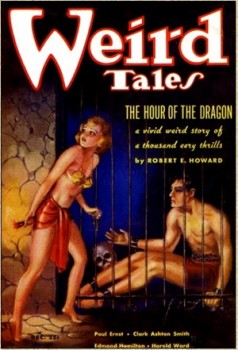 Welcome back to the latest installment of Hither Came Conan, where a leading Robert E. Howard expert examines one of the original Conan stories each week, highlighting what's best in it. Today, it's Ryan Harvey looking at the only Conan novel, Hour of the Dragon (not Conan the Conquerer!).  And here we go!
When Robert E. Howard's twenty-one completed Conan stories are randomly distributed to twenty-one people, each challenged to argue that their assigned work is the finest of all, it brings up some interesting questions if you're among the twenty-one.
The chances of getting your favorite? Approximately 4.8%. The chances of getting an excellent story, even if not your favorite? Quite high, I'd say. The chances of a mediocre one are low, but there's certain to be something interesting to mine from those mid-tier works. And there's only a 4.8% chance of getting stuck with the worst one, "The Vale of Lost Women," or ending up with the longest one, The Hour of the Dragon.
So before I received my assignment, I felt safe I'd end up with something interesting, although not my favorite, and one that might be a novella, but still not the longest.
Then I got The Hour of the Dragon. Which is both.
I don't know who else may have inadvertently gotten their true favorite Conan work and therefore end up effectively not participating in this experiment of trying to promote as the best something you don't think is the best (there's a 95.2% chance I'm the only one). But here I am. The Hour of the Dragon is the best Conan story and I don't have to stretch to make that sound true, because it is true. At least to me.
The Hour of the Dragon is a gigantic work: the only Conan novel Howard wrote, twice as long as the second lengthiest Conan story and twenty-two times longer than the shortest. Even though 72,000 words, short for modern fantasy novels, it contains more incidence than novels three times its length. This is a monstrous mural of fantasy, crossing much of the Hyborian kingdoms and going as far south as Stygia.