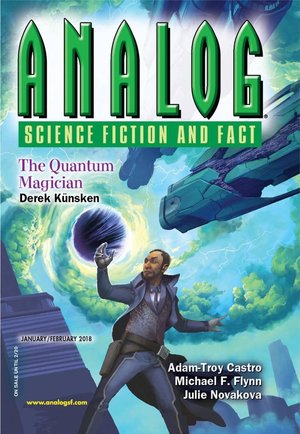 Two Black Gate writers are showcased in the newest Analog. Jeremiah Tolbert has a short story, "The Dissonant Note," and our Saturday blogger Derek Künsken presents the first installment of his highly anticipated debut novel The Quantum Magician. This morning I read the first chapter — a fast-paced tale of an attempted con in an icy subterranean casino, with AIs, religious soldiers, and robot puppets — and was immediately hooked. It has more action and intriguing SF concepts than the vast majority of short stories I read in the last year. Here's Derek.
In The Quantum Magician, I wanted to look at all the humanities we will create. Some new humans will help civilization, some will spiral it backwards, and some will, through no fault of their own, be really good at confidence schemes and heists. Solaris already takes a complex look at space opera futures, so it's really exciting to work with them.
And here's the book description, from the Solaris website.
Belisarius is a quantum man, an engineered Homo quantus who fled the powerful insight of dangerously addictive quantum senses. He found a precarious balance as a con man, but when a client offers him untold wealth to move a squadron of warships across an enemy wormhole, he must embrace his birthright to even try. In fact, the job is so big that he'll need a crew built from all the new sub-branches of humanity. If he succeeds, he might trigger an interstellar war, but success might also point the way to the next step of Homo quantus evolution.
The Quantum Magician will be serialised in two additional installments in Analog, and arrives in trade paperback from Solaris in October.
This issue of Analog also includes a brand new novella by Adam-Troy Castro featuring his retired black-operative Daiken, plus short fiction from David Gerrold, Alan Dean Foster, Ian Watson, Michael F. Flynn, Mary A. Turzillo, and many others. Here's the complete issue summary from editor Trevor Quachri.
---