A Salute to a Science Fiction Reader: R.K. Robinson, 1945 – June 30, 2022
A Salute to a Science Fiction Reader: R.K. Robinson, 1945 – June 30, 2022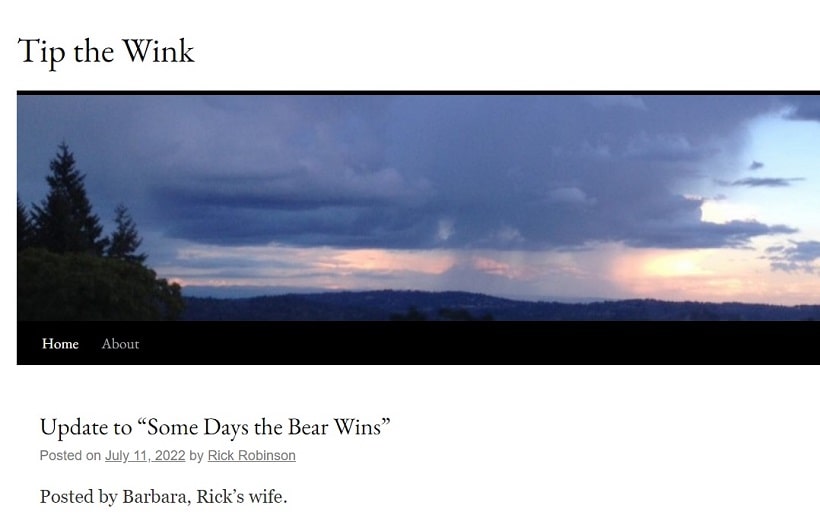 I never met Rick Robinson. I knew him, as many of you did, as R.K. Robinson, one of Black Gate's most enthusiastic readers. He began by subscribing to our print version two decades ago, and became a regular supporter of the blog when we switched to electronic publication in 2011. He left over 500 comments here over the years, and that's how I came to know him, as a knowledgeable and friendly reader whom we could always count on to kick off the discussion in the Comments section, especially when we were talking vintage science fiction and fantasy.
Here's a typical Rick comment, from a 2019 New Treasures piece on Megan E. O'Keefe's Velocity Weapon, lamenting the sheer volume of fabulous new stuff on the shelves.
This sounds really good. John, you're like the candy man of new books. I'm getting overwhelmed, sinking, slowly, into the swamp of hardcovers, paperbacks, ebooks… I'm drowning here.
Rick was born in 1945 and began reading science fiction regularly as a teenager, subscribing to Astounding in the mid-1950s. He frequently talked about those early days. Here's one of his last comments at Black Gate, on a June 4, 2022 post about the Science Fiction Book Club (SFBC) edition of Isaac Asimov's classic The Hugo Winners, Volumes 1 & 2.
I just reread this fabulous post, and while doing so was struck by some things. First, my sign-up for SFBC was years before the back cover you show. Hmmm. I was a subscriber to Astounding SF beginning 1950s, and no doubt took the plunge that decade or just after. I kept that subscription through the mid-Eighties.

Oh! How I remember those issues coming in the mail, those fabulous covers! How I wish I still had those issues today. Sigh.
Rick's first love was classic SF, and I always appreciated his down-to-earth observations, especially on off-hand comments I made without thinking. Here's his response to my coverage of Rich Horton's Year's Best Science Fiction and Fantasy 2018.
Rich's BSFOY is always good, and that's an interesting set of stories, or I think it is, based on the few I've read or even heard of. So many names I'm unfamiliar with! But then I read mostly older stuff.

A thought: you say "…no room for the traditional "About the Authors" and "Recommended Reading" sections in the print edition; instead they'll make them available online for free."

That's fine, but what about those without internet access? I'm in my 70s, and I know several people either without computers (except a phone which they use to call or text) or without an ISP.

It's a lot like when the phone companies decided everyone had a cell phone, so they pulled out all the phone booths. Those without a cell phone were just out of luck.

The Acknowledgments page of Hank Davis' Cosmic Corsairs (Baen, August 4, 2020) thanked Rick for his suggestions
When Hank Davis tipped his hat to the readers of Black Gate in the Acknowledgements of his 2020 anthology Cosmic Corsairs, he singled Rick out for special thanks, which Rick much appreciated, as he noted in this comment.
I'm a third of the way in and must admit In my zeal to start reading, I skipped The Acknowledgments. So what a nice surprise to find myself among the more worthies listed.

You don't know, and Hank probably doesn't either, that he and I were in a mystery fiction APA together – I as Richard Robinson – DAPA-Em. We exchanged some emails at the time, a a few paperbacks were discussed, and authors. My suggestion for the book, The Pirates of Ersatz, was a novella, and too long.
With George Kelly (another long-time BG reader), Rick was a member of that long-running mystery-oriented Amateur Press Association, DAPA-Em.
Like me, Rick found a lot of joy in hunting for classic SF books, and he was most enthusiastic about some of my least organized articles, the ones in which I just babbled happily about great book finds. Here's his comment on my 2021 piece, Would You Spend $44 on a Collection Of 30 Vintage DAW Paperbacks?
Absolutely LOVE this post! I have casually peeked in at eBay a few times for "old SFF pbs", and picked up a few anthologies and other things, but I have never seen anything like the ones you show here, and I wish I had!

As went through the covers, one thought kept recurring: lots of nice Kelly Freas covers! He sure did a lot of great work and so much is distinctive.

I'd like to find a decent copy of Brown's Rogue in Space, guess I'll have a look.
Rick had an excellent blog of his own, Tip the Wink, and he wasn't shy about crediting the writers here at Black Gate (especially Bob Byrne, Thomas Parker, and others) for inspiring his reading journeys.

Adventures on Other Planets (Ace Books, December 1955). Cover by Ed Valigursky
Here's the introduction to his fine review of Donald A. Wollheim's groundbreaking 1955 anthology Adventures On Other Planets, posted May 14, 2020.
John O'Neill is the Emperor Overlord & Mighty Poobah of the excellent blog Black Gate. I subscribed to and read Black Gate in print when it was published in that format, and now I read it daily in blog form on my computer. I hardly blush when I say John is a hero of mine, and someday I'd like to shake his hand, uh, fist bump, uh, elbow bump. Heck, I'd just bow.

At any rate, I read this post on Black Gate and, besides being envious of his prowess at finding cool books online, it got me thinking I should look for some old anthologies for myself. So I did. This will begin a series of posts I do on them.
A while back I realized that it had been a few months since I'd seen R.K. comment here. Last week I finally got around to visiting his blog Tip the Wink again, and found this troubling message, posted by Rick on June 4th of last year, the same day he left a comment on my Hugo Winners article.
About forty years ago I was diagnosed with Epilepsy. Seizures have been controlled with meds ever since. Over the decades I've had four breakthrough seizures, one of them about a month ago, at the wheel, causing a multiple car accident. It was bad, I was hospitalized and though I'm now home, I'm handicapped. My brain is fuddled, full of holes, I can't follow logic, I can't read or write, I have no balance. So until some improvement, I'm breaking from blogs and other activities. Hang in there, everyone. I'll peek in when able.
A month later, on July 11 of last year Barbara, Rick's wife, posted a final message.
It was so difficult to read Rick's last two posts at the time he wrote them. And it is even harder now to post this update, but he would have wanted me to.

All of your encouraging comments to his posts lifted his spirits but his situation did not improve. Without writing his medical journey, things went the wrong way in late June, and he was airlifted from our local hospital to one in Bend, Or and was in the ICU for almost a week. He passed away on June 30th, early in the morning. He had been transferred to their Hospice unit and passed peacefully and in no pain…

I will keep his blog site open for awhile but do not expect to post reviews, etc. I am not a writer, as you can see. I was so lucky to have been able to share 16+ years of my life with Rick. What a wonderful Bear he was, and will still be, in my heart!
I was devasted to read about Rick's death. Although I knew him only through his words, here at Black Gate and on his own blog, I felt that I knew him, and I much enjoyed his company.
In many ways I think Rick epitomized the ideal reader. Friendly, open-minded, knowledgeable, and thoughtful, and eager to share his love of fiction with the world.
I'm glad he shared it with us. And I miss him.