New Treasures: A Door in the Dark by Scott Reintgen
New Treasures: A Door in the Dark by Scott Reintgen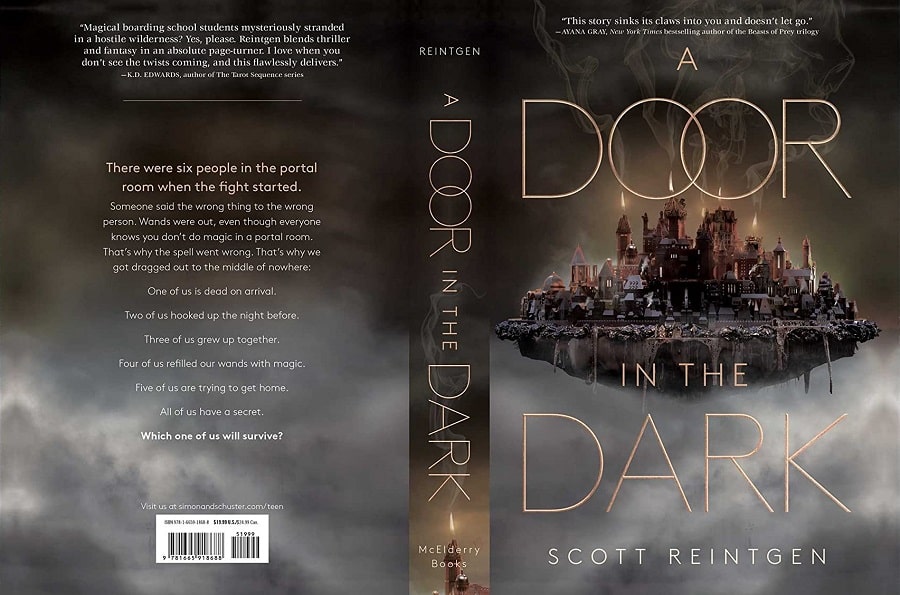 A Door in the Dark (Margaret K. McElderry Books, March 28, 2023). Cover by Bose Collins
I'm such a sucker for a great cover. And Bose Collins' glorious cover artwork for Scott Reintgen's new fantasy A Door in the Dark — featuring the tantalizing and mysterious grounds of Balmerick University — definitely got my attention.
A Door in the Dark is the opening novel in the Waxways series, a fantasy thriller that follows six young wizards fighting their way home after a portal spell malfunction leaves them stranded in the Dires, and stalked by a terrifying revenant. Kirkus Reviews calls is "Truly fantastic… [with] elements of a locked-room mystery and an original magic system," and I like the sound of that.
Scott Reintgen is also the author of The Nyxia Triad, the Talespinners trilogy, and the Ashlords series.
Here's a tasty slice of that Kirkus coverage.
This dark fantasy duology opener has a magic school, a death, and five students who find themselves stranded in the wilderness.

Ren Monroe is a promising student wizard at Balmerick, a private school in the city of Kathor. Along with her best friend, Timmons, Ren is one of the few welfare students attending on a scholarship… When a portal spell goes awry and Ren, Timmons, and four other students from different walks of life are thrown together into the Dires, an uncharted land where the last dragons lived, one of them ends up dead and the rest need to learn to work together to make their way back home before they succumb to the harsh environment or the terrifying revenant following them…. Placing elements of a locked-room mystery and an original magic system within the familiar trappings of a school for magic, this is a no-holds-barred tale of revenge, atonement, and the pursuit of justice…
Read the complete review here.
A Door in the Dark was published by Margaret K. McElderry Books on March 28, 2023. It is 368 pages, priced at $19.99 in hardcover and $10.99 in digital formats. The lovely cover is by Bose Collins.
See all our recent New Treasures here.