Would You Spend $44 on a Collection of 30 Vintage DAW Paperbacks?
Would You Spend $44 on a Collection of 30 Vintage DAW Paperbacks?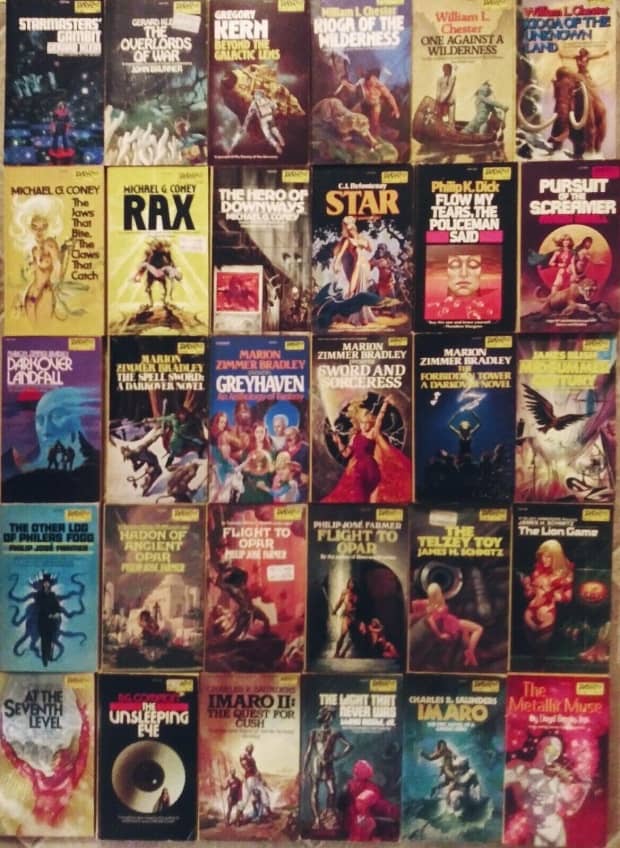 Would you spend $44 on these 30 vintage DAW paperbacks?
I buy a lot of paperbacks on eBay.  I mean, a lot. But believe it or not, I don't spend a lot of money. I've gotten in the habit of buying small collections; because shipping costs work out better and I spend much less per item. I haven't done the math recently, but I budget anywhere from $0.25 to $0.50 per book when I go hunting, and usually stick to it.
Of course, there are plenty of expensive paperbacks on eBay. Crazy-priced paperbacks, if you want to go looking for them. But eBay is also a clearing house for hundreds of individuals dumping collections en masse, often with very little description, and if you're willing to dig a bit and take a chance, you can find bargains every day of the week. (And every hour of the day). In fact, eBay has become my go-to site for bargain-basement vintage paperback collections. Someday collectors will stop dying off, and their put-upon spouses will stop dumping their collections on auction sites at rock-bottom prices as they clean out the attic, but today is not that day.
I can't remember the last time I spent more than $25 for a lot of paperbacks. But last month I scrambled all over myself to hit the buy button on the lot above: 30 vintage DAW paperbacks priced at $44.
Sure, I love DAW. And I'm happy to welcome all these books into my collection, But if you look carefully, you'll see exactly why I wrecked my monthly collecting budget to acquire these books — and would've been happy to spend a lot more. I didn't buy this lot because it's a fine assortment of books (though it is). I spent the money because of one author, and one author only. Do you know which one?
[Click the images for DAW-sized versions.]
First things first. I believe most of our readers are acquainted with online auction sites like eBay. But I'm going to make the relatively safe assumption that most of you aren't as familiar with the ins and outs of the paperback market as, say, those of us who obsessively hunt for Vintage Treasures to write about every single week.
So let's start with a simple primer. What would you expect to pay on an online auction site like eBay for:
16 Robert A Heinlein paperbacks from the 70s/80s in near-perfect condition?
18 random vintage tiles, including two fine Ace Doubles?
40 wildly different books from the 60-80s, rated poor to very fine?
10 nice 80s titles, including two copies of The Best of Robert Silverberg?
Five Poul Anderson classics in excellent condition
Ready? I bought all five of the sets below on eBay in the last six weeks. The prices I paid are below the photos. See how close you were.
16 Robert Heinlein paperbacks for $4.24? Heinlein ain't what he used to be.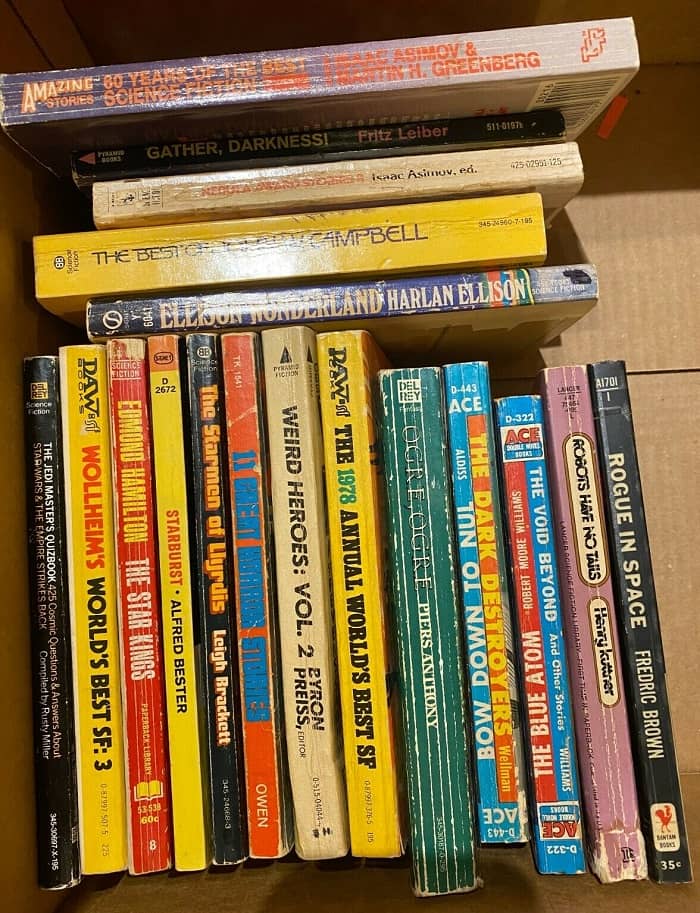 18 vintage paperbacks — including two nice Ace Doubles — for a measly $5.50!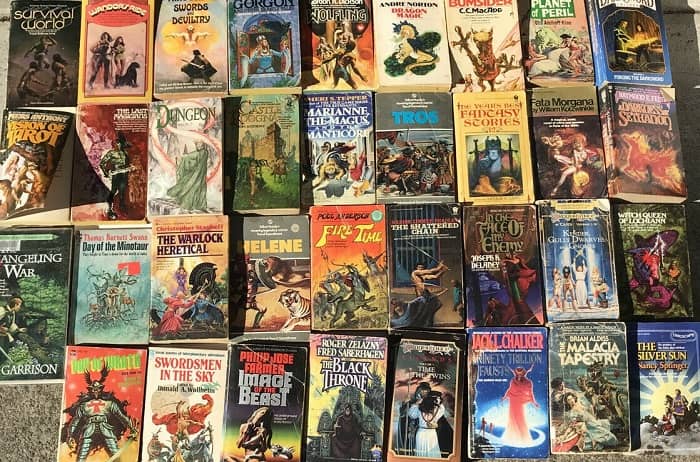 Forty wildly different paperbacks for $9.99? Swordsmen in the Sky alone is worth that.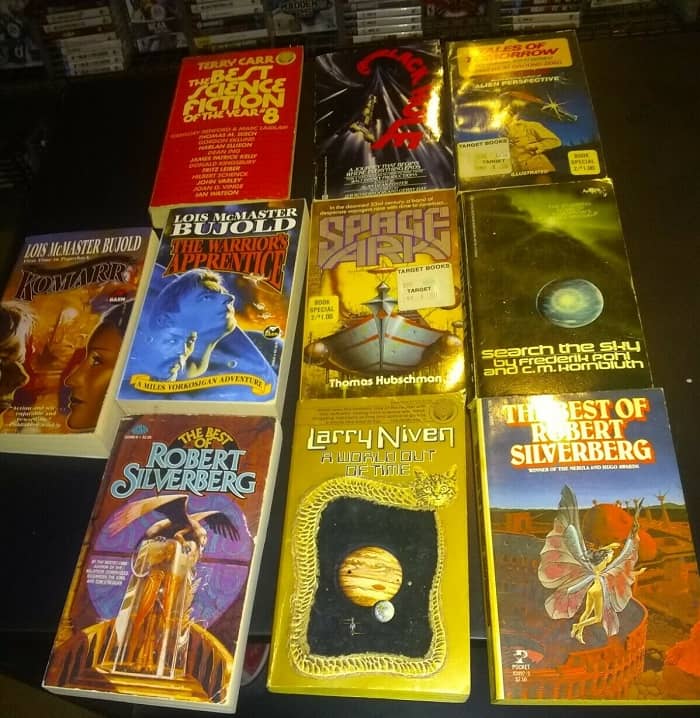 10 nice paperbacks — including two copies of The Best of Robert Silverberg
— for just five bucks. Something is wrong with the world.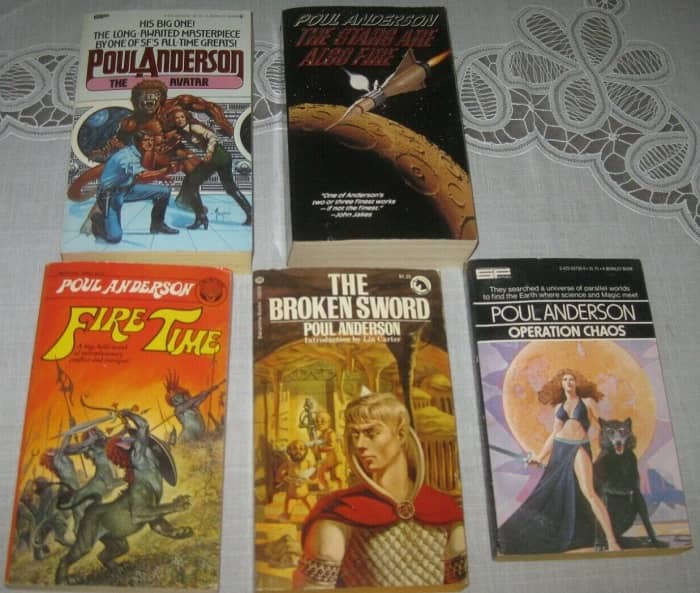 Five Poul Anderson classics for under a buck? I shake my head and click the BUY button.
Okay, that was fun! And hopefully it gave you a sense of the kinds of lots out there for the determined bargain hunter, and what you can get for $10 or less. And no, that second copy of The Best of Robert Silverberg isn't for sale, I'm keeping them both.
Let's move on to a tougher challenge. Take another look at that set of 30 DAW paperbacks at the top of the page. What makes it worth nearly twice all those other sets put together?
Well, yes. You're right — they're in gorgeous shape, virtually all unread, without even a single spine crease, though that's not really the reason they're valuable. Here's a photo the seller kindly included in the auction to prove it.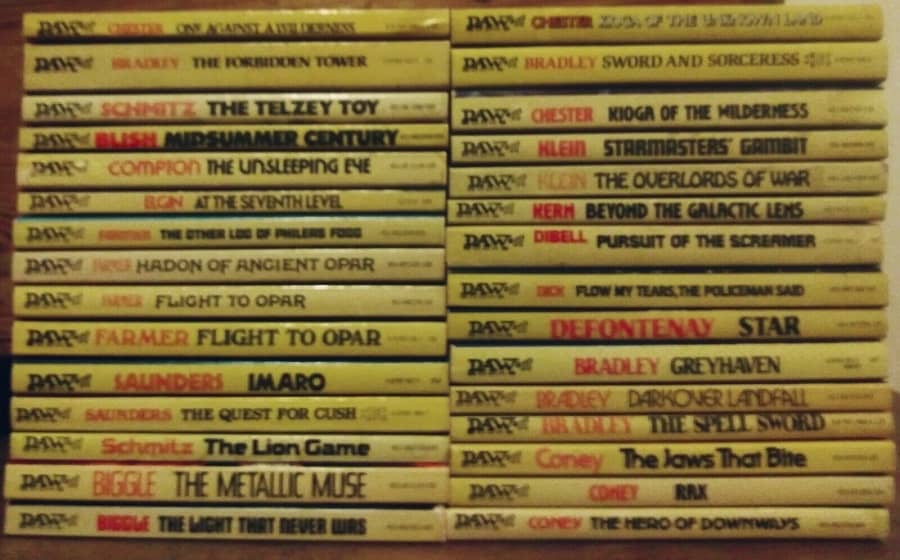 Damn. That's a lot of yellow.
It's not just the spines that are unmarred. Here's a photo I snapped as I was unpacking them. That Lloyd Biggle paperback is 48 years old, and it looks like it just came off the printing press.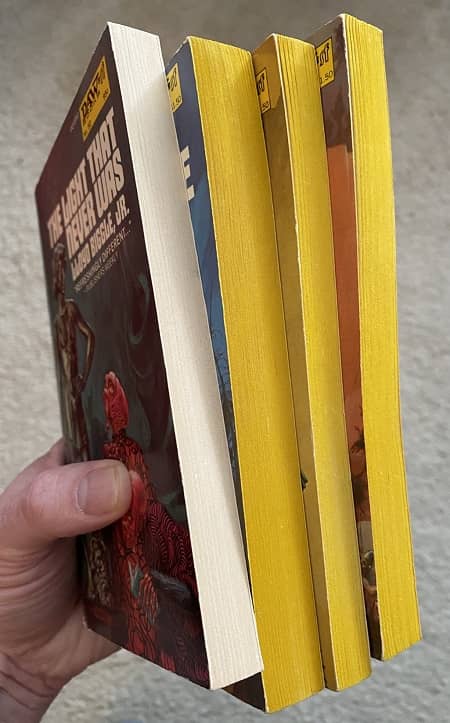 Well cared-for books
I didn't buy this lot just because they're in fine condition. DAW books are collectible, but very few of them are rare, or even hard to find. I've been collecting DAW for over four decades, and there was at least one book in this set I wanted very badly.
Let's take a closer look at some of the authors included.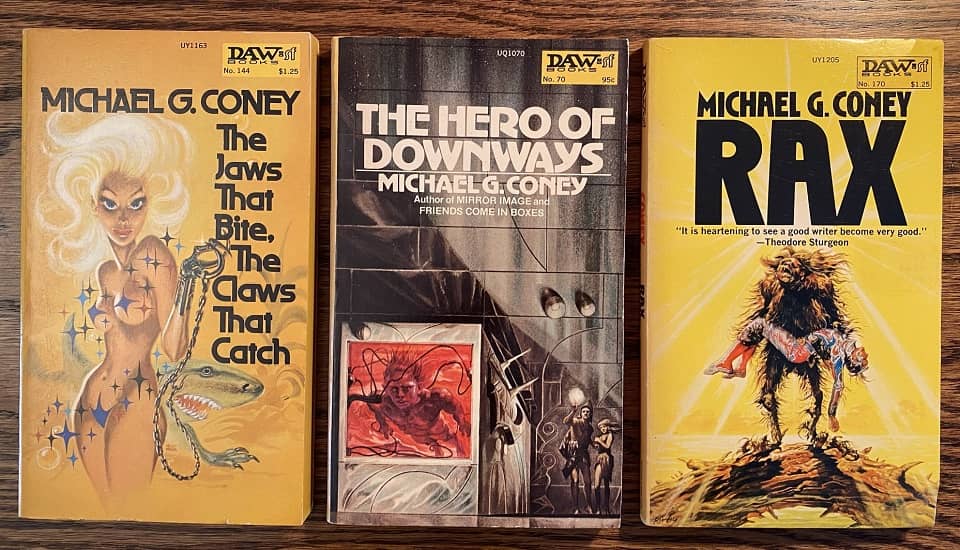 Three 70s novels by Michael G. Coney
Michael G. Coney was a British science fiction writer who produced nearly two dozen novels during a lengthy career. When I first started buying paperbacks in the mid-70s, his books were all over bookstore shelves in Canada, especially Friends Come in Boxes (1973), The Jaws That Bite, the Claws That Catch (1974), and Rax (1975).
I remember Coney fondly, and he was an early favorite in my early collecting days. But his books aren't hard to find, or expensive. He wasn't the reason I bought this set.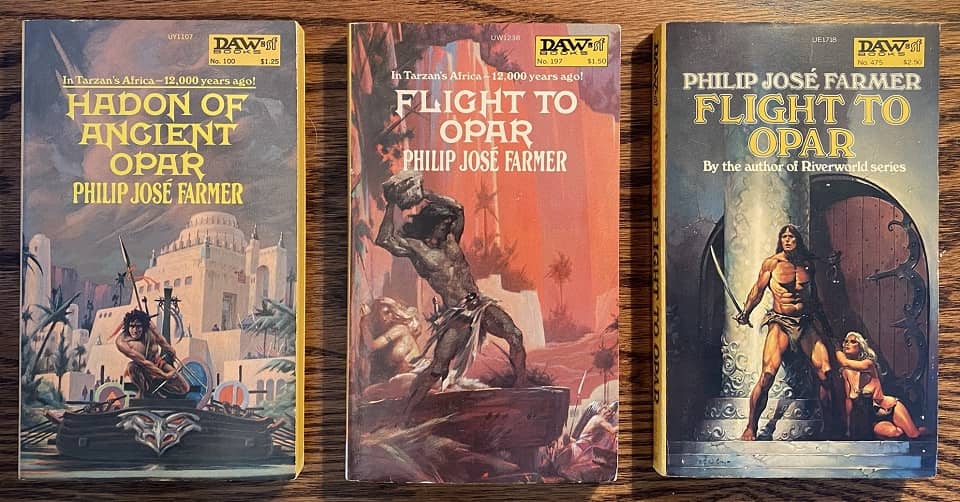 Philip Jose Farmer's Opar novels
I wasn't familiar with Philip Jose Farmer's Opar novels until very recently. The lost city of Opar is the setting for several of Edgar Rice Burroughs' Tarzan novels; in the mid-70s Farmer wrote a series of novels that explored the prehistory of the lost city, following an adventurer named Hadon in the ancient Africa of 12,000 years ago, beginning with Hadon of Ancient Opar (1974), and continuing in Flight to Opar (1976) and The Song of Kwasin (2012), written with Christopher Paul Carey. Carey wrote a series of fascinating articles for Black Gate about these books just a few years ago.
Finding these books in good shape can be tricky these days. But they're not rare, and they're not the reason I bought this lot.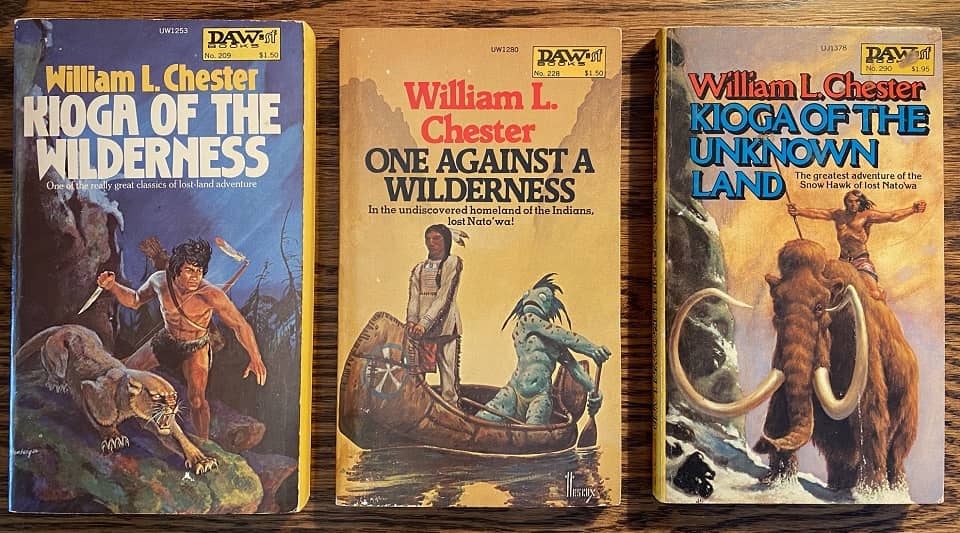 William Chester's strange Kioga Saga
I don't know much about William L. Chester. He doesn't even have a Wikipedia entry, but John Clute at the indispensable Encyclopedia of Science Fiction informs us that the DAW editions of his Kioga saga in the mid-70s were reprints of stories that originally appeared in the pulps in the 30s.
US author known for his series about Kioga, a Tarzan-like white child raised on a vast Island Lost World within the Arctic Circle, somewhere in northern Siberia but heated by thermal springs and unknown currents, from which he escapes into the company of bears and Mika, a snow-lion: Hawk of the Wilderness (April-October 1935 Blue Book; 1936), filmed as Hawk of the Wilderness (1938)… Kioga of the Wilderness (April-October 1936 Blue Book; 1976); One Against a Wilderness (March-August 1937 Blue Book; coll of linked stories 1977) and Kioga of the Unknown Land (March-August 1938 Blue Book; 1978).
Are you as curious as I am about a pulp story that features a guy riding a mammoth, and getting rowed around by a green amphibian in a canoe? Sure you are.
But you probably wouldn't spend $44 on his paperbacks. Neither would I. (But if you would — get in touch, we should talk.)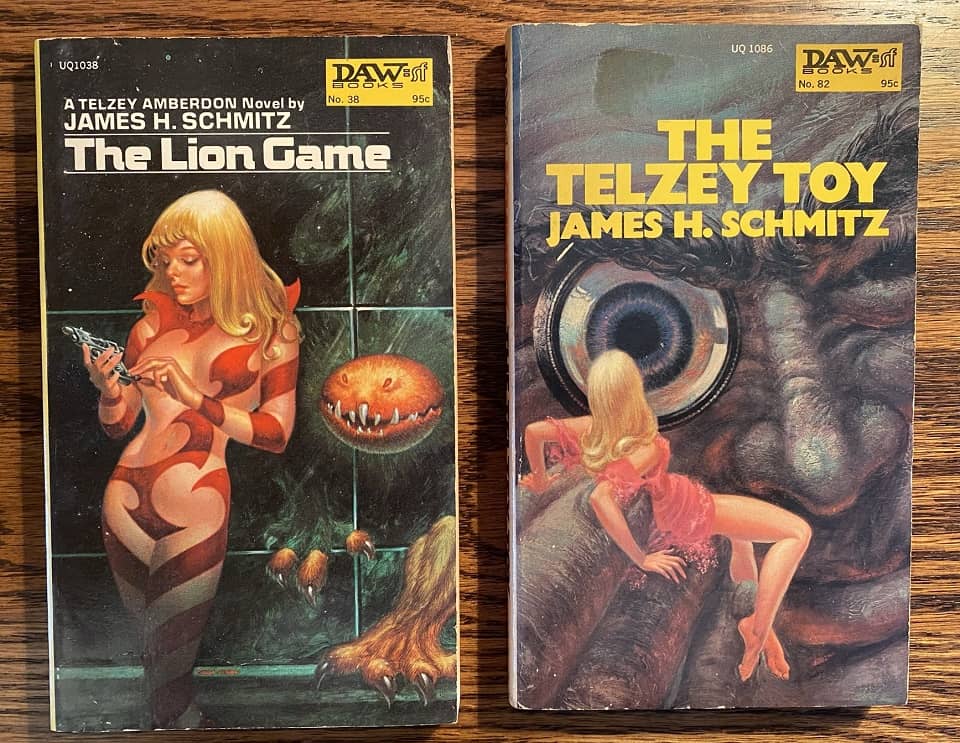 I love James H. Schmitz
I love James H. Schmitz, and I'm not the only one. Mark Tiedemann, Isabel Pelech, Steven H Silver, Rich Horton, and others have written about his classic novels and stories here at Black Gate, including The Witches of Karres, The Demon Breed, and of course his most excellent omnibus collections from Baen.
I'd pay a great deal to have his early DAW novel The Lion Game and collection The Telzey Toy… unless I already had them. Which I do.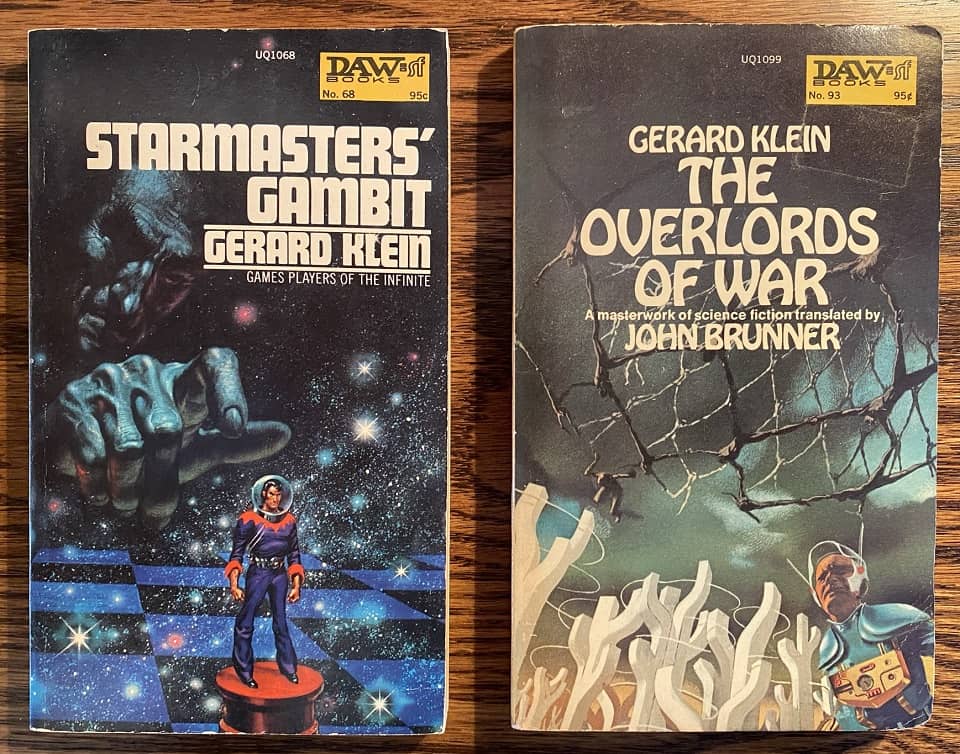 Does anyone out there remember Gerald Klein?
Does anyone out there remember French writer Gerald Klein? I sure don't.
These may well be the rarest DAW books in the lot. I don't remember seeing The Overlords of War before, anyway. I note it's translated by John Brunner, which certainly makes it a little more interesting in my book.
Rare (at least in this case) doesn't translate to valuable, however. I wasn't aware these books existed, and I certainly didn't value them enough to buy this lot to get them.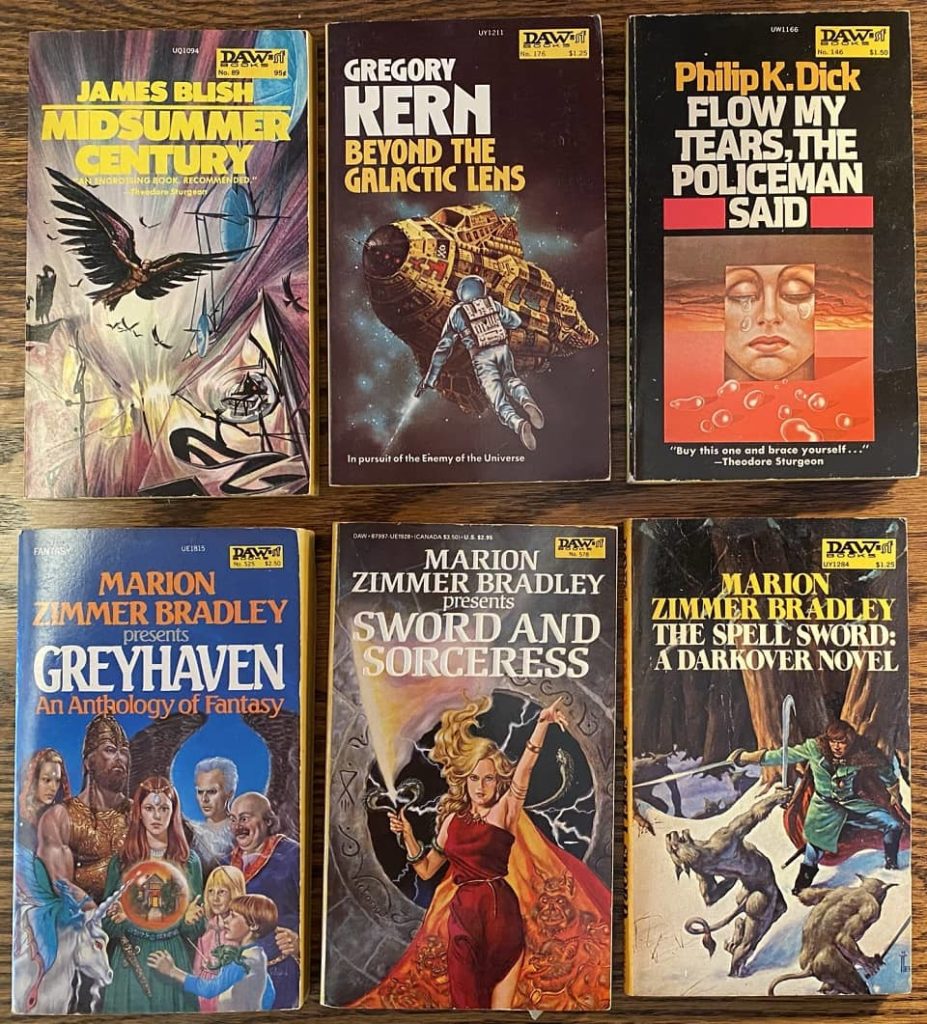 Philip K. Dick, James Blish, Gregory Kern, and Marion Zimmer Bradley
If you scanned the lot at the top of the page, spotted the sole novel by Philip K. Dick, and shouted "Aha!", you could be forgiven for thinking you'd discovered the reason I shelled out $44 for these books.
Frankly, when eBay bidders get into a bidding war over science fiction paperbacks, the smart money is usually on Philip K. Dick as the reason. His original paperback releases had tiny print runs, and he experienced an explosion in popularity when Hollywood discovered his novels in the 80s, starting with Blade Runner and the Arnold Schwarzenegger version of Total Recall. Back when I compared the relative collectibility of SF writers on eBay a few years ago, Dick came out ahead of virtually everyone else.
So that copy of Flow My Tears, the Policeman Said was a good guess. But it's not particularly rare, it's not in good shape, and it's not the reason I bid aggressively on this auction. Neither are the pair of anthologies by Bradley, nor the James Blish or Gregory Kern novels.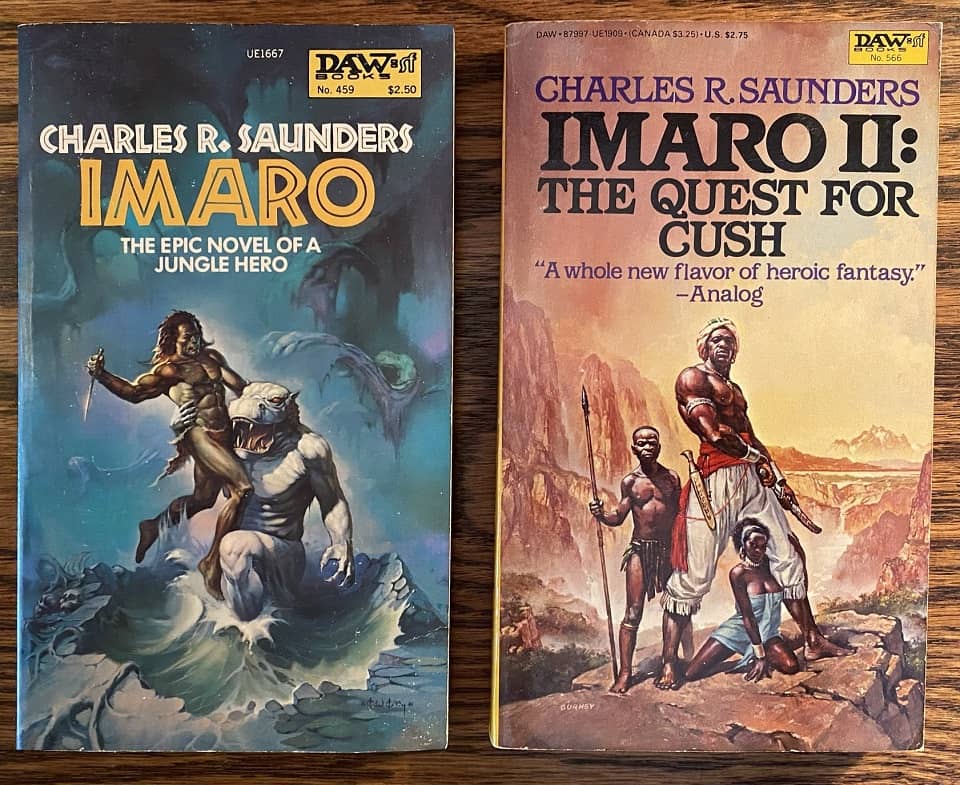 The first two Imaro novels by Charles Saunders: Imaro (1981) and The Quest for Cush (1984)
If you spotted Charles R. Saunders' Imaro novels at the bottom of that photo and knew immediately (or even eventually) that they were the reason I was so excited to win that auction — congratulations. You are exactly correct.
Saunders lived in my hometown for many years, and he was the first science fiction writer I ever met, when he spoke at a gathering of the Ottawa Science Fiction Society in the early 80s. But it wasn't until many years later that I learned just how esteemed his tales of the African warrior Imaro are among sword-and-sorcery fans. Today he is revered for taking a nearly-stagnant genre in the mid-80s and breathing fresh life into it, with his stories of a young Ilyassai warrior and his battles against deadly foes both human and inhuman as he wanders the vast continent of Nyumbani.
Saunders died last year in Nova Scotia, "alone and unrecognized" (as noted in his delayed obit in The New York Times). But even before then, his early DAW novels were rapidly increasing in value. The first, Imaro (1981) sold poorly when it was first published, partly as a consequence of a one-month delay in release (the entire first run had to be pulped after the Burroughs estate complained about the original cover tagline, The Epic Novel of a Black Tarzan.) And it's been years since I've seen a copy of the sequel, The Quest for Cush (1984).
Today Charles is considered one of the leading lights of modern adventure fantasy, and his hard-to-find novels command extremely high prices among collectors — starting prices on eBay are $60-80 per book, and up. Finding two of them hidden in a nondescript jumble of 70s and 80s DAW paperbacks with a $15 opening bid was a delightful surprise.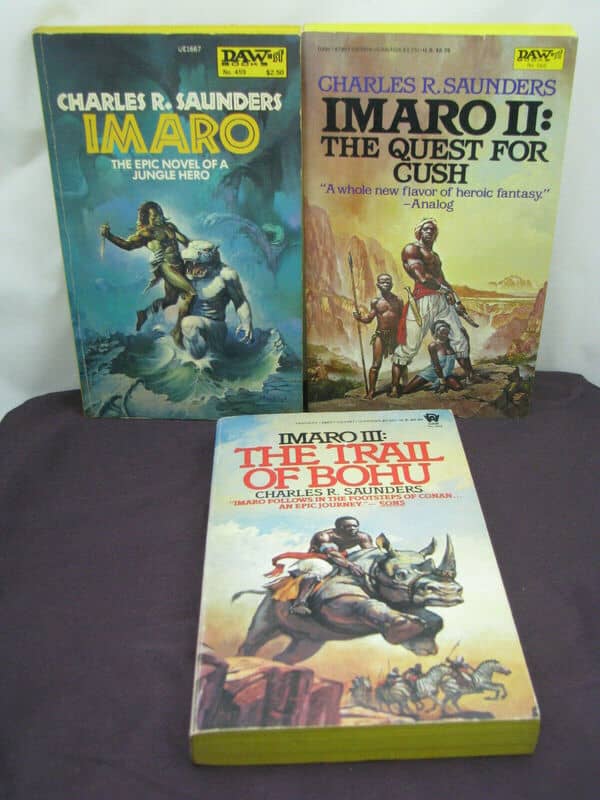 The original Imaro trilogy from DAW
I'm still on the hunt for a copy of the third and final DAW Imaro novel, The Trail of Bohu (1985). I'll find a copy eventually.
Last week I wrote about Donald A. Wollheim's tenure as the publisher at DAW, and his success at finding new talent. I think the enduring success of Charles' Imaro novels is a credit to Wollheim. Not just his ability to find talented new writers, but the fact that he stuck with him, publishing three novels despite the fact that (by all reports) the first one was a failure. We have these books today — and Charles Saunders had a career at DAW — because Wollheim believed in him. I don't think there are many publishers who might do the same today.
If this had made you at all curious about Charles Saunders and his work, his Imaro novels are still in print today from Night Shade Press, and we've written extensively about them here at Black Gate, including a handy Imaro Series Tour Guide by Seth Lindberg.
See all our recent coverage of Vintage Treasures here.