New Treasures: Worlds Long Lost edited by Christopher Ruocchio and Sean CW Korsgaard
New Treasures: Worlds Long Lost edited by Christopher Ruocchio and Sean CW Korsgaard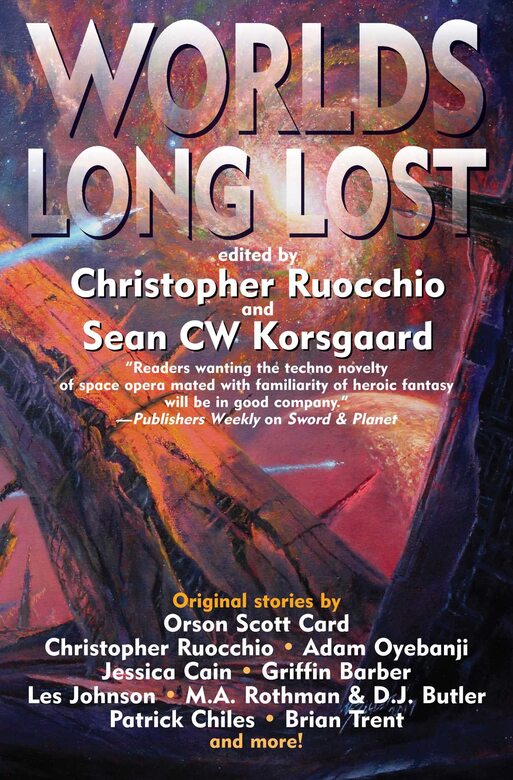 Worlds Long Lost (Baen Books, December 6, 2022). Cover by Bob Eggleton
Baen Books has published some terrific anthologies recently.
Christopher Ruocchio (The Sun Eater series) has had a particularly fine run, with over half a dozen to his credit, most with Baen senior editor Hank Davis — including Space Pioneers, Cosmic Corsairs, and Time Troopers — or Tony Daniel (Star Destroyers and World Breakers). Which is why I was dismayed to learn that Worlds Long Lost, a collection of all-new stories of ancient alien artifacts, is his last. Here's the announcement on his blog, SollanEmpire.com
Worlds Long Lost is my final short story anthology with Baen Books, co-edited with my successor, Sean C.W. Korsgaard. Featuring stories of ancient aliens and their ruins, it includes my short story "Mother of Monsters." "Mother of Monsters" is set on the Cielcin worldship codenamed Echidna, the very moon captured by Lord Cassian Powers at the Second Battle of Cressgard. It is the tale of Tor Mencius, the scholiast in charge of excavating the tombs of the Aetane who ruled Echidna…and of what he discovered there.
Christopher's story is a brand new tale set in his popular Sun Eater series. The book also contains original fiction from Orson Scott Card, Adam Oyebanji, M.A. Rothman and D.J. Butler, Les Johnson, and many more.
[Click the images for Long Lost versions.]

Some of Christopher Ruocchio's previous Baen anthologies: Space Pioneers (with Hank Davis, 2018), World Breakers
(with Tony Daniel, 2021) and Sword and Planet (2021). Covers by Bob Eggleton, Dominic Harman, and Kieran Yanner
Although Christopher is stepping aside — presumably to focus more on his popular novels — It's gratifying to hear that Baen Assistant Editor Sean CW Korsgaard will be picking up the reins.
Here's the publisher's description for Worlds Long Lost.
ALL-NEW STORIES OF ANCIENT ALIEN ARTIFACTS FROM THE TOP NAMES IN SCIENCE FICTION AND FANTASY

THE UNIVERSE IS OLDER AND MORE ALIEN THAN WE CAN EVER UNDERSTAND

We were not alone. The farther we push into the universe, the more obvious it becomes. The signs are everywhere: canals and pyramids on Mars, old roads on the moons of Jupiter, ruined cities on worlds about the nearer stars. The galaxy once teemed with life, or so it seems. Which begs the question: What happened to it all?

These stories explore the ruins of lost civilizations, solve ancient mysteries . . . and awaken horrors from beyond the dawn of time.

Featuring stories by Orson Scott Card, Griffin Barber, Adam Oyebanji, Jessica Maguire, Patrick Chiles, and an all-new entry in the Sun Eater universe from editor Christopher Ruocchio. Join us for your next adventure to Worlds Long Lost!
Publishers Weekly says Worlds Long Lost is "Full of creepy flights of imagination and thought-provoking science… will be a hit with fans of first contact sci-fi," and Victoria Silverwolf at Tangent Online has a warm review. Here's a brief excerpt from her lengthy coverage.
Fourteen new stories involving the discovery of ancient alien artifacts, on Earth or elsewhere in the universe, appear in this anthology. The pieces range from intellectual puzzles to tales of adventure, with a fair amount of horror thrown into the mix.

In "Mother of Monsters" by co-editor Christopher Ruocchio, a military engineer in the service of a galactic empire comes across a relic buried underground on an enemy planet. Merely knowing that the thing exists is enough to make him a security risk, but this is a minor problem compared to what the object does to him after he encounters it…

The narrator of "Never Ending, Ever-Growing" by Erica Ciko travels with other mercenaries to a planet where the inhabitants were destroyed in order to provide a haven for the elite. The human inhabitants sent out a distress signal, then went silent. The mercenaries are stranded on the world and encounter the vast entity that emerges from underground. The introduction compares the story to the cosmic horror of H. P. Lovecraft, so it is no surprise that the plot involves incomprehensible alien architecture, hallucinatory visions, and an ancient godlike being that warps the minds of those it encounters. The author reveals great skill at combining these themes with military science fiction…

In "They Only Dig at Night" by Sean Patrick Hazlett, a security guard at a secretive corporate facility encounters a worker with glowing green eyes, and is even forced to kill him when he attempts to escape. In this case, however, death is hardly permanent, leading to even greater mysteries… This grimly paranoid tale is likely to send chills up the spines of readers, even if much remains mysterious.

Continuing in the same vein as previous stories, "Howlers in the Void" by Brian Trent combines cosmic horror with space opera. A human military starship and an enemy alien vessel both crash on a seemingly lifeless world. The planet is inhabited by humans and aliens from other stranded ships. This turns out to be the least of the world's terrors….

"Dark Eternity" by Jonathan Edelstein takes place in the extreme far future, long after a previous galactic civilization fell and another space-faring one is rising. Based on legends and ancient records, the protagonists use small alien objects that record sound to track down the truth about a hero's journey in the remote past, leading to a striking discovery… This is a dense, complex story, set against a richly imagined, exotic future. In some ways, it reminds me of the unique work of Cordwainer Smith, although it is entirely original….
Editor Sean CW Korsgaard's story "Black Box" was released on the Baen website as a promo for the anthology:
https://baen.com/black-box
Here's the complete Table of Contents for Worlds Long Lost.
Introduction by Christopher Ruocchio
"The Wrong Shape to Fly" by Adam Oyebanji
"Mother of Monsters" by Christopher Ruocchio
"Rise of the Administrator" by M.A. Rothman and D.J. Butler
"Mere Passers By" by Les Johnson
"Never Ending, Ever-Growing" by Erica Ciko
"They Only Dig at Night" by Sean Patrick Hazlett
"Howlers in the Void" by Brian Trent
"The Building Will Continue" by Gray Rinehart
"re: something strange" by Jessica Cain
"The Sleepers of Tartarus" by David J. West
"Dark Eternity" by Jonathan Edelstein
"Rocking the Cradle" by Patrick Chiles
"Giving Up on the Piano" by Orson Scott Card
"Retrospective" by Griffin Barber
Christopher Ruocchio's Baen anthologies include (links will take you to our previous coverage):
Star Destroyers (2018) with Tony Daniel
Space Pioneers (2018) with Hank Davis
Overruled! (2020) with Hank Davis
Cosmic Corsairs (2020) with Hank Davis
World Breakers (2021) with Tony Daniel
Sword & Planet (2021)
Time Troopers (2022) with Hank Davis
Worlds Long Lost (2022) with Sean C. W. Korsgaard
Worlds Long Lost was published by Baen Books on December 6, 2022. It is 305 pages, priced at $16 in trade paperback and $8.99 in digital formats. The cover is by Bob Eggleton. Read a generous sample (including the introduction and the first three stories) at the Baen website.
See all our recent coverage of the best new SF and fantasy releases here.