New Treasures: Star Destroyers, edited by Christopher Ruocchio and‎ Tony Daniel
New Treasures: Star Destroyers, edited by Christopher Ruocchio and‎ Tony Daniel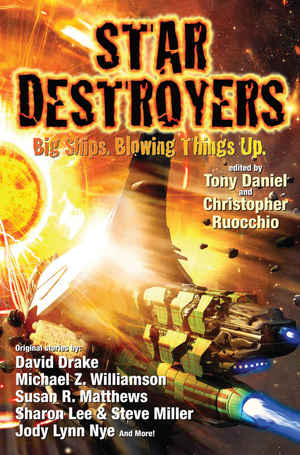 Well, this is something of a guilty pleasure: an anthology with the subtitle Bigs Ships. Blowing Things Up. It's the kind of thing you didn't even know was missing from your life until you see it.
IN SPACE, SIZE MATTERS!

Boomers. Ships of the Line. Star Destroyers. The bigger the ship, the better the bang. From the dawn of history onward, commanding the most powerful ship around has been a dream of admirals, sultans, emperors, kings, generalissimos, and sea captains everywhere. For what the intimidation factor alone doesn't achieve, a massive barrage from super-weapons probably will.

Thus it was, and ever shall be, even into the distant future. From the oceans of Earth, to beneath the ice of Europa, to the distant reaches of galactic empires, it is the great warships and their crews that sometimes keep civilization safe for the rest of us—but sometimes become an extinction-level event in and of themselves.

In "Superweapon" by David Drake, a fight for possession of an ancient alien warship will determine the fate of two vast interstellar powers. Then in "Hate in the Darkness" by Michael Z. Williamson, a team of libertarian Freeholders must think outside the box to do battle with the might of the United Nations and its powerful navy. And in "A Helping Hand," Jody Lynn Nye posits an interstellar submarine on a rescue mission behind enemy lines — with the fate of an entire species hanging in the balance.

Big, bold, and edge-of-your-seat space opera and military science fiction from David Drake, Sharon Lee & Steve Miller, Michael Z. Williamson, Steve White, Robert Buettner, Susan R. Matthews, Dave Bara, and many more!
If you like modern space opera — and really, who doesn't? — this book is Bean's gift to you. It contains stories from 15 top-notch writers, most of whom have ongoing space opera series from a wide range of publishers, including Dave Bara (DAW), Christopher Ruocchio (DAW), Robert Buettner (Orbit), Mark L. Van Name (Baen), and many others. Here's your chance to try a rich smorgasboard of writers under one cover, and maybe find yourself a few new favorites.
Here's the complete Table of Contents.
Introduction by Tony Daniel and Christopher Ruocchio
"Superweapon" by David Drake
"A Sudden Stop" by Steve White
"Another Solution" by Mark L. Van Name
"The Magnolia Incident" by Mike Kupari
"A Helping Hand" by Jody Lynn Nye
"Boomers" by J. R. Dunn
"Hate in the Darkness" by Michael Z. Williamson
"The Stars Are Silent" by Gray Rinehart
"Excerpts from Two Lives" by Sharon Lee and Steve Miller
"Icebreaker" by Dave Bara
"Try Not to Kill Us All" by Joelle Presby
"Skipjack" by Susan R. Matthews
"Homecoming" by Robert Buettner
"Not Made for Us" by Christopher Ruocchio
"A Tale of the Great Trek War Aboard the Starship Persistence" by Brendan DuBois
Star Destroyers was published by Baen Books on March 6. It is 336 pages, priced at $16 in trade paperback and $8.99 for the digital edition. The cover is by Kurt Miller. Read a generous sample from the book at the Bean website.
See all of our recent New Treasures here.