Tor.com Celebrates 50 Years of Locus Magazine
Tor.com Celebrates 50 Years of Locus Magazine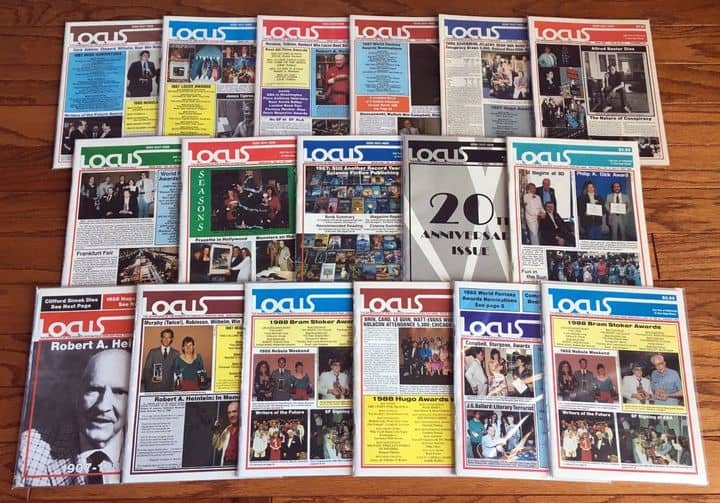 Over at Tor.com, Paul Weimer (who comments occasionally at Black Gate and elsewhere as PrinceJvstin) has written a fine tribute to one of my favorite magazines — Locus, the news magazine of the science fiction and fantasy field. He captures exactly what the magazine has meant to readers over the years, especially in the 80s and 90s when it was the trusted news source that tied together the entire genre.
In 1968, the legendary anthologist and editor Charles N. Brown created a one-sheet fanzine about news of the science fiction field. Brown's intent was to use it to help the Boston Science Fiction group win its Worldcon bid. Brown enjoyed the experience so much that he continued the magazine through Noreascon I, the 29th Worldcon held in Boston in 1971 (where Locus won its first Hugo award). Brown continued to be the steward of Locus until his death in 2009. In that run, Locus won thirty Hugo awards, and for good reason…

Before the internet transformed how we get news and information, Locus, under Brown's stewardship, and the assemblage of his team of columnists, grew and expanded its reach year after year until it became what I call the semiprozine of record. Locus became the go-to place for SFF news and information, backed up with a strong stable of reviews and interviews. Every issue of Locus was a window into the ever shifting and changing world of SFF.
The magazine was so important that, when we launched Black Gate in fall of 2000 with a very limited advertising budget, there was never any question about where we should spend it — on a full page ad in Locus. It paid us back handsomely.
The magazine has changed its look over the decades, and in recent years has graduated to glossy full-color interiors and greatly improved the cover design. But despite all the modern competition from online blogs, podcasts, and social media, it remains the most important single source for news, reviews and opinion of interest to SF fans.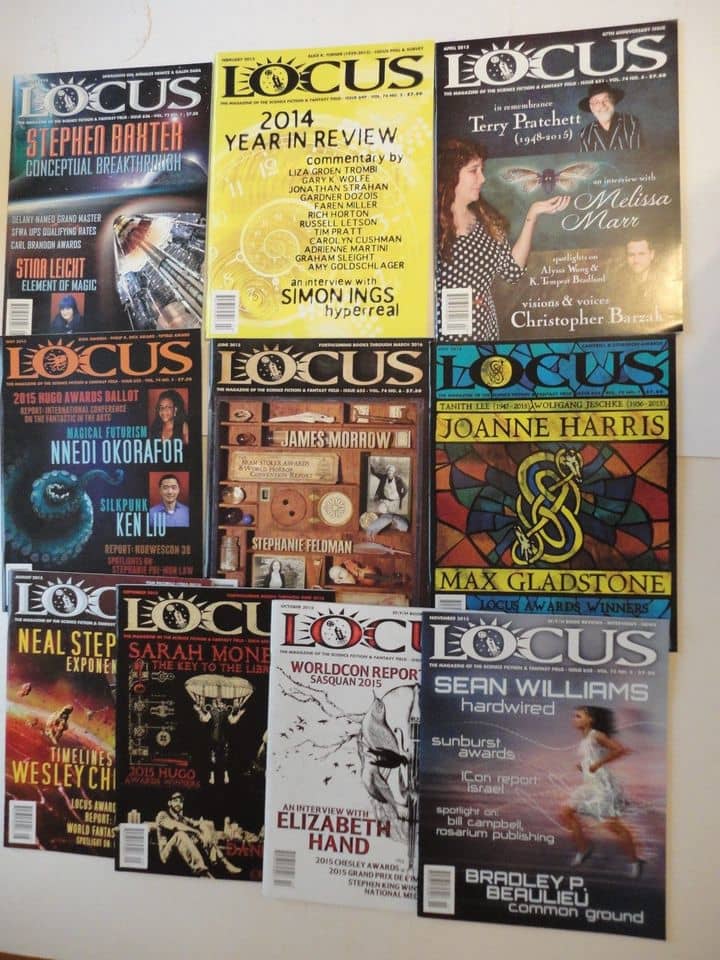 Here's Paul on just what wonders you find inside each issue.
Within its pages, with a couple of decades under its belt, I discovered just what a semiprozine of record could do and mean. Every month I would eagerly look at the news feature first: Who had sold rights to a new book? Who had gotten married? Who (sadly) had passed away? I devoured the glossy, photo-laden columns recounting various conventions, from Worldcons to local SFF scenes. It was in these pages that I first became cognizant of the idea that there were thriving SFF communities not only in the US and in the UK, but really, across the entire world. The bestsellers list in the back of the issue gave me insight as to what people were excited about, pointers toward books that I might consider trying myself.

It was also in the pages of Locus that I really started to understand and get a sense of science fiction and fantasy awards and their role in the community. Sure, I had seen "Hugo Award Winner!" emblazoned on books in the bookstore, but it was in Locus that I read lists of nominees for the Hugo, the Nebula, and of course Locus' own award. For years, I discovered authors by seeing their names on Hugo and Nebula nomination lists: Kate Elliott, Martha Wells, Lois McMaster Bujold, Walter Jon Williams, and many others. I looked forward to the magazine's photos of the award nominees — to getting a glimpse of who these authors really were.
Read the complete article at Tor.com.
See all our previous coverage of Locus here, and all our magazine coverage here.