Future Treasures: Sword & Planet edited by Christopher Ruocchio
Future Treasures: Sword & Planet edited by Christopher Ruocchio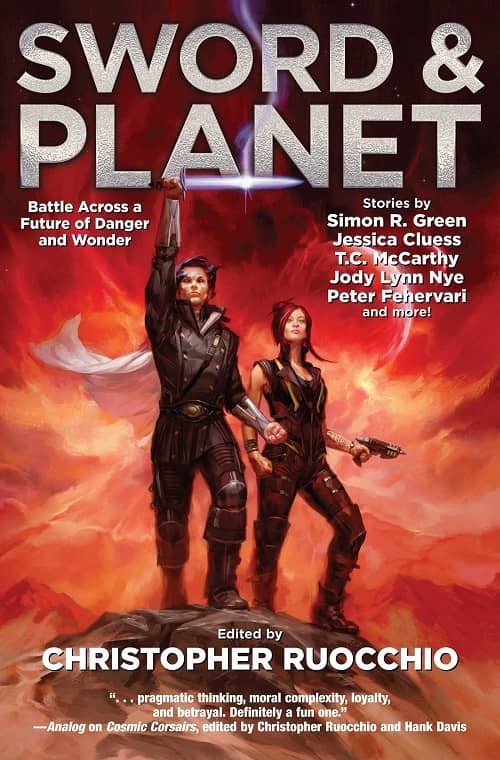 Sword & Planet (Baen Books, December 21, 2021). Cover by Kieran Yanner
Sword & Planet is experiencing a bit of a renaissance. Jason M Waltz and Fletcher Vredenburgh edited the fine The Lost Empire of Sol just this year, and even George R.R. Martin and Gardner Dozois dabbled recently with the genre in the acclaimed S&P anthologies Old Mars and Old Venus. Inspired by all this love for classic space fantasy, Howard Andrew Jones and I (under my 'Todd McAulty' moniker) chatted happily about Five Classic Sword-and-Planet Sagas over at Tor.com a while back.
Christopher Ruocchio, co-editor of Star Destroyers and Space Pioneers, presents his latest big anthology this month, and it looks like a treat. Sword & Planet has stories by Tim Akers, Susan R. Matthews, D.J. Butler, Jody Lynn Nye, Simon R. Green, Christopher Ruocchio, and many others. Weighing in at a generous 352 pages, it lands in less than two weeks — just in time for your last-minute holiday shopping.
Publishers Weekly has an early review:
Ranging from sardonic dungeon crawls (D.J. Butler's "Power & Prestige") to grim pursuits across frozen wastes ("Bleeding from Cold Sleep" by Peter Fehervari), many of these tales take on a cynical, noir tone, but the occasional saga of martial prowess and honor (like R.R. Virdi's "A Knight Luminary") grants a less jaded view. Better, some pieces push into newer realms, where challenges to hereditary claims are resolved by choreographed fencing exhibitions that could trigger nuclear explosions (Susan R. Matthews's "Operatrix Triumphans") or the heart of a dead god meant to serve as a prison turns into a gateway for escape (Anthony Martezi's "Chronicler of the Titan's Heart")…
Here's the complete table of contents.
Introduction by Christopher Ruocchio
"A Murder Of Knights," Tim Akers
"Operatrix Triumphans," Susan R. Matthews
"Power & Prestige," D.J. Butler
"A Broken Sword Held High," L.J. Hachmeister
"The Fruits Of Reputation," Jody Lynn Nye
"A Funny Thing Happened On The Way To Nakh-maru," Jessica Cluess
"Saving The Emperor," Simon R. Green
"A Knight Luminary," R.R. Virdi
"Chronicler Of The Titan's Heart," Anthony Martezi
"Bleeding From Cold Sleep," Peter Fehervari
"The Test," T.C. McCarthy
"Queen Amid Ashes," Christopher Ruocchio
About The Authors
Sword & Planet will be published by Baen Books on December 21. It is 352 pages, priced at $16 in trade paperback and $8.99 in digital formats. The colorful cover is by Kieran Yanner. Enjoy a generous sample at the Baen website.
See all our recent coverage of the best upcoming SF and fantasy here.