Space Opera at its Most Grandiose: The Sun Eater Series by Christopher Ruocchio
Space Opera at its Most Grandiose: The Sun Eater Series by Christopher Ruocchio

The Sun Eaters series (so far): Empire of Silence, Howling Dark, Demon in White, and
Kingdoms of Death. All published by DAW. Covers by Sam Weber (book 1) and Kieran Yanner (books 2-4).
Every time an author completes a fantasy trilogy, we bake a cake at Black Gate headquarters. I can't comment on anyone else, but speaking personally, this job has kept me fat for over a decade. I have no complaints.
The corporate protocol is a little fuzzier when an author produces four books in a series (though I did see Bob Byrne attempt a souffle last month.) And when we see that rare five book milestone? I can't remember the last time it happened, but I think it involved ice cream and a catapult.
We better figure it out soon, though. The fifth and final book in Christopher Ruocchio's groundbreaking Sun Eater series is scheduled to arrive this year, and it will bring to a close one of the most popular and acclaimed space operas of the decade. Library Journal called the opening volume a "wow book… stretched across a vast array of planets," and Eric Flint labeled it "epic-scale space opera in the tradition of Iain M. Banks and Frank Herbert's Dune." It won Ruocchio the 2019 Manly Wade Wellman Award.
[Click the images for sunnier versions.]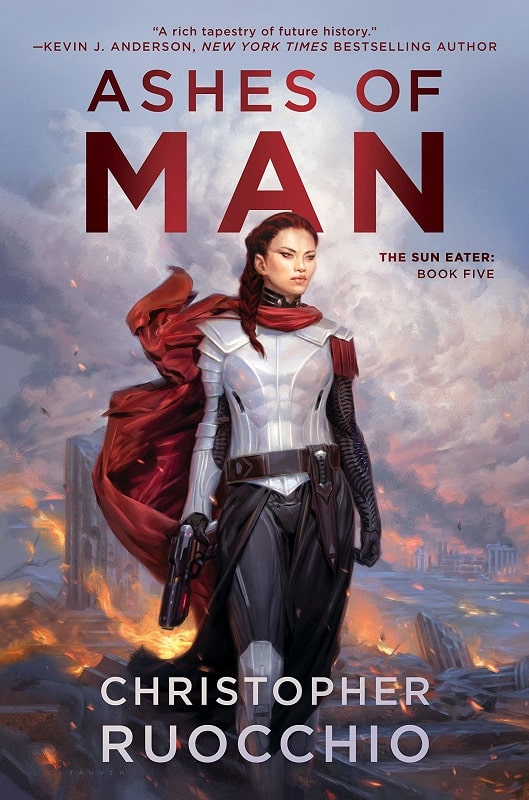 Ashes of Man, the final book in the series, will arrive from DAW on December 6
Combined, the first four books in the series have over 8,400 reviews on Goodreads, and an average rating of 4.34. Speaking as someone who obsesses over his own Goodreads rankings, those are very enviable numbers.
What are these books all about?
I'm not going to attempt a synopsis of a series as sweeping and ambitious as this here — instead, here's an excerpt from the Barnes & Noble Sci-Fi & Fantasy Review notice of Howling Dark.
The sequel to Christopher Ruocchio's grandly epic space saga Empire of Silence continues the confession of Hadrian Marlowe, once heir to an empire, later an amnesiac living on the streets of an alien city, and, eventually, the Sun Eater, destroyer of worlds. Hadrian has been seeking the lost planet of Vorgossos and the legendary alien Cielcin, but after decades, the search has gone cold, and he begins to lead a group of mercenaries among the farther suns and the barbarians. When Hadrian seeks peace with the aliens humanity has been battling, he must leave the Sollan Empire's borders and deal with treachery in order to secure it. If he fails, it could trigger the burning of the universe. With the scope of Dune and a confessional, first-person voice that puts us into the mind of a possible madman, this is space opera at its most riveting and grandiose.
Read the whole thing here.

The Lesser Devil (Self published, February 2020). Cover by Peter Ruocchio
Here's the complete stats for all five books.
Empire of Silence (619 pages, $26 hardcover/$9.99 paperback/$8.99 digital, July 2018) — cover by Sam Weber
Howling Dark (679 pages, $27 hardcover/$9.99 paperback/$9.99 digital, July 2019) — cover by Kieran Yanner
Demon in White (784 pages, $27 hardcover/$9.99 paperback/$9.99 digital, July 2020) — cover by Kieran Yanner
Kingdoms of Death (544 pages, $28 hardcover/$14.99 digital, March 2022) — cover by Kieran Yanner
Ashes of Man (544 pages, $29 hardcover/$14.99 digital, December 6, 2022)
Christopher has also released a rich assortment of short fiction in the Sun Eater universe, including the 200+-page novella The Lesser Devil, which he self-published in 2020.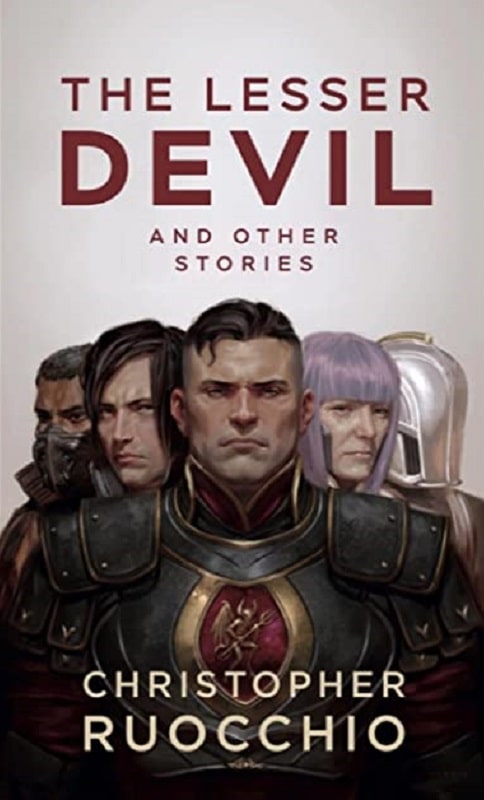 The Lesser Devil and Other Stories
(Anderida Books, September 2021). Cover by Kieran Yanner
For the completists out there, Anderida Books in the UK released an 8-story collection gathering all the Sun Eater short fiction last year, The Lesser Devil and Other Stories. It's expensive (£40), but you get your money's worth — it's a hefty collection (460 pages in hardcover). It's available in a limited-print run of 500, so move quickly if you want one.
See all our coverage of the best new series SF and fantasy here.