Random Reviews: "Yuli" by Daniel Abraham
Random Reviews: "Yuli" by Daniel Abraham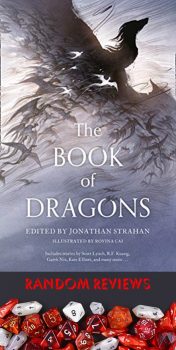 "Yuli" is a character study of a mercenary who has retired and is taking care of his teenage grandson. Unexpectedly living in a small house in the US, Yuli has allowed himself to lose the edge he held as an elite mercenary. He sits around his house all day, chain smoking and drinking, occasionally eating at a local diner where some other former mercenaries get together. He listens to his grandson playing a fantasy role-playing game as their conversation comes up through the house's vents, not fully understanding what they are doing.
Although the role-playing sessions in which the party is preparing to go up against a dragon seems almost like a non sequitur grafted onto the story, Abraham actually builds it as a parallel to Yuli's own life, with Yuli taking on the role of the first dragon, Aufganir.
Yuli's life is turned upside down when one of his former companions, Wrona, warns him that some people who they upset several years earlier may have discovered where they are living. Abraham isn't overly concerned about Wrona's well-being and, aside from a flashback, he promptly disappears from the story after delivering his warning, but the news wakes Yuri from his dragon-like stupor and he quits smoking and drinking, focusing on getting back into shape, and building up his situational awareness, mirroring the role-playing his grandson's friends are doing in the basement.
Not amoral, but also not particularly concerned with the rights and wrongs of his actions, past or present, Yuli is mostly focused on his own survival. He doesn't live in splendor, but he is comfortable enough for his own needs and he has stepped up to take care of the grandson he hadn't known he had when the son he hadn't known he had abandons the teenager with Yuli. When Yuli begins to prepare for a potential attack on himself, he is concerned about his grandson's safety, but not overly concerned about the boy's future should anything happen to Yuli.
The juxtaposition of Yuli's preparations and the role-playing party's planning for their assault adds an interesting dimension between a group that is planning an imaginary assault and an individual who is preparing to actually defend himself from such an assault, especially given that Abraham is positioning Yuli in opposition to the role players when the real life assault occurs.
With its focus on Yuli, it is a little surprising that the ambiguity of the ending is one of the strengths of the story. Abraham has set Yuli up as a very competent mercenary, after all, he lived long enough to retire, and even after allowing himself to fall out of shape he has managed to regain some of his fitness level and retains his abilities. When he awakens his inner dragon to face off against the prepared adventuring party, to borrow from the juxtaposed role playing game, Abraham doesn't focus on the outcome of the encounter, for either Yuli or Aughanir.
Published in 2020 in The Book of Dragons, edited by Jonathan Strahan, "Yuli" has not yet been reprinted.
---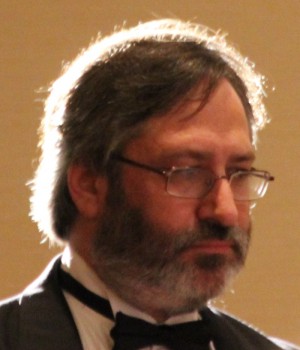 Steven H Silver is a nineteen-time Hugo Award nominee and was the publisher of the Hugo-nominated fanzine Argentus as well as the editor and publisher of ISFiC Press for 8 years. He has also edited books for DAW, NESFA Press, and ZNB. His most recent anthology is Alternate Peace and his novel After Hastings was published in 2020. Steven has chaired the first Midwest Construction, Windycon three times, and the SFWA Nebula Conference 6 times. He was programming chair for Chicon 2000 and Vice Chair of Chicon 7.