Random Reviews: "Yuli" by Daniel Abraham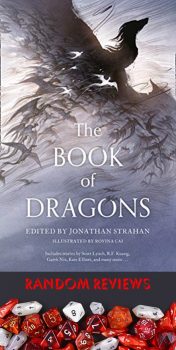 "Yuli" is a character study of a mercenary who has retired and is taking care of his teenage grandson. Unexpectedly living in a small house in the US, Yuli has allowed himself to lose the edge he held as an elite mercenary. He sits around his house all day, chain smoking and drinking, occasionally eating at a local diner where some other former mercenaries get together. He listens to his grandson playing a fantasy role-playing game as their conversation comes up through the house's vents, not fully understanding what they are doing.
Although the role-playing sessions in which the party is preparing to go up against a dragon seems almost like a non sequitur grafted onto the story, Abraham actually builds it as a parallel to Yuli's own life, with Yuli taking on the role of the first dragon, Aufganir.
Yuli's life is turned upside down when one of his former companions, Wrona, warns him that some people who they upset several years earlier may have discovered where they are living. Abraham isn't overly concerned about Wrona's well-being and, aside from a flashback, he promptly disappears from the story after delivering his warning, but the news wakes Yuri from his dragon-like stupor and he quits smoking and drinking, focusing on getting back into shape, and building up his situational awareness, mirroring the role-playing his grandson's friends are doing in the basement. …