A Mecca for Book Hunters: The Chicago Windy City Pulp & Paper Convention, 2022
A Mecca for Book Hunters: The Chicago Windy City Pulp & Paper Convention, 2022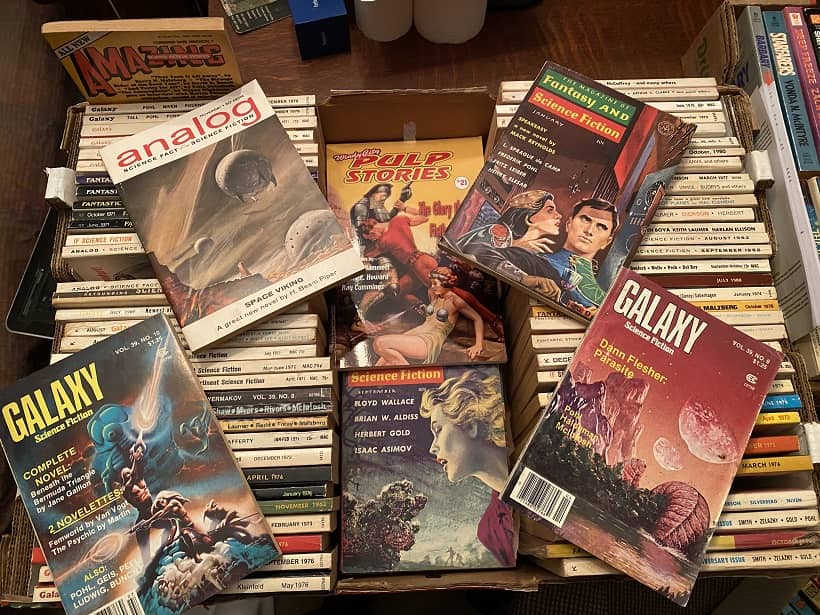 A few $1 magazines in near-mint condition I purchased today at Windy City Pulp & Paper
I just returned from Doug Ellis's Windy City Pulp & Paper Convention, exhausted but happy.
I've been attending Windy City here in Chicago for nearly 20 years. It's the premier show in the country for pulp and paperback collectors, and the main Exhibit Hall is an inexhaustible Cave of Wonders for anyone who loves vintage books, comics, artwork, pulps, science fiction and fantasy, new pulp, old DVDs, collectibles of all kinds — or just hanging out and talking with like-minded collectors and enthusiasts.
Over the years Windy City has become my favorite local convention. It's a wonderful place to connect with friends and fellow Black Gate contributors, folks like Rich Horton, Howard Andrew Jones, Steven H. Silver, Bob Byrne, Doug Ellis. E.E. Knight, John C. Hocking, Barbara Barrett, and many others. But the main draw is that marvelous Exhibit Hall, where you can find almost anything you want, no matter how rare or unusual. And if what you love is book bargains (or to, say, literally carpet your entire kitchen floor with dollar books), then you are definitely in luck.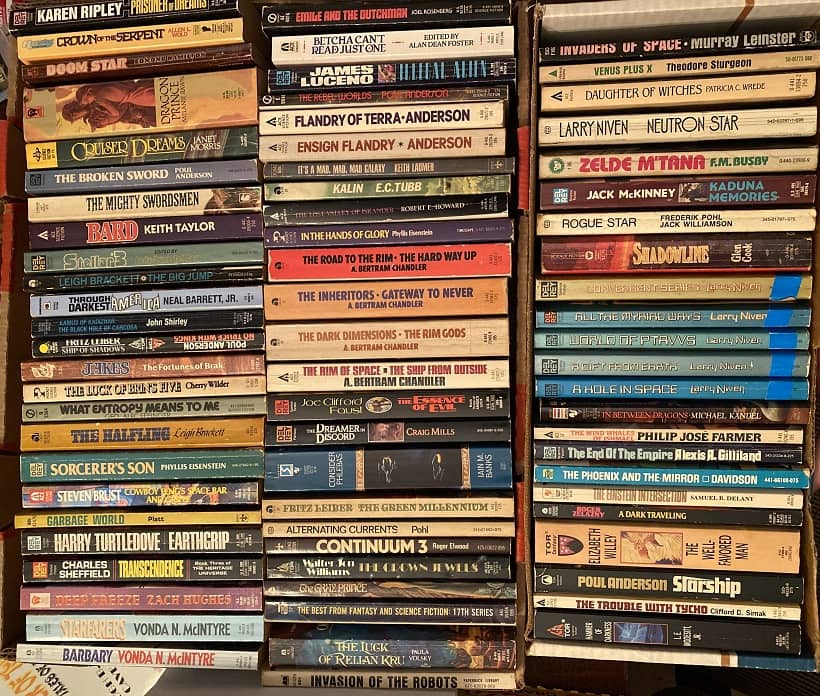 A few of the paperbacks I purchased today for $1 (or less)
Windy City is justly famous for quality pulps and hard-to-find artwork, not to mention its legendary auction, but for me it has been an irreplaceable source of high-quality paperbacks and high-grade digest magazines.
A decade ago, when editor and collector extraordinaire Martin Greenberg passed away, Doug Ellis and Bob Weinberg rented a moving truck and drove to Green Bay Wisconsin to help his widow dispose of his collection. They worked tirelessly to sort, package, and transport thousands of hardcovers and pristine paperbacks, and then sold the bulk of them to avid collectors (yours truly included) at prices well below original cover price. Which, for unread paperbacks from the 70s and 80s, was a tremendous bargain.
Over the years I have benefited greatly from Doug's habit of buying collections wholesale, and unloading the greater portion of his purchases at his booth by the boxload. Last year I carted several boxes of 1940s and 1950s Astoundings, Galaxy, and F&SF magazines away from Doug's booth — most of them in unread condition, and all priced at $1 each.
Doug isn't the only seller with irresistible bargains at Windy City. I raced over to the at the show yesterday after a long day at work, arriving at 4:52, eight minutes before the Exhibit Hall closed. I spent those eight precious minutes getting a quick look at the exhibitors I wanted to return to today. In those eight minutes I spent exactly sixteen dollars on sixteen paperback books (that's one every 30 seconds, on average — not bad, not bad, but I could have done better. Next time I'll be more focused.)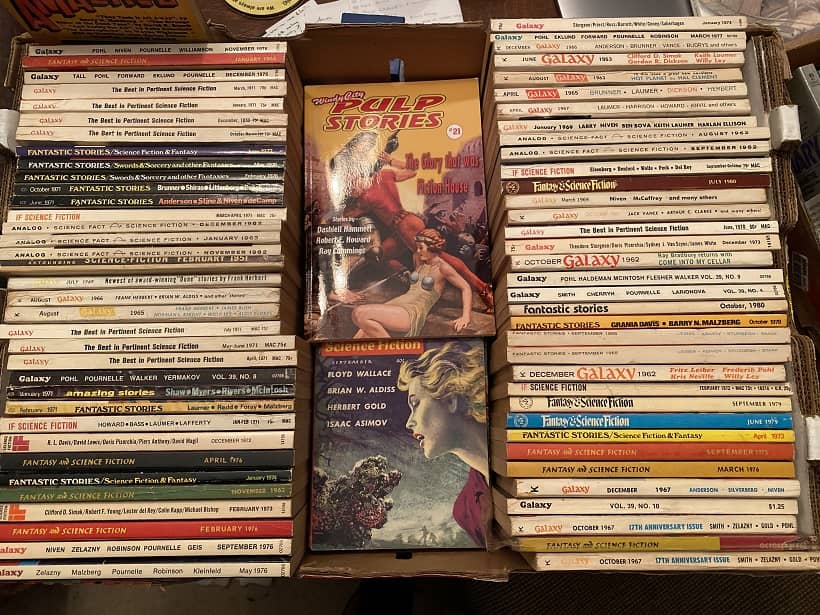 A closer look at those magazines
When I returned today I had a little more time, and I used it to visit more than 40 booths. Book sellers of all stripes, old and new. Some were professionals selling carefully bagged and numbered stock; some were amateurs with books jammed into boxes for a quarter apiece. There were hundreds of books for a dollar, and there were books selling for $3,000 (and up).
I'm chiefly interested in bargains these days — and especially books and magazines in good condition, to replace my own well-loved copies — and there was no shortage of bargains to be found. I brought home three boxes of books and magazines, and the most expensive item in those boxes was $2.
There's no past time like treasure hunting in a room filled with hundreds of sellers and thousands of books. If you have even a passing interest in vintage books, pulps, and magazines, you should make the pilgrimage at least once on your lifetime. Windy City Pulp & Paper is held in Lombard, a suburb of Chicago, in early May every year.
Thanks once again to Doug Ellis, Deb Fulton, and their tireless team of volunteers. Check out the convention's website here.
Thanks also to my fellow book hounds this year, including Arin Komins, Rich Warren, Erik Mona, Steven H. Silver, John Majka, and Joshua Dinges. You could ask for no more stalwart companions at your side as you faced that vast and daunting arena of paper.
Our previous coverage of the Windy City Pulp and Paperback show includes:
Windy City Pulp and Paper — 2007 — Report by Howard Andrew Jones
Thank You, Martin H. Greenberg (and Doug Ellis) — 2012
Tales From Windy City Pulp and Paper — 2013
A Triumphant Return from Windy City Pulp & Paper — 2014
Celebrating Pulp Fiction Magazines at Windy City Pulp & Paper — 2015 (video)
A Report on Windy City Pulp & Paper, Part I — 2016
A Report on Windy City Pulp & Paper, Part II — 2016
Capturing the Elusive Nifft the Lean — 2016, by Doug Ellis
How to Assemble an Instant Science Fiction Collection — 2017
DMR Books Brings Pulp Sword & Sorcery Back Into Print — 2018
The 19th Annual Windy City Pulp and Paper Convention — 2019 by Doug Ellis
Total Pulp Victory: A Report from Windy City Pulp & Paper 2019
See all of our Convention coverage here.