Total Pulp Victory: A Report from Windy City Pulp & Paper 2019
Total Pulp Victory: A Report from Windy City Pulp & Paper 2019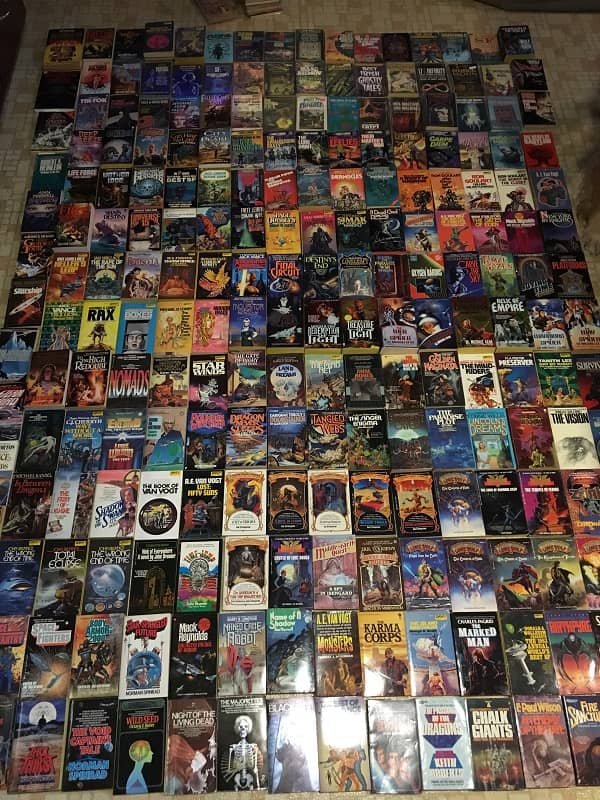 A few of the $1 paperbacks I brought home from Windy City
I returned from the 2019 Windy City Pulp and Paperback Show a few hours ago, weary and happy. It was another fabulous convention, and once again it proved to be the undisputed best show in Chicagoland for those who love vintage books and magazines.
This was the 19th annual convention. It was founded in 2001 by Doug Ellis, and I've been attending ever since Howard Andrew Jones and John C. Hocking made the long trip to the 7th Windy City way back in 2007. This year I spent most of the show with friends, including BG bloggers Bob Byrne, Rich Horton, and Steven Silver, as well as local booksellers Arin Komins and Rich Warren, who had a booth and a few spare chairs and were kind enough to let us hang out. There was lots of great food and terrific conversation, and we toasted absent friends, including Howard Andrew Jones, Jason M. Waltz, Barbara Barrett, and especially bookseller and all-around great soul Dave Willoughby, who passed away last year. Dave personified the friendly and welcoming nature of Windy City better than anyone else, I think, and he was profoundly missed.
I made numerous great purchases at the show, including an assortment of Arkham House hardcovers from Doug, some marvelous books from the Glenn Lord estate (purchased from his widow, Lou Ann), a couple of recent Dark Adventure Radio Theater releases from Greg Ketter, a box of vintage SF digests in great condition — and some really wonderful treasures at the auction, including a copy of the 1990 Donald Grant illustrated edition of Lovecraft's At The Mountains of Madness, several stacks of pulps, and an absolutely magnificent set of 1927 Weird Tales, bound in two volumes.
But as usual, most of what I took home with me was paperbacks. Lots of paperbacks. I found a few that I was willing to pay a premium for, including some Clark Ashton Smith collections and horror anthologies, but the vast majority of them — well over 200 in total — were less than $1 each, including all those I spread out on my kitchen floor to photograph when I got home (see above).
[Click the images for Windy-City sized versions.]
I'd barely stepped inside the show on Friday morning when I stopped to talked to Deb Fulton, Doug Ellis' wife, at their well-stocked booth. While we were chatting a buyer stepped forward to purchase a handful of paperbacks. When I glanced over to see where he'd come from, I saw two tables groaning under the weight of long boxes brimming with vintage paperbacks.
"Is that the last of the Marty Greenberg collection?" I asked Deb. When Marty had died, he left a house crammed full with SF books in Green Bay Wisconsin, and Doug and Bob Weinberg had made a herculean effort to acquire them and transport them to Windy City in 2011 — something I'd greatly appreciated (and benefited from, as I wrote about here).
'No, this is a different collection," Deb said. She told me about an auction Doug had attended to buy SF digests, where he'd bid on box after box of paperbacks for $15 each — so many that, long before the digests came up in the auction, he'd purchased more boxes than he could possibly fit in his truck.
"He ended up selling the ones the he couldn't cram into the truck in the parking lot," Deb told me, shaking her head. "For $5 per box, to the underbidders."
I loved that story. So much so I related it to Alice later than night, making sure to emphasize how Doug was clearly an even more deranged collector than I. (Collecting stories in which I manage to look good don't come up very often, so forgive me if I treasure them.)
"Let me get this straight," Alice said coolly. "Doug bought a bunch of paperbacks for $15 a box. After Deb told you this, you bought two boxes of the same books from Doug for $150. Tell me again who the crazy collector is?"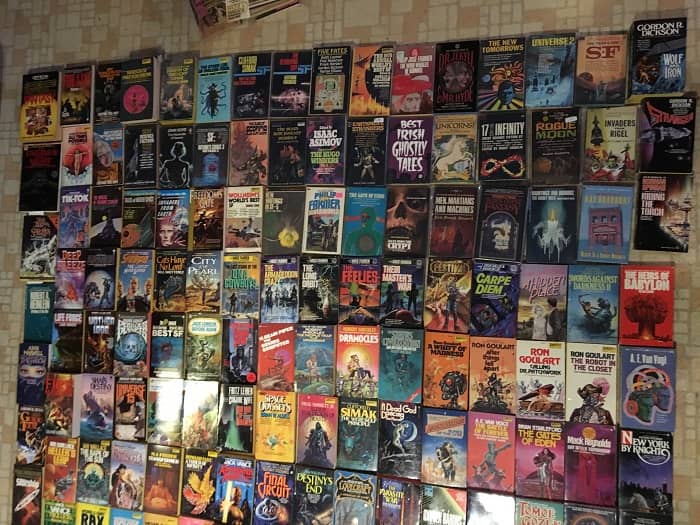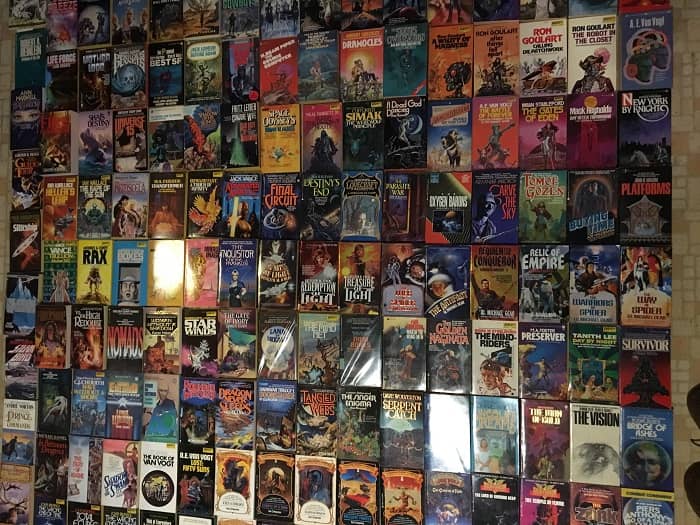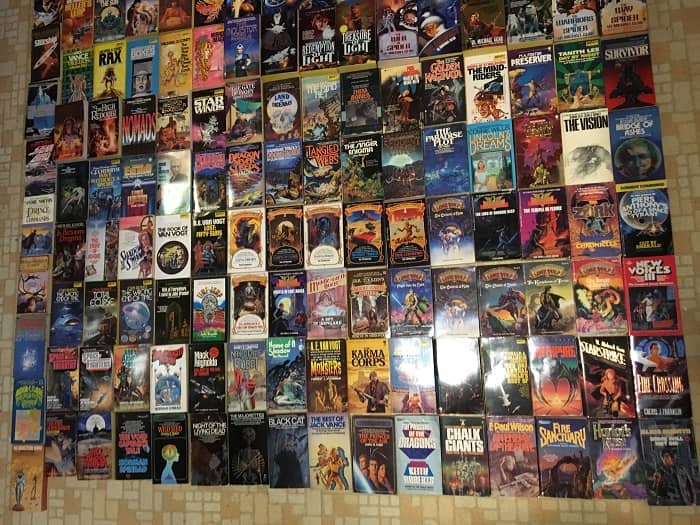 I guess she had a point. Yes, I did spend $150 on Doug's paperbacks. But I'd been thrilled to do it — I found 164 vintage paperbacks I wanted very much. Many of them were 30+ years old, and virtually all were in fabulous shape. Paperbacks are fragile things, and you don't get an opportunity to buy them in that kind of shape very often. Not at less than half of original cover price, anyway.
Besides, there were some real finds in those boxes. I found books by John Brunner, Jack Vance, Octavia Butler, Keith Roberts, Joe Haldeman, Ron Goulart, Connie Willis, Robert McCammon, Glen Cook, Robert Sheckley, Terry Carr, John M. Ford, Norman Spinrad, Eric Frank Russell, numerous great anthologies, and lots more.
One of the best finds was buried deep in the bottom of the seventh box: a huge collection of Choose Your Own Adventure, TSR Endless Quest, and solo game books.
I left the Endless Quest and Choose Your Own Adventure items for other treasure hunters, and focused on the game books: half a dozen Fighting Fantasy tomes, and an equal number of Lone Wolf solo adventure books. Best of all, there were also two Middle Earth Quest volumes — rare and hard to find. Those 18 books were a veritable treasure trove, and made all the effort of digging through those boxes more than worth it.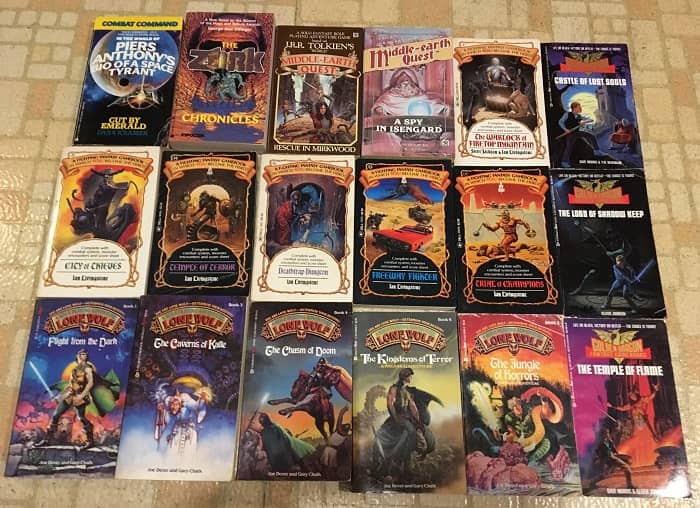 Doug wasn't the only seller with $1 books. As the weekend progressed I made my way around the massive Dealer's Room and stuck deals with 5-6 other sellers for quantity purchase of high-grade vintage paperbacks. When I arranged the books on my kitchen floor to photograph Sunday night, I still had nearly a full box that I couldn't fit in the photo.
Other than paperback hunting and dinners (with Rich, Bob, Arin, Rich Warren, Erik Mona, Christopher Paul Carey, and our new friends Joshua Dinges and John Majka) the highlight of the show was the auction, which spread over two nights. Hundreds of items from the collection of Bob Weinberg and Glenn Lord were on offer, including Lord's World Fantasy Award (which sold for $2000), a first edition of Dune ($1,800), and a copy of Lovecraft ultra-rare The Shunned House ($5,500).
I didn't bid on any of those items, but I did bring home a few things I dearly wanted, including:
Two lots of Unknown (two issues each, 1939/1940) — $20 and $25
The Donald M Grant illustrated At the Mountains of Madness (1990) — $110
A lot of 15 Science Fiction Pulps — $45
A copy of the March 1928 Amazing Stories — $35
A bound set of 1927 Weird Tales (12 issues in two volumes) — $250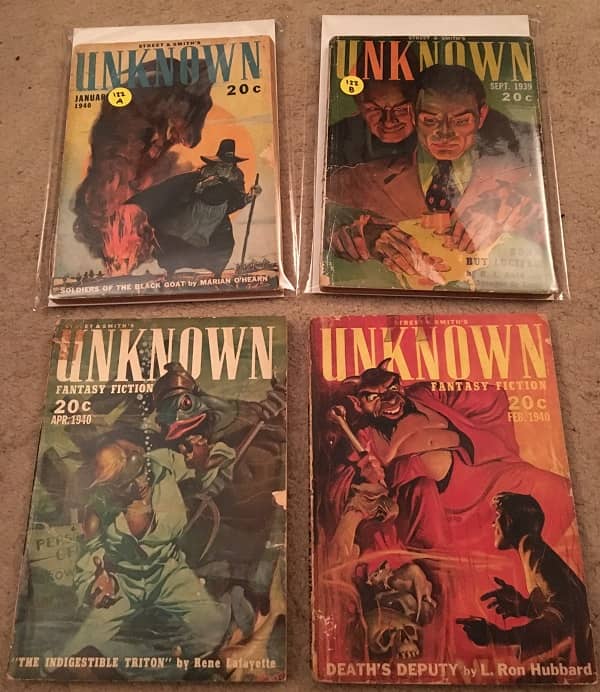 Two sets of Unknown from 1939 & 1940
Thanks once again to Doug Ellis, Deb Fulton, and their tireless team of volunteers. I hope to spend some time over the next few weeks taking a closer look at some of the treasures I brought home. In the meantime, check out the convention's website here.
Our previous coverage of the show includes:
Windy City Pulp and Paper — 2007 — Report by Howard Andrew Jones
Thank You, Martin H. Greenberg (and Doug Ellis) — 2012
Tales From Windy City Pulp and Paper — 2013
A Triumphant Return from Windy City Pulp & Paper — 2014
Celebrating Pulp Fiction Magazines at Windy City Pulp & Paper — 2015 (video)
A Report on Windy City Pulp & Paper, Part I — 2016
A Report on Windy City Pulp & Paper, Part II — 2016
Capturing the Elusive Nifft the Lean — 2016, by Doug Ellis
How to Assemble an Instant Science Fiction Collection — 2017
DMR Books Brings Pulp Sword & Sorcery Back Into Print — 2018
The 19th Annual Windy City Pulp and Paper Convention — 2019 by Doug Ellis
See all of our Convention coverage here.