Hither Came Conan – The (Almost) Final Post
Hither Came Conan – The (Almost) Final Post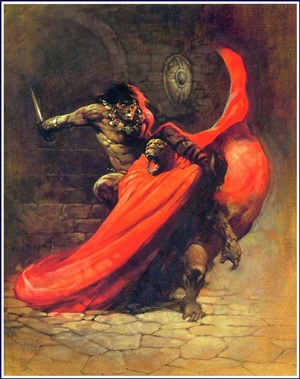 EDITOR (ME, BOB)  SCREW UP – Our own Gabe Dybing brought to my attention that I forgot to run his post. He is correct! Entirely an oversight on my part. It will run next Monday morning, and I'll update this 'final' listing afterwards. My fault. Sorry about that.
And so, Hither Came Conan comes to an end. Every Monday morning, from January 7th through today, July 14th, Black Gate brought you story insights from some of the most knowledgeable Robert E.  Howard writers around. And me. We covered all twenty-one completed Conan tales written by Howard: and even tossed in "Wolves Beyond the Border" for good measure!
In case you forgot, each story was randomly assigned to one essayist.  The most common comment I heard was some variation of "Thank goodness I didn't get "Vale of Lost Women." Unfortunately for Dave Hardy, he didn't get to say that…
But while it's natural that some stories are better than others, what I think this series showed, is that even a 'bad' story, contained some worthwhile elements. Whether it was a character, or an exciting scene, or some of his excellent prose, there's always something worth reading in a Howard story. Or in this case, a Conan tale. Because, while he did write some stories that weren't particularly good ("The Mirrors of Tuzun Thune" almost makes my eyes bleed) Robert E. Howard was an excellent writer.
I am a fan of William Bernhardt's The Red Sneaker Writers Book Series. Bernhardt, author of the excellent Ben Kincaid legal thriller series, has written some terrific books to help writers. And one of them is Thinking Theme. Several writers mentioned Howard's frequent depiction of the conflict between barbarism and civilization. That theme is a powerful engine for the Conan series. Decaying civilizations, and honor and justice, were also themes Howard used Conan to comment on. "Beyond the Black River," "The Scarlet Citadel," "Rogues in the House": Howard's strong belief in theme formed foundations for his tales.
I came late to the Howard party, but it was the way he put words together that pulled me in. I was reading the Del Rey Conans, and I kept finding passages that made me stop and read them again. That's unusual for me. Even in Howard stories I'm not particularly absorbed in, like a few of the westerns I recently read, or his horror stuff, I often marvel at what a facility for prose he had.
As part of my next Howard series (I'm actually going to write one myself. Will wonders never cease?), I dig into "The Grey God Passes." Or whichever name you want to use for it.  This passage, which Roy Thomas drew heavily on for issue three of Marvel's Conan the Barbarian comic, Twilight of the Grim Grey God, has stood out to me since the first time I read it:
"Now comes the reaping of kings, the garnering of chiefs like a harvest. Gigantic shadows stalk red-handed across the world, and night is falling on Asgaard. I hear the cries of long-dead heroes whistling in the void, and the shouts of forgotten gods. To each being there is an appointed time, and even the gods must die…"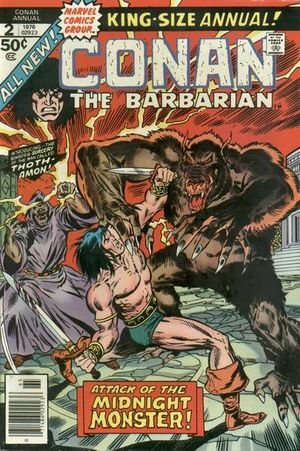 That is simply memorable, excellent writing. And it's a rare Howard story in which you can't find a passage or two that makes you admire it. And so it is with even the 'lesser' Conan stories. There are at least a few things in each that make it worth reading. Of course, opinions vary on whether a story is bad or good. I used to think that "The God in the Bowl" was boring, until I really dug into it and realized it was actually a police procedural before the sub-genre even existed.
So, I want to thank the twenty-one folks (I make twenty-two) who took time out of their busy schedules to contribute an essay. I think it was a fantastic series that rivalled Black Gate's Discovering Robert E. Howard series a few years ago. It absolutely adds to the continually growing field of REH scholarship. I'm grateful my entreaties didn't fall on deaf ears.
If you missed any of the entries, here they are all for your convenience. They're all worth reading: even mine! And I tossed in a couple extra posts for the series. I would liked to have written several more, elaborating on some aspects of the Conan Canon, but I simply didn't have the time to do so.
Prior posts in the series:
Here Comes Conan!
The Best Conan Story Written by REH Was…?
Bobby Derie on "The Phoenix in the Sword"
Fletcher Vredenburgh on "The Frost Giant's Daughter"
Ruminations on "The Phoenix on the Sword"
Jason M Waltz on "The Tower of the Elephant"
John C. Hocking on "The Scarlet Citadel"
Morgan Holmes on "Iron Shadows in the Moon"
David C. Smith on "The Pool of the Black One"
Dave Hardy on "The Vale of Lost Women"
Bob Byrne on Dark Horse's "Iron Shadows in the Moon"
Jason Durall on "Xuthal of the Dusk"
Scott Oden on "The Devil in Iron"
James McGlothlin on "The Servants of Bit-Yakin"
Keith West on "Beyond the Black River"
Fred Adams on "The Black Stranger"
Stephen H. Silver on "Man Eaters of Zamboula"
Keith J. Taylor on "Red Nails"
Ryan Harvey on "Hour of the Dragon"
The Animated Red Nails Movie that Never Happened
Mark Finn on "The God in the Bowl"
Bob Byrne on "Rogues in the House"
Bob Byrne on the the Khoraja Saga
Wolfe Deitrich on "Wolves Beyond the Border"
Jeffrey Shanks on "A Witch Shall Be Born"
Deuce Richardson on "Black Colossus"
Patrice Louinet on "Queen of the Black Coast"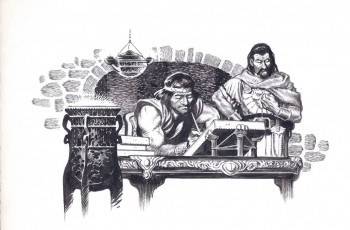 I'm going to write about a couple miscellaneous topics the next few weeks: anybody like train simulation games? And then, A (Black) Gat in the Hand takes over for a summer run! I've got some great guest posters lined up again, plus more of my own writings. It's time to get hard boiled and pulpy at Black Gate. And I've already started prepping my next Howard/Conan series.
But I've already mentioned to a few folks a Solomon Kane series using the same approach I did for Hither Came Conan and every person has said "I'm in." So, that's a possible Black Gate feature in 2021. Someone suggested I do the same with Kull, but I don't like those stories enough to edit such a series.
Thanks to everyone who left comments for this series. I love writing for Black Gate, and one of my favorite parts is getting discussions and commentary going with my posts. A post with no comments is like an unloved orphan.
There are a LOT of Howard fans here at Black Gate, and you can rest assured there's going to be more coverage on REH, whether or not I get around to the next series.
Let's end it how it all starts:
Know, O prince, that between the years when the oceans drank Atlantis and the gleaming cities, and the years of the rise of the Sons of Aryas, there was an Age undreamed of, when shining kingdoms lay spread across the world like blue mantles beneath the stars – Nemedia, Ophir, Brythunia, Hyperborea, Zamora with its dark-haired women and towers of spider-haunted mystery, Zingara with its chivalry, Koth that bordered on the pastoral lands of Shem, Stygia with its shadow-guarded tombs, Hyrkania whose riders wore steel and silk and gold. But the proudest kingdom of the world was Aquilonia, reigning supreme in the dreaming west.

---

Bob Byrne's 'A (Black) Gat in the Hand' was a regular Monday morning hardboiled pulp column from May through December, 2018.

His 'The Public Life of Sherlock Holmes' column ran every Monday morning at Black Gate  from March, 2014 through March, 2017 (still making an occasional return appearance!).

He organized 'Hither Came Conan,' as well as Black Gate's award-nominated 'Discovering Robert E. Howard' series.

He is a member of the Praed Street Irregulars, founded www.SolarPons.com (the only website dedicated to the 'Sherlock Holmes of Praed Street') and blogs about Holmes and other mystery matters at Almost Holmes.

He has contributed stories to The MX Book of New Sherlock Holmes Stories – Parts III, IV,  V and VI.

And he is in a new anthology of new Solar Pons stories, out now.