Hither Came Conan: Fletcher Vredenburgh – "The Frost Giant's Daughter"
Hither Came Conan: Fletcher Vredenburgh – "The Frost Giant's Daughter"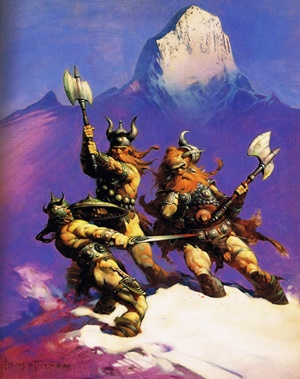 Submitted in 1932 to Weird Tales, "The Frost Giant's Daughter" is possibly the first Conan story of entirely new material (read Keith West on the story's publication history), and it is also unique in its style. It is stripped down to the bare, primal essences of sword & sorcery, and exists on the lip between reality and nightmare. There's more of myth and dream to "The Frost Giant's Daughter" than to any other Conan yarn. When I first encountered it in my younger days, I wasn't quite sure what to make of it, but since then, I've come to appreciate it on several levels.
The lone survivor from a band of Aesir, Conan the Cimmerian finds himself facing Heimdul, the sole survivor from a Vanir war party, on a corpse-littered field of snow. As soon as Conan defeats and kills the Vanir warrior, he finds himself overcome by the blinding sunlight reflected off the blood-stained snow.
He is raised from his stupor by the arrival of an ivory-skinned, red-haired woman of surpassing beauty. She is barefoot and naked, save for a filmy gown. Soon she is taunting him and he is chasing her. Both rage and mad lust drive him after her into increasingly mountainous terrain with a sky streaked by the colors of the borealis. As he finally nears her, two armored giants rise up from the snow and the woman reveals herself to be their sister. She has lured the Cimmerian northward to his doom.
He proves too powerful, though and, driven by a primal urgency, dispatches them quickly. Unable to ward off Conan any longer, the woman calls on her father, the terrible god, Ymir, and in response to her cries a cascade of blinding blue lights from the heavens strike Conan, leaving him unconscious again. He next finds himself shaken awake by some of his comrades from another war band.
A debate follows whether Conan's experience was real or just the result of the blow to his head that dented his helmet. One old soldier, Gorm, claims to have seen her in his youth. She is Atali, daughter of Ymir, and has lured men to their deaths for ages. Only Gorm's wounds kept him from following her himself. Despite the tale, Conan is still unsure of what really happened – until he realizes he still clutches a gossamer gown in his hand.
And that's it. There's little of the grand world building of other Conan stories; the plot barely qualifies as minimal. Conan evinces little of the sharp-eyed intelligence of the later stories, instead acting with an almost vile savagery. The story reads like an explicit version of Homer's Sirens or Heine's Lorelei. While it's clear Howard intends the reader to understand Atali and the giants are real, even Conan isn't wholly sure he hasn't suffered through some grievous nightmare.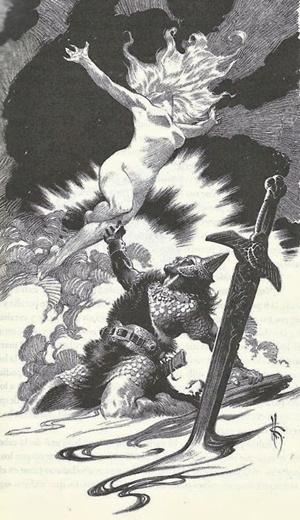 What makes "The Frost Giant's Daughter" good is its success at the things one should expect from a Conan story: it is fast-paced and brutal, and there's an atmosphere of darkness and danger. The prose, the character, and the plot all work together at creating a sword & sorcery work of archetypal intensity.
Howard's writing is both powerful and poetic. That's not unusual for Howard, but here it's in service to a story of stark simplicity; there's not a bit of fat on it. Every word in "The Frost Giant's Daughter" works to maximum effect. Just read the opening paragraph, a model of mood-setting:
"The clangor of the swords had died away, the shouting of the slaughter was hushed; silence lay on the red-stained snow. The bleak pale sun that glittered so blindingly from the ice-fields and the snow-covered plains struck sheens of silver from rent corselet and broken blade, where the dead lay as they had fallen. The nerveless hand yet gripped the broken hilt; helmeted heads back-drawn in death-throes, tilted red beards and golden beards grimly upward, as if in last invocation to Ymir the frost-giant, god of a warrior-race."
We immediately know what has happened and where we are. The next paragraph makes it clear Conan is on the edge of the netherworld. Despite the all-too-real carnage on the battlefield, Conan and Heimdul seem like wraiths. They are described as if they are ghosts, as they come "to a tryst through the shambles of a dead world." At the instant of his foe's death Conan collapses as he is overtaken by great flashes of light. It's as if Heimdul's death pushes him all the way through the portal to another world where both had already been lingering.
The "silvery laugh" of Atali, a woman of unnatural beauty, is what rouses Conan. With it, it's clear he has truly passed out of the real world into the icy preserves of Ymir and his offspring. Her hair is like "elfin-gold" and is so bright he can "scarcely bear to look upon it." In her presence, his pulse pounds in his temples. The earth and sky are marked by an "unfamiliar tinge."
In most of Howard's stories Conan, despite his ready ferocity, is cagey and usually quite thoughtful. In "The Frost Giant's Daughter," Conan is a figure of elemental power. Unlike the Bowdlerized version of Conan that's arisen over the years in movies and comics, this Conan — Howard's real Conan — is dangerous. When he kills Atali's brothers and finally corners her, his intent is clear:
"She was running with effort now, her golden locks blowing free; he heard the quick panting of her breath, and saw a flash of fear in the look she cast over her white shoulder. The grim endurance of the barbarian had served him well. The speed ebbed from her flashing white legs; she reeled in her gait. In his untamed soul leaped up the fires of hell she had fanned so well. With an inhuman roar he closed in on her, just as she wheeled with a haunting cry and flung out her arms to fend him off."
There is no chivalry to this Conan, only violence and ruthlessness. His intentions are only murder and rape. Howard goes on at times (sometimes far too much) about the natural savagery of man, but here, more than in any of the other stories it's made abundantly clear what that means. There's always a gruffness to Conan's nobility, but in this story, Howard exposes the raw barbarousness of the Cimmerian, though in his defense, he is concussed and/or ensorcelled.
Phrolian Gardner from Modiphius' Conan the Barbarian book
Sword & sorcery's protagonists aren't participants in epic quests, or moved by noble goals. Instead, they are driven by the mundane things in life: survival, greed, lust. From the very beginning of his saga we learn exactly the sort of man Conan can be. He is no dog tamed by the virtues of civilization, but a wolf that kills what it will and takes what it wants.
Finally, there's the villain. Plenty of the villains in Conan stories are memorable in their ways, but how many taunt him as perfectly as this?:
"My village is further than you can walk, Conan of Cimmeria," she laughed. Spreading her arms wide, she swayed before him, her golden head lolling sensuously, her scintillant eyes half shadowed beneath their long silken lashes. "Am I not beautiful, oh man?"

"Like Dawn running naked on the snows," he muttered, his eyes burning like those of a wolf.

"Then why do you not rise and follow me? Who is the strong warrior who falls down before me?" she chanted in maddening mockery. "Lie down and die in the snow with the other fools, Conan of the black hair. You can not follow where I would lead."
She's also more terrifying than many other of Conan's enemies once her true nature is revealed. She's not tempting Conan just to see him robbed or killed. Most of his opponents just want to kill him, but her objective is far more disturbing:
"Brothers!" cried the girl, dancing between them. "Look who follows! I have brought you a man to slay! Take his heart that we may lay it smoking on our father's board!"
That she has to call on her father, Ymir, in order to evade Conan only speaks to the strength of the Cimmerian. No mere mortal woman nearly overcomes Conan, but the daughter of a god. Evil wizards and courtly conspirators are a common type in Conan's world, but how many times does he go toe-to-toe with a demigoddess?
"The Frost Giant's Daughter" is the best of the Conan stories. The story is polished to a deadly edge, carving away any fat. It moves with hellish intensity through a bloody, icy landscape. Other stories by Howard are more carefully and logically thought out, with more developed characters, but this story is like something produced by automatic writing; like something pulled down from some grim god's dream.
If you haven't read any of the Conan stories yet, "The Frost Giant's Daughter" is the place to start. Yes, Conan's decidedly different and less developed here, the plot is negligible, and there's none of the exotic atmosphere like in "Red Nails" or other stories, but this is an excellent place to start to get a taste of Robert E. Howard's writing at peak strength.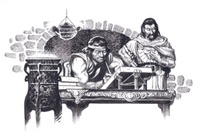 From the Dusty Scrolls (Editor comments)
"The Frost Giant's Daughter" and "The God in the Bowl" were submitted to Weird Tales along with "The Phoenix on the Sword." While "Phoenix" was accepted and became the first Conan tale to be published, the other two were rejected and returned. Here's editor Farnsworth Wright's letter to Howard.
Howard changed Conan to Amra of Arkbitana, retitled the story "The God's of the North," and it appeared in the March, 1934 issue of the The Fantasy Fan. It first appeared as a Conan story in Gnome Press' 1953 The Coming of Conan.
Marvel (Savage Tales #1/Conan the Barbarian #16/Savage Sword of Conan #1) and Dark Horse (Conan #2) adapted the story for graphic novels.
The opening of John Milus' script for his never-produced movie, Conan, King of Iron, was based on this story. There is no battle. Conan is travelling in the ice-encrusted northlands. Atali is hanging out in the forest and beckons him forward. She tells Conan she could love him, but he must slay her two brothers. Which he promptly does. There's no mention of putting the Cimmerian's heart on Ymir's altar. After he kills them, she "lays back on a rock, beckoning him." Off-screen sex ensues. After, she tells Conan that if he brings her the jewels of the earth, she will give him a son. Okay…
Howard was an admirer of the classic, Bullfinch's Mythology. There are elements of the Greek myths of Atalanta, as well as of Apollo and Daphne, in this short tale. It is the most controversial story in the Conan Canon.
Prior Posts in the Series:
Here Comes Conan!
The Best Conan Story Written by REH Was…?
Bobby Derie – The Phoenix on the Sword
Next week, Rogue Blade Entertainment's Jason M Waltz explores "The Tower of the Elephant." Watch out for spiders!
---
Fletcher Vredenburgh is generally on hiatus here at Black Gate, but will stop by occasionally. He'll still be posting at his own site, Stuff I Like when his muse hits him. Right now, he's writing about all sorts of different things. His book-by-book review of Glen Cook's The Black Company was one of the most popular Black Gate features in all of 2018. 
Bob Byrne's 'A (Black) Gat in the Hand' was a regular Monday morning hardboiled pulp column from May through December, 2018.
His 'The Public Life of Sherlock Holmes' column ran every Monday morning at Black Gate  from March, 2014 through March, 2017 (still making an occasional return appearance!).
He also organized Black Gate's award-nominated 'Discovering Robert E. Howard' series.
He is a member of the Praed Street Irregulars, founded www.SolarPons.com (the only website dedicated to the 'Sherlock Holmes of Praed Street') and blogs about Holmes and other mystery matters at Almost Holmes.
He has contributed stories to The MX Book of New Sherlock Holmes Stories – Parts III, IV,  V and VI.
And he will be in the anthology of new Solar Pons stories coming this year.