Hither Came Conan: The Best Conan Story Written by REH Was….?
Hither Came Conan: The Best Conan Story Written by REH Was….?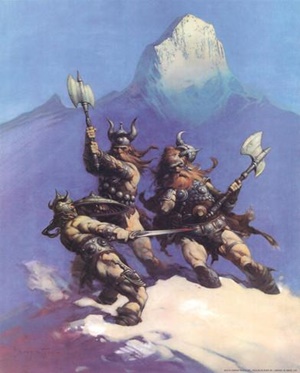 Welcome to a brand new, Monday morning series here at Black Gate. Join us as a star-studded cast of contributors examine every original Conan story written by Robert E. Howard: and tell you why THAT is the best of the bunch. Read on!
"KNOW, oh prince, that between the years when the oceans drank Atlantis and the gleaming cities, and the years of the rise of the Sons of Aryas, there was an Age undreamed of, when shining kingdoms lay spread across the world like blue mantles beneath the stars—Nemedia, Ophir, Brythunia, Hyperborea, Zamora with its dark-haired women and towers of spider-haunted mystery, Zingara with its chivalry, Koth that bordered on the pastoral lands of Shem, Stygia with its shadow-guarded tombs, Hyrkania whose riders wore steel and silk and gold. But the proudest kingdom of the world was Aquilonia, reigning supreme in the dreaming west. Hither came Conan, the Cimmerian, black-haired, sullen- eyed,sword in hand, a thief, a reaver, a slayer, with gigantic melancholies and gigantic mirth, to tread the jeweled thrones of the Earth under his sandalled feet."—The Nemedian Chronicles
And so it began. In the December, 1932 issue of Weird Tales (a good month for pulps! Black Mask included stories by Frederick Nebel, John Carroll Daly and Erle Stanley Gardner), Conan of Cimmeria, a barbarian who had wrested the kingship of the mighty kingdom of Aquilonia with his sword, struggles mightily with…paperwork! Truly, heavy is the crown…
But Robert E. Howard, creator of Kull, Solomon Kane, El Borak and others, had come up with what would become the most recognizable character in the Fantasy genre. No silly Hobbitses here!
It wasn't all mead and concubines from the get go, however. Farnsworth Wright, editor of Weird Tales, and who remained intertwined in Howard's life to the end, rejected two ("The Frost Giant's Daughter" and "The God in the Bowl") of the first three tales. Not exactly a stellar start.
However, with Conan, Howard had found something within himself and his not-inconsiderable talent poured out words. As he told Clark Ashton Smith in a December, 1933 letter:
"I know that for months I had been absolutely barren of ideas, completely unable to work up anything sellable. Then the man Conan seemed suddenly to grow up in my mind without much labor on my part and immediately a stream of stories flowed off my pen – or rather off my typewriter – almost without effort on my part. I did not seem to be creating, but rather relating events that had occurred. Episode crowded on episode so fast that I could scarcely keep up with them. For weeks I did nothing but write of the adventures of Conan. The character took complete possession of my mind and crowded out everything else in the way of story-writing. When I deliberately tried to write something else, I couldn't do it."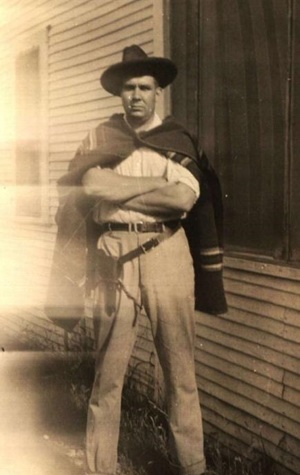 I've learned to take Howard's comments on his writing efforts with a grain of salt, but there's no denying he was cranking out the Conan. And starting with a two-page essay, he created a world for Conan that grew into the 8,000-word classic, "The Hyborian Age." "The Tower of the Elephant" was the first story written after "The Hyborian Age." It's widely considered one of the best in the Conan Canon, and "The Hyborian Age" is credited with providing a depth and framework that enriched the series.
Mark Finn, Patrice Louinet, David C. Smith, and others (including L. Sprague de Camp, who, on the whole, I consider a jackass), have written in depth, and often eruditely, about the creation of the various stories.
In March of 1932, Howard sent "The Phoenix on the Sword" and The Frost Giant's Daughter" to Wright. On July 22nd, 1935, he sent "Red Nails," the twenty-first completed Conan story. There would be no more. Howard shot himself in the head on June 11th, 1936. Howard had stopped writing about Conan after "Red Nails" (not counting his exchange with John D. Clark and P. Schuyler Miller) and had been focusing on western-oriented stories. He seemed to have moved on from sword and sorcery.
We've got a terrific group of contributors for this series, and I have no problem admitting I'm about the bottom of the list as far as REH expert goes. I'm in because I'm the one who put the whole thing together. But I'll put my Sherlock Holmes credentials up against anybody here.
It's always possible, but I don't know that he would have returned to Conan. Except…for money. Howard was a fan of Sir Arthur Conan Doyle and had some of the latter's books in his library (oh man, how I would love one of those!). Patrice Louinet has speculated that Sir Nigel and The White Company, Doyle's two novels of The Hundred Years War, influenced, or were of use to Howard, for "The Scarlet Citadel."
I bring Doyle into the conversation because, as is well known, Doyle threw Holmes off of a cliff, as the author felt that his famous 'pop creation,' was keeping him from writing better things. BTW – Doyle was wrong. Nothing else he wrote was nearly as good as Holmes.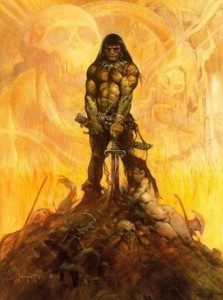 However, when he was offered sufficient financial inducement, Doyle wrote The Hound of the Baskervilles. The story was set before Holmes' death, so the detective wasn't quite 'back.' Now, Doyle was a man of many causes and hobbies. Expensive causes and hobbies. So, he brought Holmes back to life for good, tossing off short stories and a fourth novel, when the mood, and financial rewards, prompted him to do so. Doyle kept raking in the cash on the egotistical detective; the last story appearing three years before his death.
So, had Howard not taken his own life and lived on into his sixties or some such age, he would have presumably continued being an outstanding author. And just maybe, some offer to write about Conan would have been for too much money to pass up. But as a writer, he seemed to be done with Conan.
And the point of all this is,,,,oh yeah. As I recently explained, Black Gate has rounded up twenty-one Howard scholars and fans (I'm definitely in the latter group). Each was randomly assigned one of Howard's original Conan tales. Wait for it…And then charged with explaining why that particular story was the best one in the Conan Canon.
Of courses, some folks got a much tougher assignment than others. And since only a couple actually got their favorite story, they're going to have to dig deep into Howard's writing to pull out what was best. I think it's going to be fantastic.
I'm looking forward to the twenty-one essays in the coming weeks and months. And I'm really excited about the discussions I expect in the Comments section. I think there's going to be some great stuff. And I'm going to try and mix in some other posts, such as reviews of David C. Smith's Robert E. Howard: A Literary Biography, and Patrice Louinet's The Robert E. Howard Guide.  And if I'm got the time and feeling daring, I'd like to dig into Dale Rippke's chronology. We'll see…
With a few practical exceptions, I'm going to try and follow the Del Rey/Wandering Star order of the stories. I essentially discovered Conan through the Del Rey volumes, and they're the ones I refer to for my scribblings on the Cimmerian. So, here's the plan:
Rob Derie – The Phoenix on the Sword
Fletcher Vredenburgh – The Frost Giant's Daughter
Jason M Waltz – The Tower of the Elephant
John C. Hocking – The Scarlet Citadel
Deuce Richardson – Black Colossus
Morgan Holmes – Iron Shadows in the Moon/Shadows in the Moonlight
Jason Durall – Xuthal of the Dusk/The Slithering Shadow
David C. Smith – Pool of the Black One
Bob Byrne – Rogues in the House
Dave Hardy – The Vale of Lost Women
Scott Oden – The Devil In Iron
James McGlothlin – The Servants of Bit-Yakin/Jewels of Gwalhur
Keith West – Beyond the Black River
Fred Adams – The Black Stranger
Steven Silver – The Man-Eaters of Zamboula/Shadows in Zamboula
Keith Taylor – Red Nails
Gabe Dybing – The People of the Black Circle
Ryan Harvey – The Hour of the Dragon
Jeffrey Shanks – A Witch Shall Be Born
Patrice Louinet – Queen of the Black Coast
Mark Finn – The God in the Bowl
Woelf Dietrich – Wolves Beyond the Border
If you are a fan of Robert E. Howard, or Conan, PLEASE leave some comments. It's the discussions that are going to make this series even more special. And as always, please be respectful. Howard's works can generate some strong emotions. Let's keep things civil.
I'm really excited for this series to get going at Black Gate. So, tune in next week as multiple REH Foundation Award winner Rob Derie presents what's best about "The Phoenix in the Sword"!
By Crom: This should be fun!
Prior Posts in the Series:
---
Bob Byrne's 'A (Black) Gat in the Hand' was a regular Monday morning hardboiled pulp column in the Fall and Winter of 2018.
His 'The Public Life of Sherlock Holmes' column ran every Monday morning at Black Gate  from March 2014 through March 2017 (still making an occasional return appearance!).
He also organized Black Gate's award-nominated 'Discovering Robert E. Howard' series.
He is a member of the Praed Street Irregulars, founded www.SolarPons.com (the only website dedicated to the 'Sherlock Holmes of Praed Street') and blogs about Holmes and other mystery matters at Almost Holmes.
He has contributed stories to The MX Book of New Sherlock Holmes Stories – Parts III, IV,  V and VI.
And he will be in the anthology of new Solar Pons stories coming this year.