Future Treasures: Empire of Silence by Christopher Ruocchio
Future Treasures: Empire of Silence by Christopher Ruocchio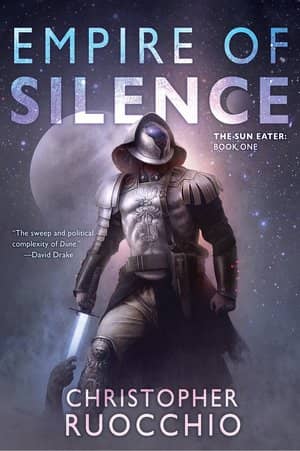 I'm definitely in the mood for an immersive, baroque space opera, with aliens, mystery, epic space battles, and even space gladiators. Wait, space gladiators?
Well, I'm not inclined to be picky right now so, sure, bring on the space gladiators. They're a major part of Christopher Ruocchio's debut novel Empire of Silence, the opening volume of The Sun Eater, which Eric Flint calls "epic-scale space opera in the tradition of Dune." It arrives in hardcover from DAW next month.
Hadrian Marlowe, a man revered as a hero and despised as a murderer, chronicles his tale in th galaxy-spanning debut of the Sun Eater series, merging the best of space opera and epic fantasy.

It was not his war.

The galaxy remembers him as a hero: the man who burned every last alien Cielcin from the sky. They remember him as a monster: the devil who destroyed a sun, casually annihilating four billion human lives — even the Emperor himself — against Imperial orders.

But Hadrian was not a hero. He was not a monster. He was not even a soldier.

On the wrong planet, at the right time, for the best reasons, Hadrian Marlowe starts down a path that can only end in fire. He flees his father and a future as a torturer only to be left stranded on a strange, backwater world.

Forced to fight as a gladiator and navigate the intrigues of a foreign planetary court, Hadrian must fight a war he did not start, for an Empire he does not love, against an enemy he will never understand.
Christopher Ruocchio is the co-editor (with Tony Daniel) of the new Baen anthology Star Destroyers, and (with Hank Davis) the upcoming Space Pioneers.
Empire of Silence will be published by DAW Books on July 3, 2018. It is 624 pages, priced at $26 in hardcover and $12.99 for the digital edition. The cover is by Sam Weber, who also painted the cover to Medusa Uploaded and Ken Liu's The Wall of Storms.