Goth Chick News: Welcoming Mother Noose Nursery Crimes With the Mother of all Press Kits
Goth Chick News: Welcoming Mother Noose Nursery Crimes With the Mother of all Press Kits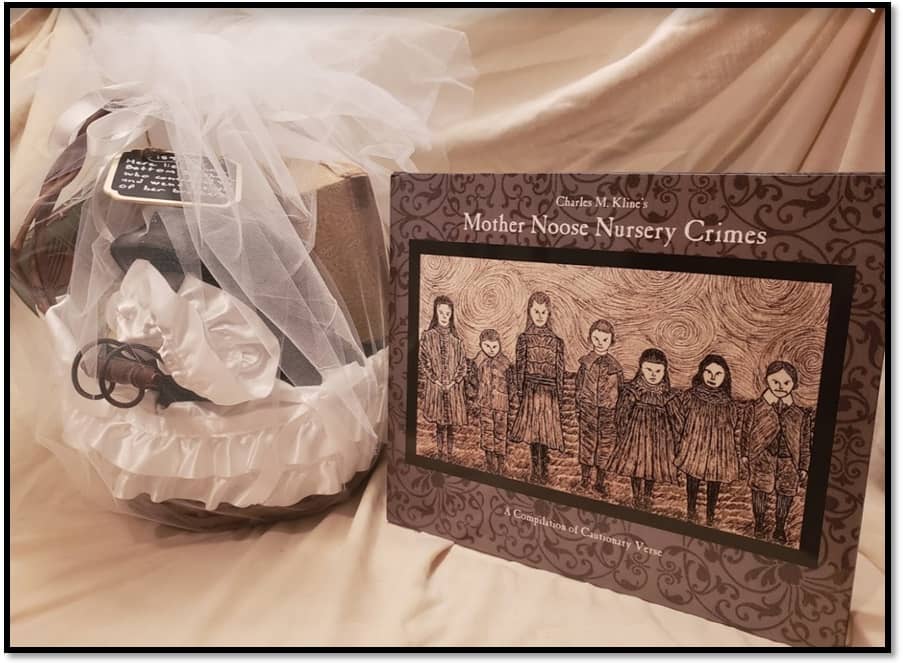 One of the many advantages of working for Black Gate magazine — which mostly if not entirely makes up for the unisex bathrooms and the non-stop "birthday" celebrations or whatever the heck is going on upstairs — is getting an early look at upcoming releases before the public. Over the years I've gotten some pretty cool collectable things in the mail from this publicist or another, heralding the upcoming movie / book / game / CD. I cherish each and every one of these items, not only for their creativity, but because the artist deemed Black Gate a worthy place to share their upcoming announcement.
It's like getting a birth notification – only way more interesting.
But this week I received a large FedEx box containing what is undeniably the most incredible book announcement ever to have crossed the threshold of the Black Gate office.
You may (or may not) recall my obsession with the artist Charles Martin Kline, he of the delightfully Gorey-esque picture book the 12 Frights of Christmas, and creator of the award winning short film Frankenfriend. Yes, I've basically been stalking Mr. Kline (or "Chas" as I call him) for nearly four years since his first release, Edgar Allen Paws and the Tell-Tale Tail, but you can't blame me. His macabre sense of humor and attention to detail makes his work pretty unforgettable and him pretty fanciable, in my own obsessive, morbid kind of way.
But even though I keep close tabs on Chas' latest endeavors, I was definitely not prepared for the official launch kit that accompanied my very own personalized edition of Mother Noose Nursery Crimes.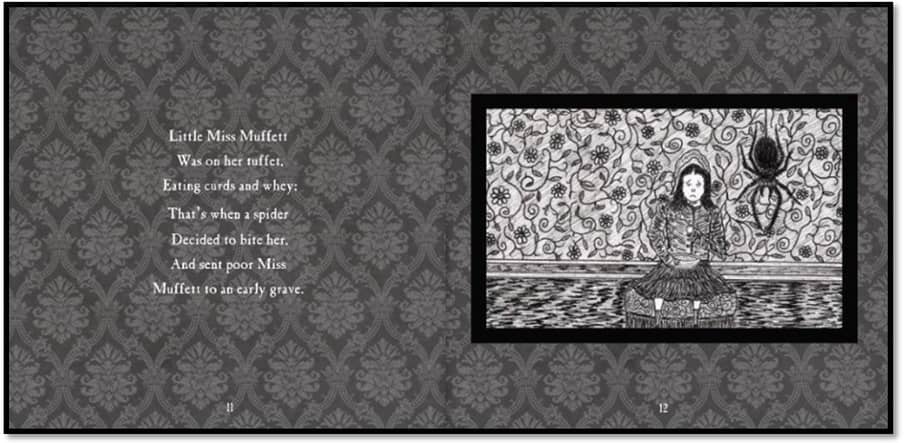 Inspired by several classics including Hilaire Belloc's 1907 classic Cautionary Tales for Children illustrated by Edward Gorey, an Easton Press edition of The Nursery Rhyme Book from 1897, Charles Addams' 1967 collection The Charles Addams Mother Goose, and Edward Gorey's The Gashlycrumb Tinies from 1963, Chas went about creating his very own fractured fairy tales.
A broken Humpty Dumpty who gets turned into an omelet, Jack pushing Jill down a well, Little Miss Muffet receiving a terminal spider bite and Peter the pumpkin eater indulging in questionable domestic practices are just a few what started out as Chas' "short shocks" writing (i.e. micro-stories) but eventually grew into a sizable collection. Each is illustrated with Chas' own personal brand of "Americana" art and the result is a coffee-table-sized tome of wonderfully dreadful, not-for-children's tales.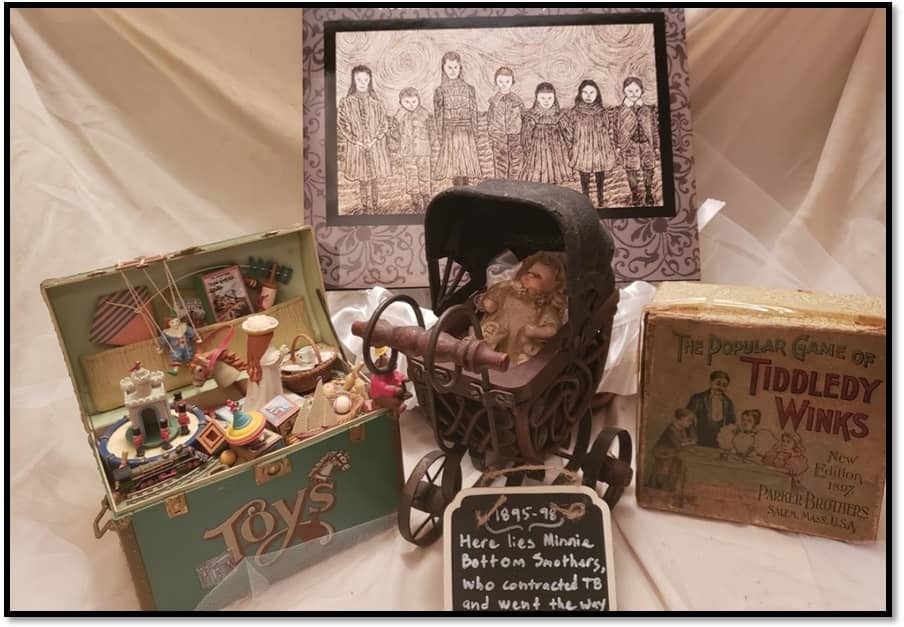 So what was in the FedEx box you ask?
A Victorian child's fantasy of a gift basket that's what – and as far as I can tell, it's chock full of actual antiques.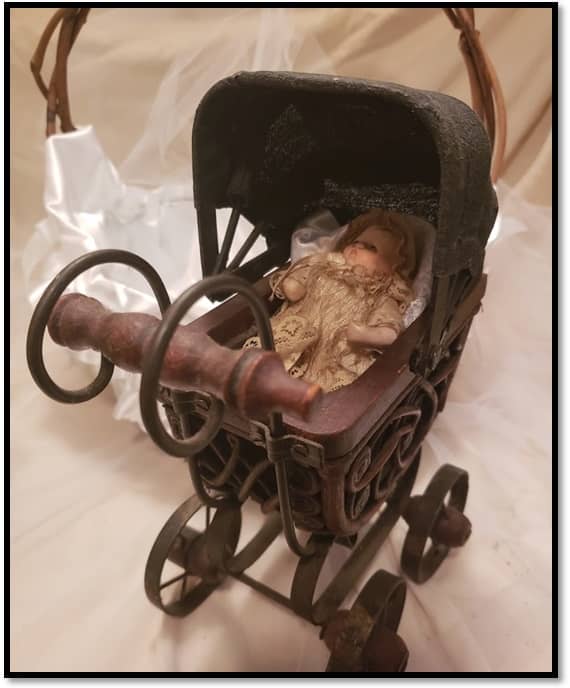 There was a toy carriage looking at least 100 years old, complete with a porcelain baby doll. There was a Tiddledy Winks game from 1897 and an incredibly detailed toy chest music box with so many little clockwork bits that I cannot stop winding it up to watch. Each item is a treasure on its own, but taken together the basket has a creep-factor that is hard to put a finger on, but I can imagine any one of these pieces coming with its very own ghost ala Joe Hill's Heart Shaped Box.
In other words, I love it.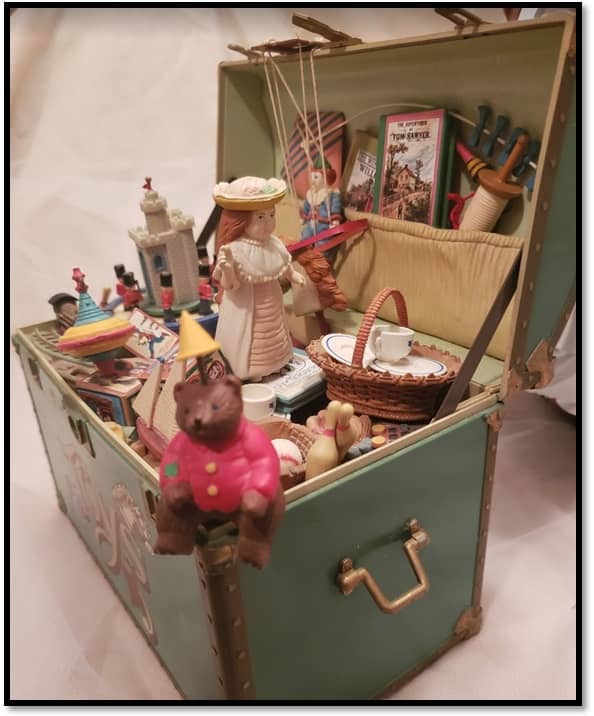 Mother Noose Nursery Crimes by Charles M. Kline is available now at Blurb Books, and you can keep up with his latest project via his website or by following him on Facebook.
And if there was a ghost in that box as well, then perhaps he'll help me get that lot upstairs to hold down the noise.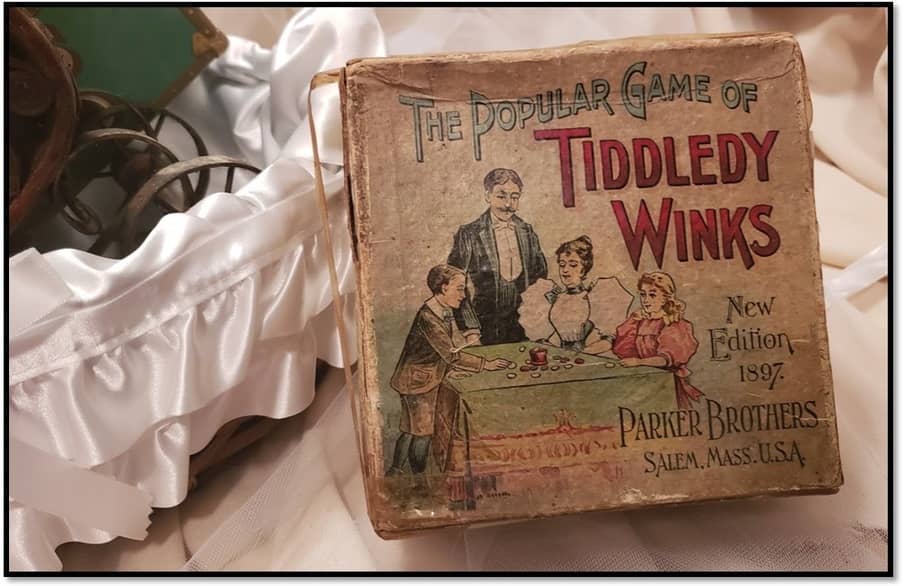 The staff at Black Gate wishes Charles the best of luck at the Nice International Filmmakers Festival where Frankenfriend is up for three awards. Have a question or comment? Post it here or drop a line to sue@blackgate.com.