Heinlein Across the Waters
Heinlein Across the Waters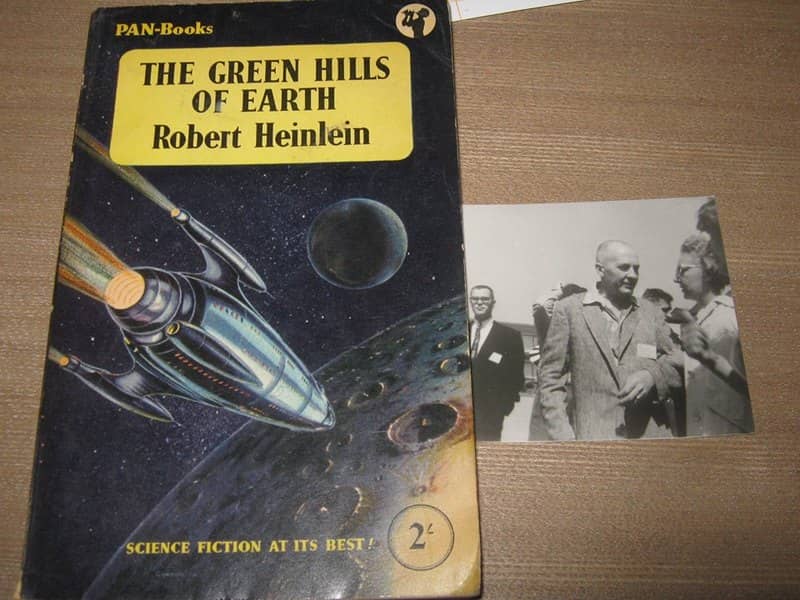 One of the things that I love about collecting old paperbacks is the surprises they sometimes contain. You just never know what you'll find. It's almost a Forrest Gump box of chocolates kind of thing.
For example. I live in Germany, and several years ago I won a Lin Carter paperback on eBay that contained a business card from a used book store in Columbus Ohio, near OSU, called the Monkey's Retreat. The very same Monkey's Retreat that I'd frequented back in 1984/85. So suddenly thirty years later, I'm pulling one of their cards out of a paperback sent from Essen. I have always wondered how that paperback made its way across such gulfs of space and time. I mean, 30 years and thousands of miles. The reality is probably mundane, a G.I. leaving it at his girlfriend's apartment and having it end up on the table at a flea market, where a dealer snatched it up for a few Pfennigs.
There was another time when I found — inside an old Scholastic Book edition of Bernhardt J. Hurwood's "true horror stories" — a lovely little hand drawn initiation to a young girls birthday slumber party. You can read about that one here.
But the latest surprise trumped all the others, and came as such a shock that it drove me out of the comfort of my warm feather bed at 11:00 P.M. on a chilly Bavarian night to spend the next few hours sending messages, doing research, taking photos and making scans.
[Click the images for bigger versions.]
My Twilight Books Order
There's a little online book shop over here named Twilight Books. Run by nice folks who are honest, dependable, and have a great selection of genre paperbacks from America and the UK. It was this past Tuesday when my latest order from them arrived, a small batch of six books.
One was the 1956 PAN (UK) paperback edition of Robert Heinlein's The Green Hills of Earth. It wasn't until later that evening that I finally had time to take a look at my purchases and relish, as Stephen King said in Needful Things, the pride of ownership.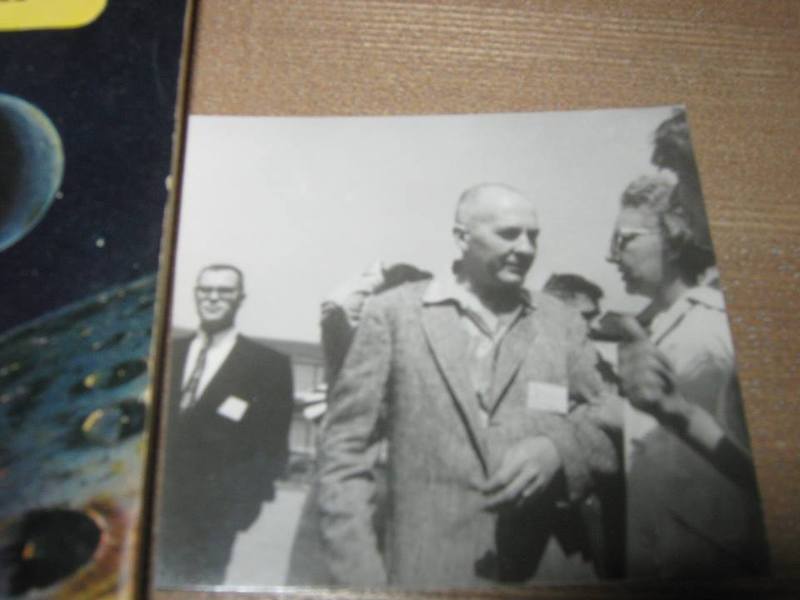 So I'm laying in bed enjoying the look, feel, and smell of old paperbacks (and my do they smell so good!) before turning off my reading lamp and calling it a night. I was thumbing through the Heinlein collection when I discovered a picture of Robert Heinlein. At first I thought someone had clipped it from a glossy magazine. It was only when I plucked it out that I realized it was a genuine photo!
What the hell was a photo doing stuck between the pages of a 62 year old paperback?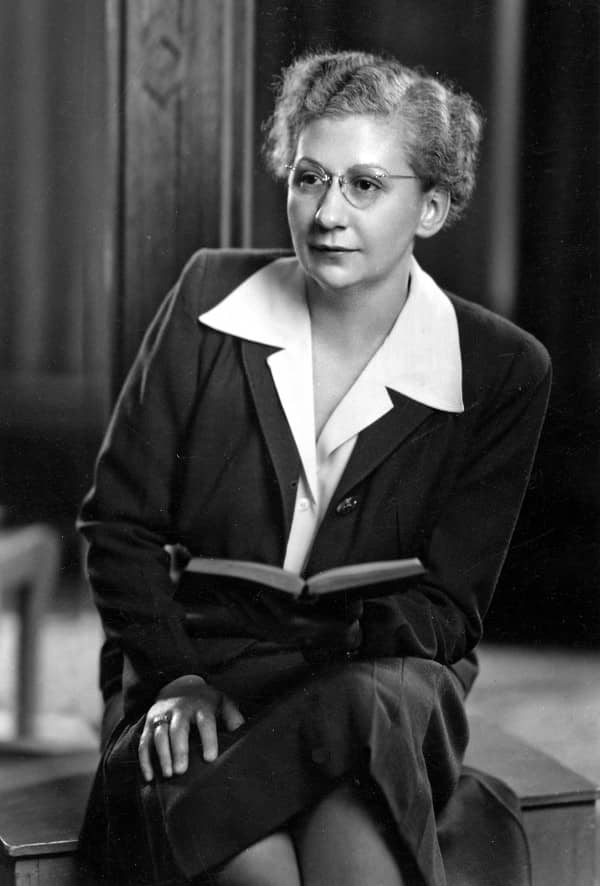 Ginny Heinlein
The photo shows Mr. Heinlein standing outside in the sun with his wife Ginny to his right (John Seltzer of the Heinlein Society confirmed my guess, based on her photo, that it was her) and possibly Sam Moskovitz standing behind to the left. It can be seen that someone has reached between him and Ginny, and has grasped his arm with both hands.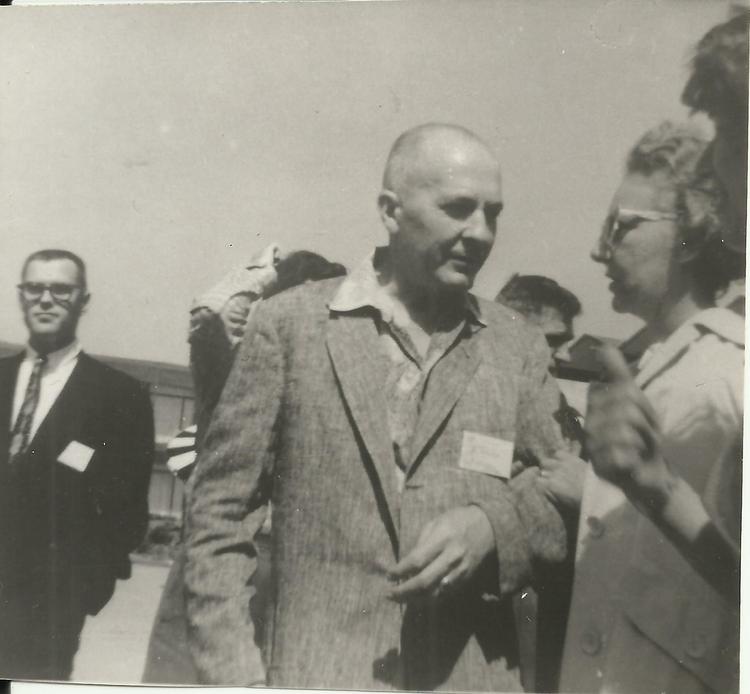 A major clue to the date and location of the photo is a portion of a parasol visible in the background to the left of Mr. Heinlein's elbow.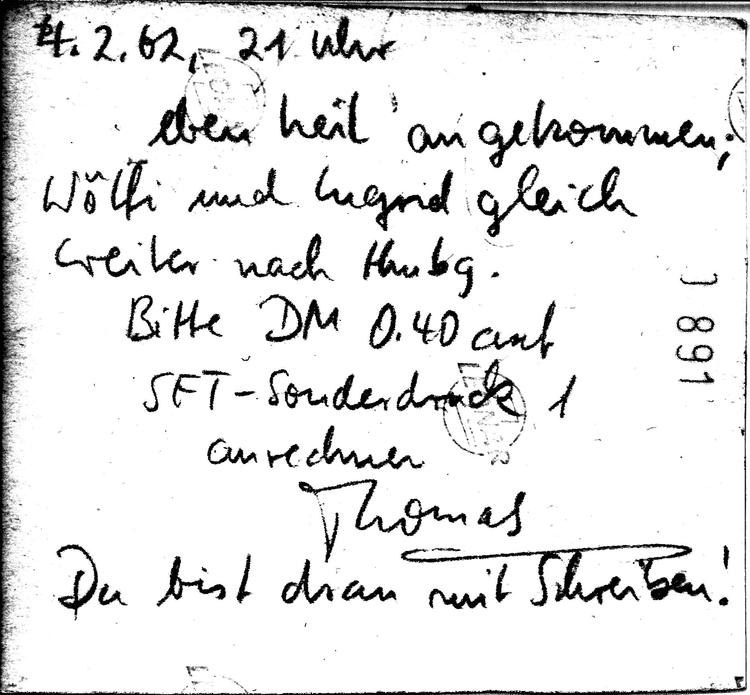 Upon flipping it over I discovered a hand written note in German. I had to scan it at 600dpi with the contrast cranked up to 11 in order to read it. It roughly translates as……
4th of February 1962 (Germans write dates as Day, Month, and Year)
Wolfi and Ingrid went straight on to Hamburg.
Please credit 40 Pfennig on the SFT 1 Reprint/Special Edition (possibly the old German Fanzine Science Fiction Times)
Thomas
It's your turn to write.
I haven't the foggiest notion who took the photo. The stamp shows that it was printed on Leonar photo paper. Leonar was headquartered in Hamburg back then.
Luckily Google is our friend, and it didn't take me long to discover the time, place and event shown in the photo.
Drum roll please…
The photo was taken at the 1961 "SeaCon" World Science Convention in Seattle!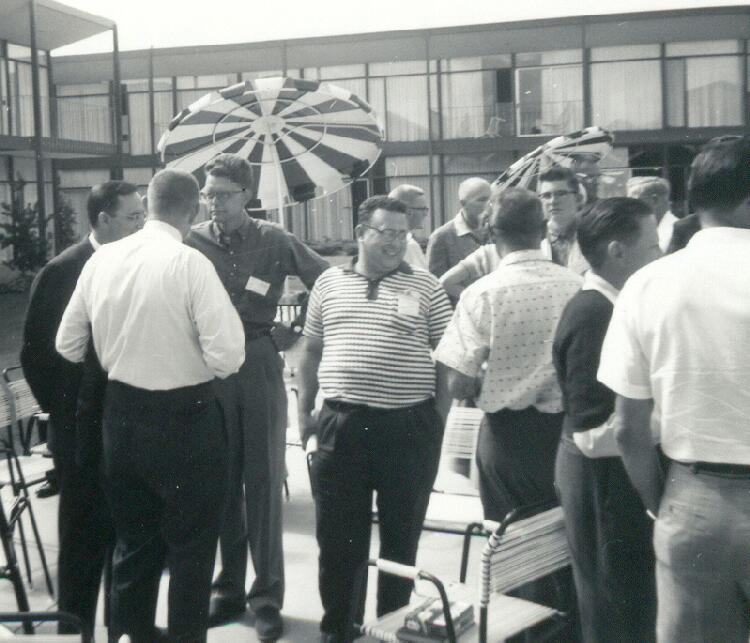 The 1961 World Science Fiction Convention. That's Poul Anderson under the parasol.
A party held poolside at the Seattle Hyatt House Hotel!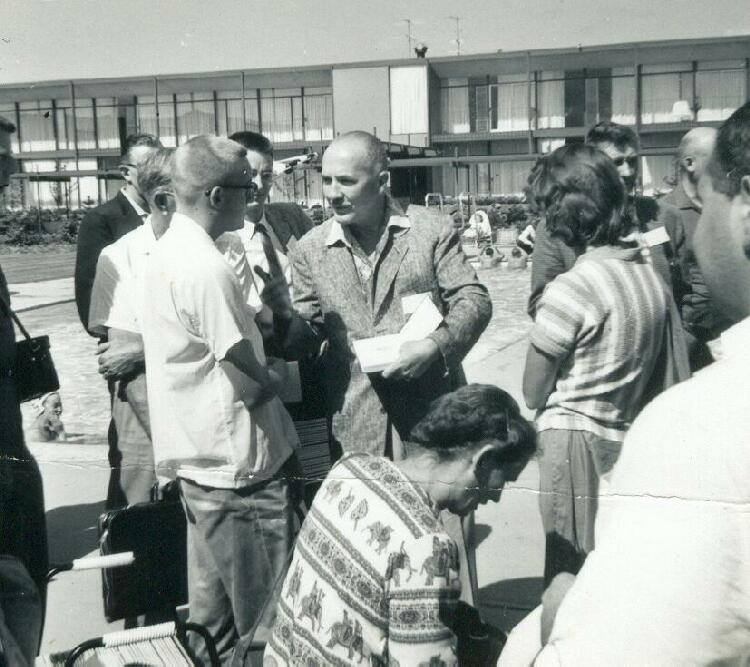 Robert Heinlein at the 1961 World Science Fiction Convention
The parasols were the first thing that alerted me when scrolling through the Google image results for "Heinlein /Black&White/ photos."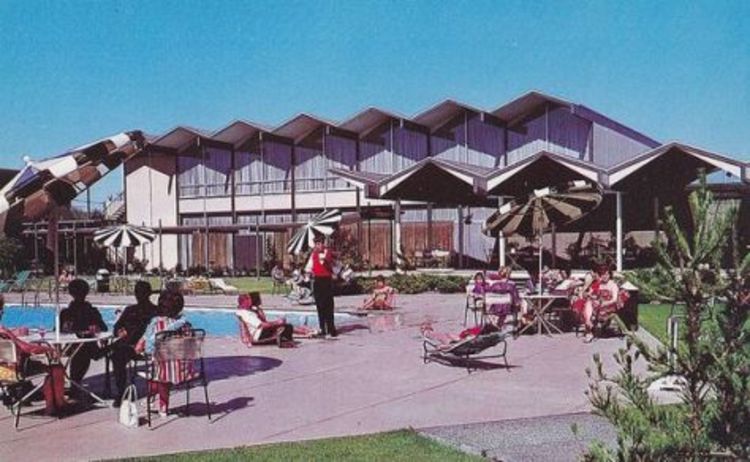 The Seattle Hyatt Hotel
Like I said before, I have no idea who Wolfi, Thomas and Ingrid were (or are), or why Thomas was passing along a trimmed photo.
All I do know is that I'm going to frame it and hang it in a place of honor above my work desk. I'm also taking it as a good omen, as I will be editing the relaunch of Startling Stories for Wildside Press this year.
---
Douglas Dra is the editor of Weirdbook. His latest project is the upcoming relaunch of Startling Stories for Wildside Press. His last article for Black Gate was Professor Jameson's Space Adventures, or Zoromes Make the Happiest Cyborgs.