Birthday Reviews: Tad Williams's "Go Ask Elric"
Birthday Reviews: Tad Williams's "Go Ask Elric"
Cover by Brom
Tad Williams was born on March 14, 1957. He published the Memory, Sorry & Thorn fantasy series beginning in 1988 and followed up with the Otherland series in 1996 and Shadowmarch in 2004. Williams has also published a handful of stand alone novels, including Tailchaser's Song and Caliban's Hour. He collaborated with Nina Kiriki Hoffman on Child of an Ancient City.
Williams was a nominee for the John W. Campbell, Jr. Award in 1986 and the next year Tailchaser's Song was a nominee for the William L. Crawford Award. Two of his novels have been nominated for Germany's Phantastik Preis.
"Go Ask Elric" was published in 1994 in Elric: Tales of the White Wolf, a Michael Moorcock Festschrift which allowed other authors to play with Moorcock's settings, characters, and themes. The story was translated into French for inclusion in an abridged version of the anthology as a whole. Williams later included it in his collection Rite: Short Work, which also included an essay Williams wrote as an introduction to Moorcock's novel Gloriana.
Williams manages a successful homage to Michael Moorcock in "Go Ask Elric," pulling in elements from Moorcock's stories "Elric at the End of Time" as well as "the Vanishing Tower" and "Sailing to the Future." Rather than focusing on Elric, William's main character is Pogo Chapman, a young kid who worships Jimi Hendrix in the mid-1970s. During an acid trip, Pogo is sucked into the multiverse where he meets up with an imprisoned Elric and helps him escape. As Moorcock did in "Elric at the End of Time," Williams switches between Elric's point of view and Pogo's, allowing the reader to see just how much Elric misreads the situations he is in.
In their escape, Elric and Pogo find themselves sin another plane of the multiverse, facing off against a cosmic force known as the Chronophage, where they ally themselves with a man who is as dark as Elric is white, Shemei Uendrijj, who Pogo immediately recognizes as a version of his hero, Jimi Hendrix. On the verge of defeat, Pogo realizes the two heroes must combine, as Elric has done with other aspects of the Eternal Champion.
Williams also skillfully involves the song "White Rabbit," by Jefferson Airplane, which not only provides the title for the story, but also offers Pogo the hints he needs to become Elric's rescuer and partner. Williams incorporates the song in a clever manner that doesn't put too much emphasis on the song.
Reviewed in  its original publication in the anthology Elric: Tales of the White Wolf, edited by Edward E. Kramer & Richard Gilliam, White Wold, 1994.
---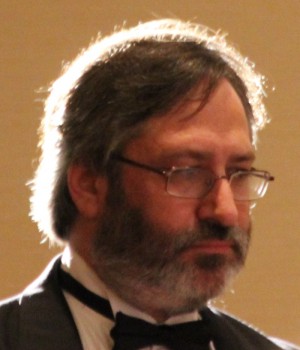 Steven H Silver is a fifteen-time Hugo Award nominee and was the publisher of the Hugo-nominated fanzine Argentus as well as the editor and publisher of ISFiC Press for 8 years. He has also edited books for DAW and NESFA Press. He began publishing short fiction in 2008 and his most recently published story is "Big White Men—Attack!" in Little Green Men—Attack! Steven has chaired the first Midwest Construction, Windycon three times, and the SFWA Nebula Conference 5 times, as well as serving as the Event Coordinator for SFWA. He was programming chair for Chicon 2000 and Vice Chair of Chicon 7. He has been the news editor for SF Site since 2002.