Heinlein Across the Waters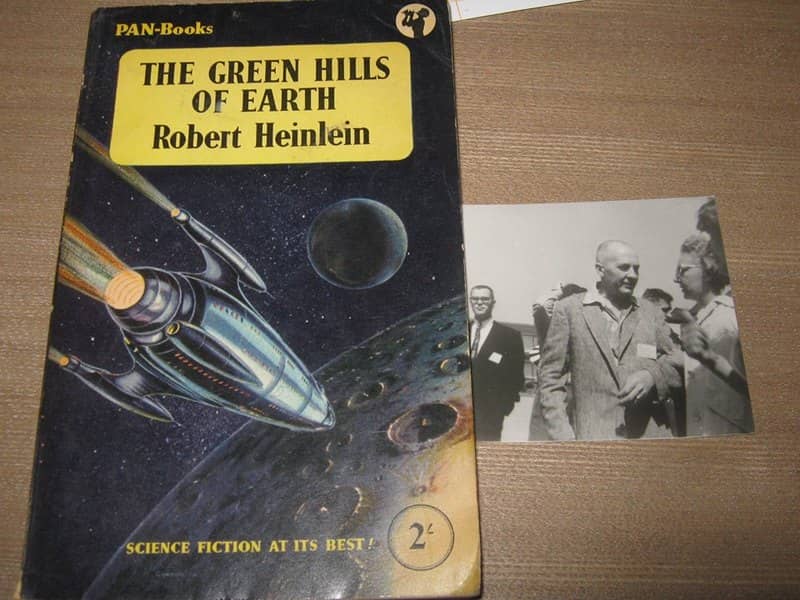 One of the things that I love about collecting old paperbacks is the surprises they sometimes contain. You just never know what you'll find. It's almost a Forrest Gump box of chocolates kind of thing.
For example. I live in Germany, and several years ago I won a Lin Carter paperback on eBay that contained a business card from a used book store in Columbus Ohio, near OSU, called the Monkey's Retreat. The very same Monkey's Retreat that I'd frequented back in 1984/85. So suddenly thirty years later, I'm pulling one of their cards out of a paperback sent from Essen. I have always wondered how that paperback made its way across such gulfs of space and time. I mean, 30 years and thousands of miles. The reality is probably mundane, a G.I. leaving it at his girlfriend's apartment and having it end up on the table at a flea market, where a dealer snatched it up for a few Pfennigs.
There was another time when I found — inside an old Scholastic Book edition of Bernhardt J. Hurwood's "true horror stories" — a lovely little hand drawn initiation to a young girls birthday slumber party. You can read about that one here.
But the latest surprise trumped all the others, and came as such a shock that it drove me out of the comfort of my warm feather bed at 11:00 P.M. on a chilly Bavarian night to spend the next few hours sending messages, doing research, taking photos and making scans.