"We Don't See Pure Sword and Sorcery Anymore, So I Wanted to Try to Revive It" – An Interview with John Shirley
"We Don't See Pure Sword and Sorcery Anymore, So I Wanted to Try to Revive It" – An Interview with John Shirley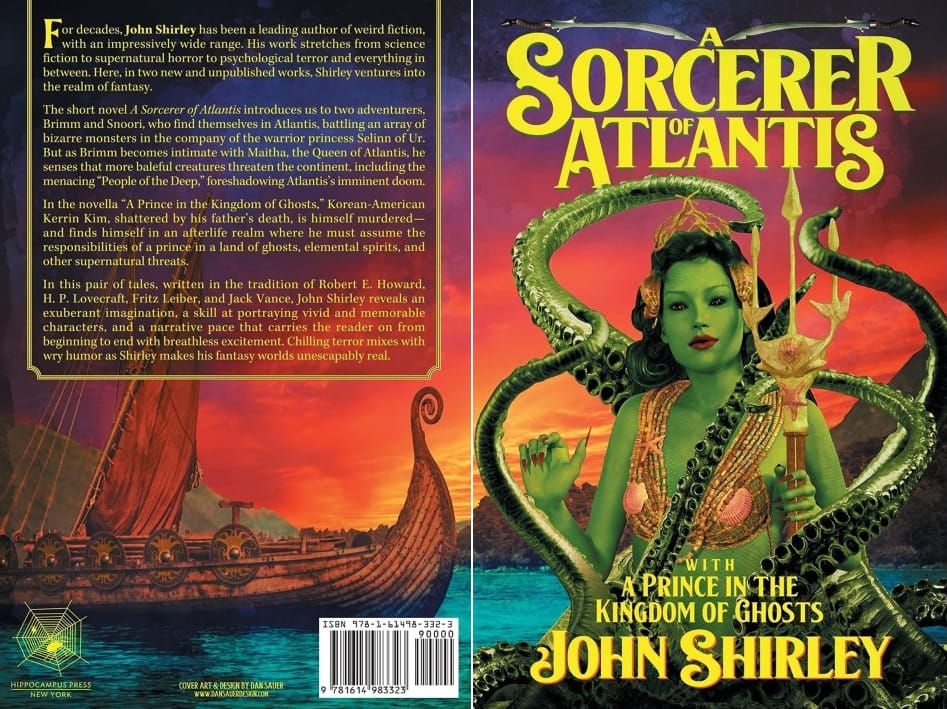 A Sorcerer of Atlantis (Hippocampus Press, 2021). Cover by Daniel V. Sauer
John Shirley is a true renaissance man. He won the Bram Stoker Award for his horror tales, has written over 40 books, and has been a lyricist for the legendary Blue Öyster Cult. Mr. Shirley is also a successful screenwriter who has scripted such various Television shows and films as The Real Ghostbusters, Deep Space Nine, and many others. John co-scripted, with David J. Schow, the Brandon Lee film The Crow.
Mr. Shirley was one of the original cyberpunk writers, and  penned the classics City Come A-Walkin' and the Song Called Youth trilogy. John has also written horror, historical, and men's adventure novels under a pen name.
John's latest novel is titled A Sorcerer of Atlantis: with A Prince in the Kingdom of Ghosts. It came out in June from Hippocampus Press. Sorcerer is a 306-page heroic fantasy/Swords & Sorcery novel.
I've read it and enjoyed it immensely. If I wanted to give a quick thumbnail blurb I would say that instead of your typical "thud and blunder," Sorcerers is reminiscent of the type of novels that John Jakes and Fritz Leiber used to pen. But please don't think that this is simply a pastiche novel. Sorcerers is its own animal, completely modern, and highly original.
Now enough background, let's get to the good stuff!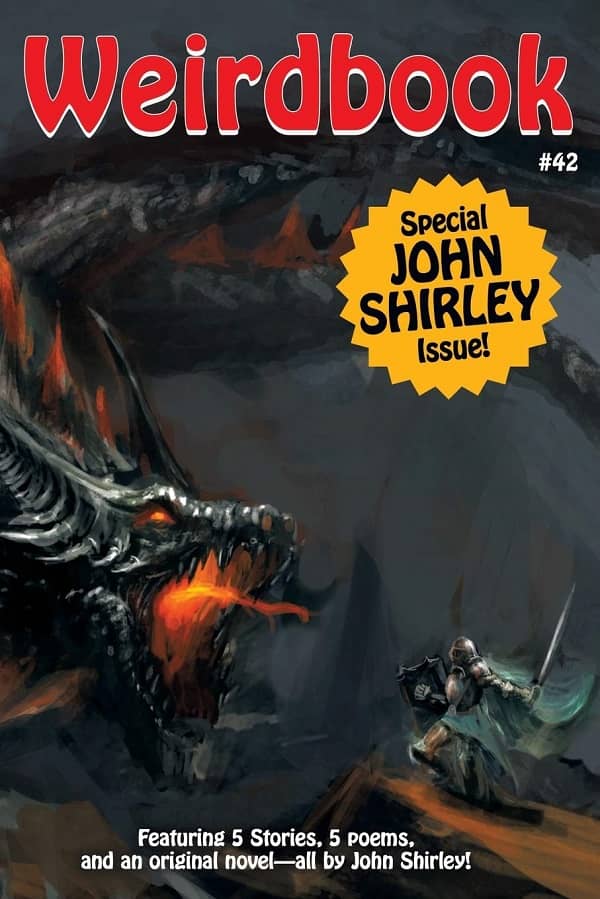 The John Shirley issue of Weirdbook, edited by Douglas Draa
and published in March 2020. Cover by Fotolia. Order here.
Thank you so much Mr. Shirley, for finding and taking the time to grant Black Gate this interview.
How have you been doing these, our very own "plague years." Have they been difficult ones or have you and your loved ones managed pretty well?
We live in SW Washington state where COVID was not very prevalent but we got the vaccines soon as we could — people who fall for the misinformation about the vaccines really need to do deeper research into what the consensus of medical professionals is. The Pfizer and Moderna vaccines are safe and effective. That's the end of my PSA… So until the vaccines were available to us, we stayed in a lot, and watched old black and white classic movies and read a lot of books.
I did some of my business, relating to movies and book promotion, on Zoom so I had to learn to use that. Met with some friends that way too. We wore the masks consistently in public, the best masks, and we got exercise and I got a lot of writing done. So it wasn't so tough for us.
But lots of other people didn't have it that easy. Many people lost their jobs. I'm glad we got this new stimulus/relief package through for them…
I've read much of your SF and Horror and I especially like your Lovecraftian stories. But what made you decide to write a, for lack of better words, Swords & Sorcery Novel?
There aren't any better words for it because there's nothing wrong with sword and sorcery novels. I'm pickier than I was as a kid, but I can still appreciate Robert E. Howard — I think he wrote better prose than Lovecraft — and L. Sprague de Camp. Michael Moorcock's Elric tales still light my fire. (By the way, Michael Moorcock also wrote lyrics for the Blue Oyster Cult, including a song about Eric, "Black Blade.")
I'm a fan of Jack Vance's fantasy tales, which aren't exactly Sword & Sorcery but they're endlessly entertaining and written in a unique style;  they are quite thrilling and often amusing… I love the Lankhmar tales by Fritz Leiber. I believe them to be the best Sword and Sorcery novels and some of the best fantasy novels.
As for my own sword and sorcery novel, I wanted to revisit the joys of my youthful reading and also bring something fresh of my own to it. A Sorcerer of Atlantis is a celebration of the genre and written to be very entertaining. There's some humor — not parody — and a good deal of the horrific. We don't see pure sword and sorcery fiction anymore — not what I'd call the real thing — so I wanted to try to revive it. There are two novels, or rather one novel and one novella, in the same volume; the novella "A Prince in the Kingdom of Ghosts" also includes both swords and sorcery, but it's a tale of the afterlife — a different spin on that sort of fantasy.
Which "Fantasy" writers are you particularly fond of, and why?
Lately I'm taken by Susanna Clarke. Her Jonathan Strange & Mr. Norrell is a masterpiece. It's right up there with the best of Tolkien and Clark Ashton Smith, though it's a bit different in tone — it has an 18th/19th Century flavor and it's got some sharp-tongued observations and edginess. I think it may be influenced by Vance's rather acerbic fantasies, and perhaps by James Branch Cabell. Great writing in it. Her new novel Piranesi is also an exquisite piece of work.
I admire Tim Powers' urban-fantasy novels too… I'm a fan of Clark Ashton Smith and Lord Dunsany, and will always defend Tolkien. Some people think he's too twee but I don't think so. I think he had mastered the writing of sagas and used that mastery to give new life to fantasy fiction.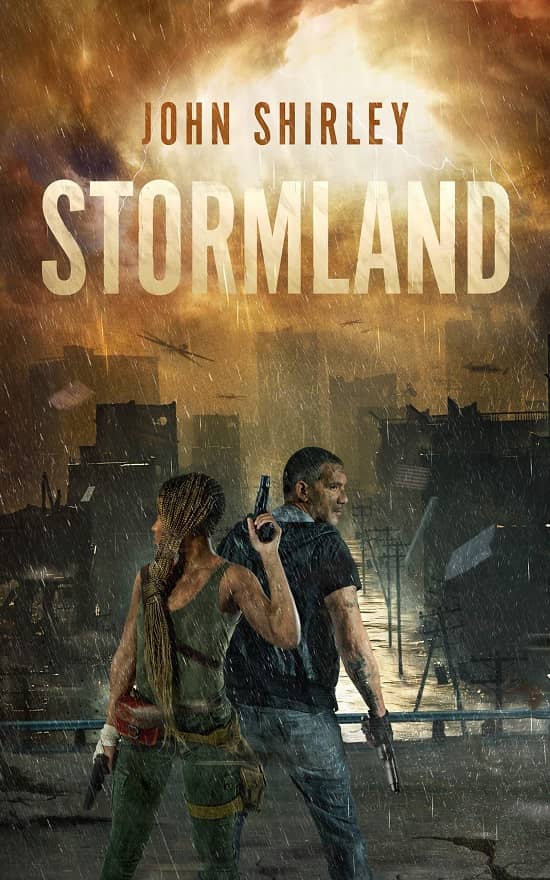 Stormland by John Shirley (Blackstone Publishing, April 2021)
Do you find it difficult to move among various genres? And if forced to chose, do you have a preferred genre?
There are difficulties in shifting genres, at times. I'm not psychologically suited for every genre. Couldn't write a pure modern romance novel. But for me, as I'm have a devoted appreciation of many genres, it's not impossible to slide into the necessary mindset for fantasy, suspense thrillers, horror, science-fiction (my new science-fiction novel is Stormland). I also have written westerns.
To me it's all a bit like being a professional musician who can play capably in blues, jazz, hard rock or prog rock. I also engage in fusion — coming next year, likely, is a novel by me called Suborbital 7 that is a fusion of military adventure fiction, technothriller and science-fiction. Lots of my science fiction has horror elements and vice versa.
Have you been keeping active musically? Would you care to tell us about it?
I'm in a band called The Screaming Geezers. Lead singer. We opened for Blue Oyster Cult right before the pandemic got bad — we'd played in clubs around Portland Oregon a lot — and we released an album. But during the pandemic we had to put it all on hold. Now we're writing new songs and rehearsing (screaminggeezers.com). I also did a prog rock album with Jerry King, "Spaceship Landing in a Cemetery."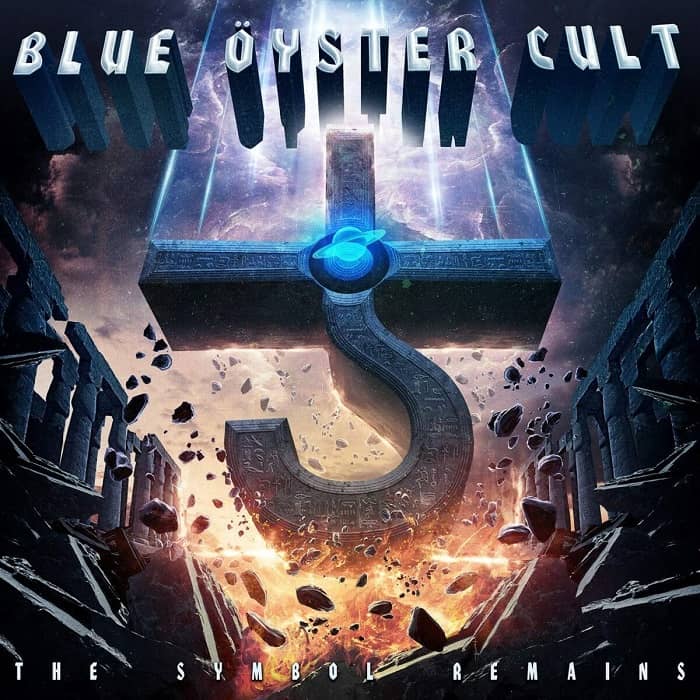 The Symbol Remains, the first studio album from Blue Oyster Cult in two decades
My big rock'n'roll thrill this year though is that I have written the lyrics for five songs on the Blue Oyster Cult's first studio album in twenty years, The Symbol Remains, which came out last fall. I wrote the two singles as well as three others…
The album — which is selling very well, getting great reviews, and paying me some royalties — has nothing but good songs on it and one, "The Alchemist," is inspired by HP Lovecraft's first published story. I didn't write that lyric, sadly for me, but it's a fine, rocking, delicious appreciation of Lovecraft and even quotes him. You can find the video for that on YouTube, along with the whole album.
Two of the songs I wrote have fantasy/horror elements: "Nightmare Epiphany" and "Florida Man." You know, some of my lyrics can be found in my first collection of poetry, The Voice of the Burning House, coming shortly from Jackanapes Press. Most of the poems were originally published in ST Joshi's Spectral Realms journal. They're all rhyming Weird Tales type poems… Weird Poetry in the CAS or "Fungi From Yuggoth" sense…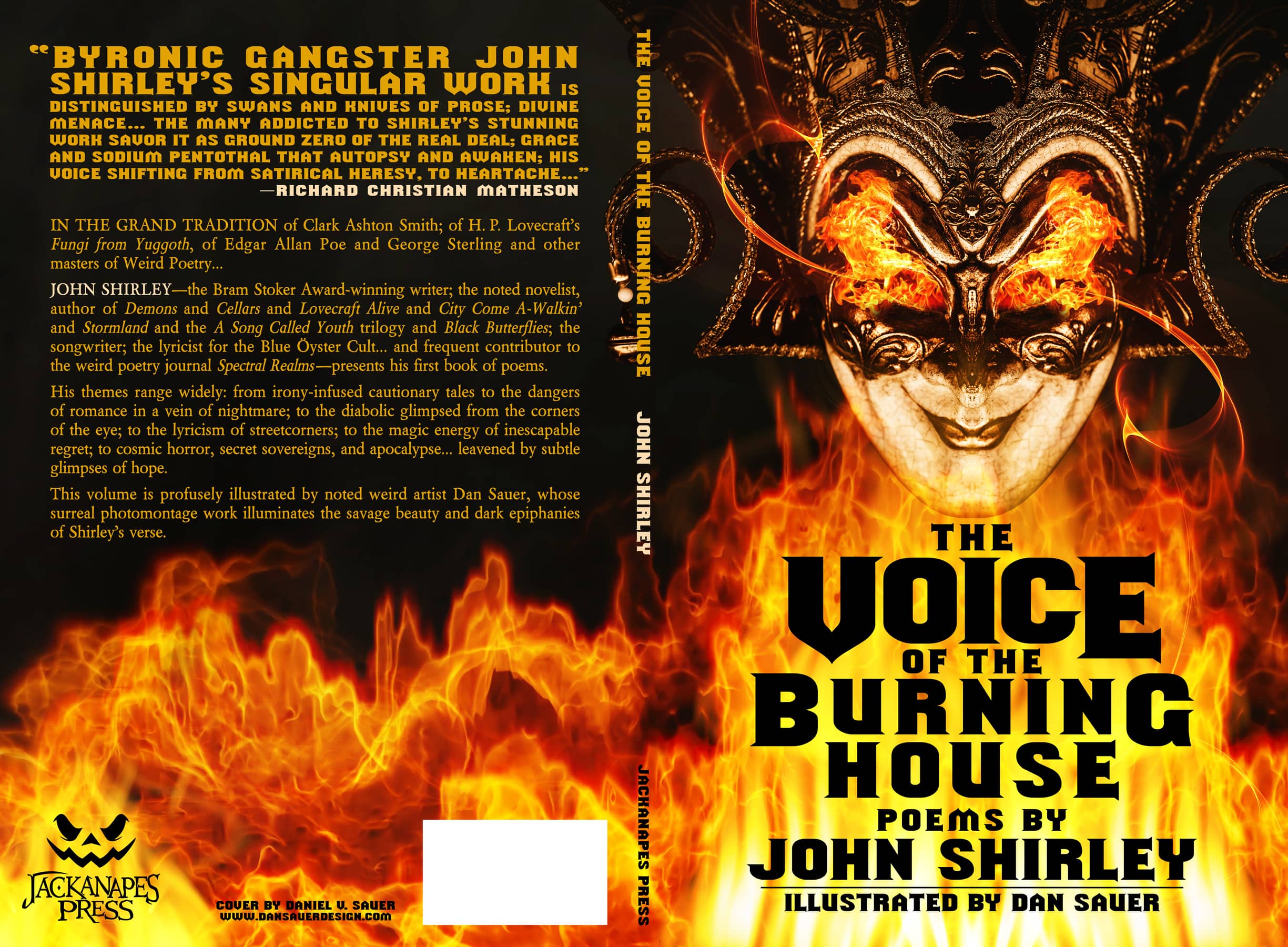 The Voice of the Burning House by John Shirley, available for preorder from Jackanapes Press
What do you think of Publishing Industry these days now that so much of it seems to have left the brick and mortar bookstores (the ones who still exist, that is) behind and has moved onto Print on Demand. I see the death of the paperback as we once knew it as a terrible loss. I dearly miss those paperback racks of yore. You could do some browsing come home with almost anything as far a genre fiction goes. Burroughs, Tiptree, L'Amour, Ellison, Le Guin, Lovecraft, Heinlein, PKD or God even knows who else. These days you get "Amazon Recommendations."  I see, especially for young readers, a terrible loss in the disappearance of those omnipresent paperback racks.
I know what you mean. I miss the old racks and I am sorry there are so few brick and mortar stores. It was part of American culture.
While there are still some paperback racks, eg. in some supermarkets and the airport, they don't have the variety they used to, and the books are often knockoffs — inferior ones — of writers like Tom Clancy, say, or Robert B. Parker; they get other writers to knock them out and they slap the famous writer's name BIG on the cover and the work-for-hire writer's name very small… So that kind of greedy exploitation doesn't leave room for the midlist, let alone the great paperback adventure novels we used to have, all that diversity of style and genre…
I've been a guest at the Vintage Paperback Collectors Show they have in Glendale every year. Tim Powers is a regular there too. So if people want to explore the world of vintage paperbacks, get out there this coming Spring and there they are!
Anyway, modern publishing is a sort of mill that doesn't leave room for the lesser-selling but gloriously imaginative novels of yore… and that's a shame… But Hippocampus is offering just such a novel in A Sorcerer of Atlantis — the cover by Dan Sauer is even done in a style reminiscent of 1960s pulp fantasy paperbacks.
And speaking of "young readers," back from the 1950s up until say the mid-1980s there wasn't much genre fiction actually written for young people and older children. Growing up back then most anthologies aimed at younger readers were exclusively reprints of early pulp and Edwardian horror. Even though these were written for adults, they were, in the end, marketed to children. We learned reading from Wells, Verne, Heinlein, Bloch, Andre Norton. Hell, I still own old anthologies from Scholastic books which contain stories from Daphne du Maurier and Algernon Blackwood. Now kids have YA novels and R.L. Stine.
Sorry, I didn't mean to go on like that, but what I want to know is do you think young people reading almost exclusively genre literature that has been tailored for them a positive or negative development?
I think as long as kids are reading actual books it's a good thing, and they'll probably jump over to the more adult horror/fantasy and sf and so on, in time.
But I think the most positive thing, Doug, would be for people, young and old, to read across the spectrum. I think young people who want to write need to read broadly! They do seem to be very influenced by non-print media, which is good stuff but if that's all they take in, they don't pick up the writing chops that way. One needs to absorb the various styles and methods and voices across the various fields of fiction.
That means everything from modern Pulitzer winning fiction, the  better fantasy and sf, historical fiction, and old detective and spy novels — I was very influenced in some ways by Ian Fleming and he still holds up well — as well as the classic greats of horror and fantasy.
I don't want to wear out my welcome, but would you like to tell us a bit more about A Sorcerer of Atlantis: with A Prince in the Kingdom of Ghosts?
A Sorcerer of Atlantis is about a kind of self-indulgent sorcerer's apprentice who studied under one of the great magicians of the age of Atlantis, but got expelled for, well, misbehavior and unruliness. So now he's got to figure it out on his own. His best friend — who is also a bit of comedy relief — persuades him to go to Atlantis where they can seek their fortune. They find horror there, dark magic, beautiful women, romance, and harrowing adventure. And they come face to face with the true source (in my novel anyway) of the imminent destruction of Atlantis. There are Lovecraftian elements too.
"A Prince in the Kingdom of Ghosts" is about a young man who is murdered, wakes up in a strange afterlife realm, and finds that he is literally the prince of a Kingdom of Ghosts… He must discover who his murderer was, who laid his father low, and how this strange kingdom operates. There's a romance too — how does that work with ghosts? I do a certain amount of world building in the novella and lay it all out there… It's a supernatural world but one with internal logic. And there are metaphysical speculations afoot here too…
Thank you so very much Mr. Shirley!
Having this opportunity to conduct this interview been a genuine honor.
---
Douglas Draa is the editor of Weirdbook. His recent project was the relaunch of Startling Stories for Wildside Press. His last article for Black Gate was Heinlein Across the Waters.