January 2018 Locus Now on Sale
January 2018 Locus Now on Sale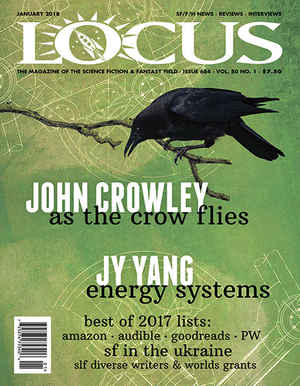 There's a great quote in JY Yang's interview in the January 2018 Locus that I want to share with you. Here it is.
I don't know how to write poetry. I was on the Writing Excuses cruise recently, and one of the instructors was Jeffrey Ford, and he gave a lecture that was about the last five percent — how you can get your prose to pop. You can write perfectly decent prose, but he was talking about ways you can get your mind to come up with interesting prose…. He gave some examples — one of them was a joke off the internet about how if you're standing behind someone at the ATM at night, to show them you're not a threat, you can give them a gentle kiss on the neck. He asked what part of that makes the text sparkle? It's the word 'gentle,' because [it] exaggerates the entire sentiment of the joke. He suggests doing wordplay on a daily basis, and coming up with new terms. That's something I do. I don't say I bathe the dog, I say I wash her. I say we prune her instead of cutting her hair and things like that. I try to say or do things in interesting ways, and that comes up in my fiction. I like fiction that has interesting but effective imagery. I don't like things that are overdone, tortured metaphors or similes, purple prose. A lot of the writers whose prose I admire, like William Gibson and David Mitchell, they express things in interesting ways, but it's very simple. One interesting adjective in the sentence makes it sparkle. That's what I try to achieve in my writing.
I think that's neat. And, speaking as an editor who read through countless thousand submissions in the decade plus we were buying fiction for Black Gate, I think it also contains an essential truth. Before you put that tortured sentence to paper to prove the poetic power of your prose, remember that the core of really effective writing is simplicity. Yang is the author of The Tensorate Series from Tor.com; we covered the first two volumes here. The third, The Red Threads of Fortune, is due in July.
There's lots of other great stuff in the January Locus, including a feature interview with John Crowley, a column by Cory Doctorow, Best of 2017 lists from Amazon, Audible, Goodreads, and Publishers Weekly, and reviews of short fiction and books by Rich Horton, Gardner Dozois, Gary K. Wolfe, Russell Letson, John Langan, Stefan Dziemianowicz, Paula Guran, Liz Bourke, and lots more.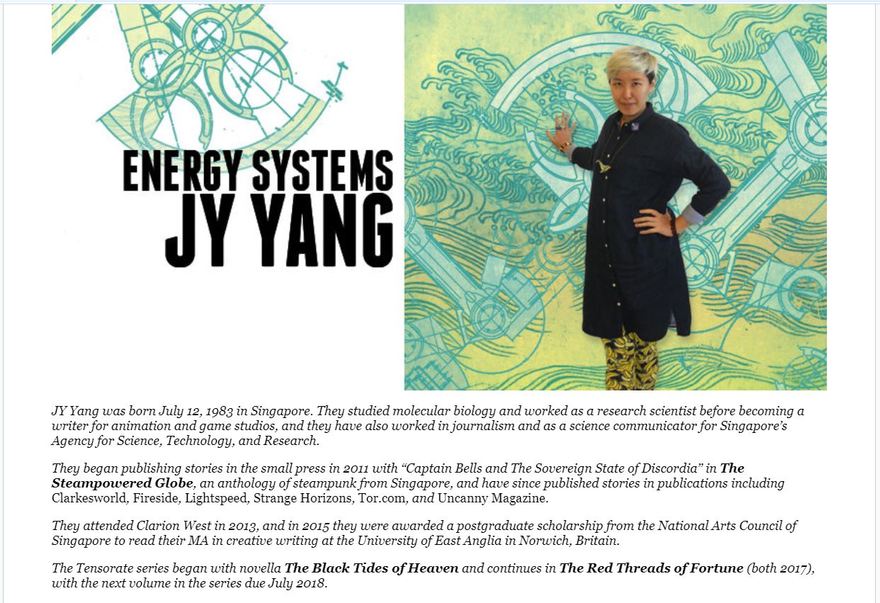 Part of the JY Yang interview
We last covered Locus with the June issue. Locus is edited by Liza Groen Trombi, and published monthly by Locus Publications. The issue is 58 pages, priced at $7.50. Subscriptions are $63 for 12 issues in the US. Subscribe online here. The magazine's website, run as a separate publication by Mark R. Kelly, is a superb online resource. It is here.
See our Late December Fantasy Magazine Rack here, and all of our recent Magazine coverage here.