New Treasures: An Unkindness of Ghosts by Rivers Solomon
New Treasures: An Unkindness of Ghosts by Rivers Solomon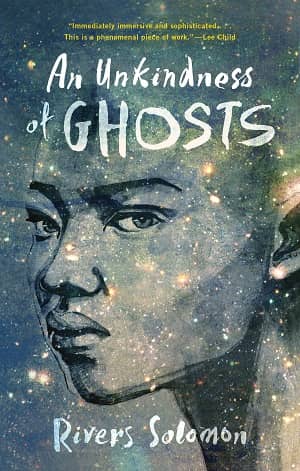 Ah, the new year. When a reader's mind naturally turns to new authors. Who will have the big breakout debut novel of 2018? Who will come out of nowhere to be the new John Scalzi, Mary Robinette Kowal, or George R.R. Martin? Place your bets!
I'm not much of a betting man, but if I were, I'd pay close attention to the end-of-the-year buzz from the major media outlets. This is where careers are made and broken. And for the last month I've been hearing a whole lot about Rivers Solomon's debut science fiction novel An Unkindness of Ghosts, the tale of slum-dwellers on a generation starship.
It made several Best of the Year lists, including The Guardian's Best Science Fiction and Fantasy Books of 2017, Publishers Weekly's Best Science Fiction/Fantasy Books of 2017, Library Journal's Best Science Fiction/Fantasy Books of 2017, and it was an NPR Book Concierge Best Book of 2017. PW called it "Stunning… a raw distillation of slavery, feudalism, prison, and religion that kicks like rotgut moonshine." If I were a betting man, I might place a big bet on Rivers Solomon.
Aster has little to offer folks in the way of rebuttal when they call her ogre and freak. She's used to the names; she only wishes there was more truth to them. If she were truly a monster, she'd be powerful enough to tear down the walls around her until nothing remains of her world.

Aster lives in the lowdeck slums of the HSS Matilda, a space vessel organized much like the antebellum South. For generations, Matilda has ferried the last of humanity to a mythical Promised Land. On its way, the ship's leaders have imposed harsh moral restrictions and deep indignities on dark-skinned sharecroppers like Aster. Embroiled in a grudge with a brutal overseer, Aster learns there may be a way to improve her lot — if she's willing to sow the seeds of civil war.
An Unkindness of Ghosts was published by Akashic Books on October 3, 2017. It is 340 pages, priced at $15.95 in trade paperback and $15.99 for the digital version. Read an excerpt at The Rumpus.