Giving up the Ghost: All Hallows 43
Giving up the Ghost: All Hallows 43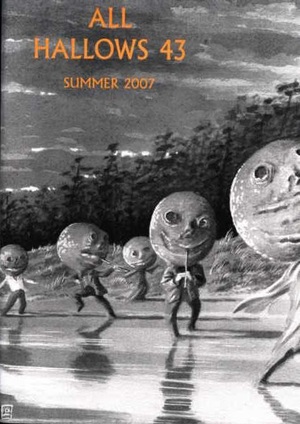 When I was at the 2016 World Fantasy Convention in Columbus, Ohio last year, I accomplished something I've wanted to do for a long time: buy the current issue of All Hallows, the acclaimed Canadian journal of spooky fiction. It's been published since the mid-90s, and was nominated for the International Horror Guild Award in 2003, and the World Fantasy Award in 2004. Back issues are still available at their website, but I wanted to hold a copy in my hot little hands before handing over my shekels for international shipping.
Issue #43 was well worth the wait. Weighing in at 304 pages, it contains new fiction from Frances Hardinge, Rhys Hughes, J.J. Travis, Terry Grimwood, John Alfred Taylor, and many others. There's also plenty of great articles and reviews. The editors are also the folks behind the highly regarded Ash Tree Press, and much of the material originally published in All Hallows has ended up reprinted in one of their attractive collections. The Ghost Story Society website has a fine description of their magazine:
All Hallows is the twice-yearly journal of The Ghost Story Society. This substantial publication, which is now 300 pages per issue, is edited by Barbara and Christopher Roden.

Each issue of the journal offers a mixture of items dealing with all aspects of the ghost story world. In addition to articles dealing with authors such as M. R. James, E. F. Benson, Amyas Northcote, Eleanor Scott, Elizabeth Jane Howard, H. G. Wells, August Derleth, Robert Aickman, Walter de la Mare, and other practitioners of the genre, there is a substantial review section dealing with new publications in the field; a News and Notes section covering new developments in the genre; a Film News and Notes section; articles about obscure and/or overlooked authors; Haunted Cinema, a regular feature looking at classic supernatural films; 'Ramsey Campbell, Probably'; and letters and queries from our members.

All Hallows is also the Society's major forum for new supernatural fiction, with an average of seven stories appearing in each issue. These are all new stories — not reprints of previously used material — by authors such as Simon Clark, A. F. Kidd, Terry Lams… Ellen Datlow, in her Introduction to The Year's Best Fantasy and Horror 10, wrote that All Hallows 'is a must for aficionados of the classic ghost story.'
All Hallows 43 is the Summer 2007 issue, which appears to be the most recent. So while it's good to get so many questions answered, obtaining this issue opens up a deeper mystery. Namely, is the magazine still being published?
The website offers no clue. The Submissions Page is still active (although the Ghost Story Society page notes that they are closed to submissions as of March 2010). The Ash Tree Press website is a little more up-to-date, although it hasn't been updated since 2015. While I'm normally an optimist, I think it's probably safe to say that issue #43 may be the last we see of the storied All Hallows magazine.
Nonetheless, with 43 issues to track down, there's plenty to keep me occupied for a good long time — especially since older issues are virtually impossible to find. There isn't a single issue of All Hallows offered by any seller on eBay or Amazon, which is pretty astounding when you think about it. I consider myself fortunate to  have found this one.
Here's a look at the Table of Contents for issue #43.
Nonfiction
News and Notes
Film News and Notes
The Haunted Post-Bag
'My Most Treasured Book' by David G. Rowlands
'Soft Voices at Passenham: The Ghost Story as Cultural Catharsis' by Nigel Robert Wilson
All Hallows Talks With Dan Simmons
'A Most Uncanny Thing: The Inspiration for Thurnley Abbey' by Scott Connor
'Religion, Evil, and Obsession in the Ghostly Stories of Henry James' by Reggie Oliver
'Lost in the Dark: On Robert Aickman's "The Hospice"' by Philip Challinor
'Miss Edwards and Her Phantom Coach' by Tim Foley
Notes on Lost and Forgotten Writers by Douglas A. Anderson
All Hallows Talks with Stephen Volk
'Diary of a Recording Session' by Reggie Oliver
Dead by Dawn 2007 by Douglas Campbell
Ramsey Campbell, Probably
Haunted Cinema 35: The Queen of Spades
Fiction
"The Gallows Grave" by Richard Tyndall
"Revenant" by Robert Connolly
"Obligation" by Tracy L. Carbone
"Jinx 10-57" by John Hargan
"The Upper Reaches" by Rhys Hughes
"Down Time" by Marc Lecard
"The Bigger World" by J. J. Travis
"Full Circle" by Erik Hauser
"Rubber Soul" by E. Michael Lewis
"Dead and Buried" by Suzan Tessier
"A Child is a Woman's . . ." by Terry Grimwood
"Eventide" by Graham Andrews
"Self Catering" by Helen Grant
"Border Crossing" by David Mills
"Cycling" by Corinna Sara Bechko
"Lightning Rod" by Tom English
"The Cauldron" by Marti Maltby
"Second Sight" by Jane Watson
"Black Grass" by Frances Hardinge
"The Reflection" by S. D. Tullis
"Purty Little Dears" by Jacqueline Simpson
"The Perambulator" by Susan Davis
"Where Your Treasure Is" by John Alfred Taylor
Reviews
The Ash-Tree Press Annual Macabre 2005
The Devil You Know by Mike Carey
Vicious Circle by Mike Carey
The Elemental: Tales of the Supernormal and the Inexplicable by Ulric Daubeny
Ape's-Face by Marion Fox
The Undying Monster by Jessie Douglas Kerruish
Rough Cut by Gary McMahon; The Man From the Diogenes Club by Kim Newman
The Surgeon of Souls by Victor Rousseau
The Terror by Dan Simmons
Stranger: Dark Tales of Eerie Encounters edited by Michele Slung
Reviews in Brief: On the Apparitions at Gray's Court by Peter Bell
Obituary: Curtis Harrington
All Hallows is edited by Barbara and Christopher Roden and published by the Ghost Story Society. Issue #43 is covered-dated Summer 2007. It is 304 pages, priced at $24 in trade paperback. The cover is by Paul Lowe.
See our November Fantasy Magazine Rack here, and all of our recent Magazine coverage here.