New Treasures: The Gates of Tagmeth by P. C. Hodgell
New Treasures: The Gates of Tagmeth by P. C. Hodgell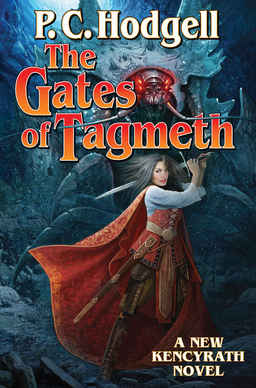 Fletcher Vredenburgh has been steadily reviewing P. C. Hodgell's Chronicles of the Kencyrath series here at Black Gate. In his article on the opening volume, God Stalk, Fletcher wrote:
Out of the haunted north comes Jame the Kencyr to Rathilien's greatest city, Tai-Tastigon. From the hills above, the city appears strangely dark and silent. She arrives at its gates with large gaps in her memory and cat claws instead of fingernails. She's carrying a pack full of strange artifacts, including a ring still on its owner's finger… and she's been bitten by a zombie. Wary, but in desperate need of a place to heal, Jame enters the city. So begins God Stalk, the first book in P.C. Hodgell's Kencyrath series and one of my absolute, bar none, don't-bother-me-if-you-see-me-reading-it, favorite fantasy novels…

I'm so grateful Carl gave me this book thirty years ago. P.C. Hodgell seems so far below the general fantasy radar, I don't know if I would have ever heard of her at all, which is pretty darn shameful.
You can read his compete review here.
Fletcher wrapped up with volume 7, The Sea of Time, back in December, writing,
Now I, and every other fan of Hodgell's, will have to wait nearly a year for the next volume, The Gates of Tagmeth… It's taken over thirty years to get to this point, so I guess I can wait another eight months.
The Gates of Tagmeth arrived in trade paperback from Baen right on time on August 1st. I'm looking forward to Fletcher's review, but you can get the jump on him by ordering a copy today. Here's the description.
[Click the images for bigger versions.]
Destruction is in Jame Knorth's nature. Literally. She is the avatar of of a god known at That-Which-Destroys, the god of chaos and ruin. Yet Jame is also a noblewoman within an ancient race, and the designated heir of her twin brother Torisen Knorth, High Lord of the Kencyrath. Jame's people are fleeing, world by world, from a terrible enemy that has pursued them through a multitude of universes. Its name is Perimal Darkling.

Obeying instructions from her brother, Jame sets out with a force of Southron warriors to reestablish the long-fallen castle keep of Tagmeth. By Jame's side is Lyra, a devious Kencyrath noble girl who is determined not to be forced into a marriage with a man she despises. Jame's old friends Mark and Brier Iron-thorn stand with her, as well: Marc, steward and organizer of Jame's household and Brier, the only captain under her command wholly sworn to support Jame no matter the cost. Jame finds more allies in the forest surrounding the ancient keep where the wild people of the woodlands, the Merikit, hold court. And Jame's adopted mother, Gran Cyd, matriarch and queen of the Merikit, may once again provide the voice of calm that Jame requires to survive her own tempestuous nature.

Jame sets about establishing Tagmeth as an outpost against the gathering power of Perimal Darkling. But Tagmeth hides a secret, a gateway to a mystery that may save this world from eternal darkness — or plunge it to destruction and ruin all the sooner. It is up to Jame to find her way through Perimal Darkling's traps, and to come to terms with the god of pandemonium and destruction within her who grows stronger every day. If she succeeds it may be that Perimal Darkling can finally be defeated after eons of fear and flight. And if she fails, yet another world will fall to darkness forever.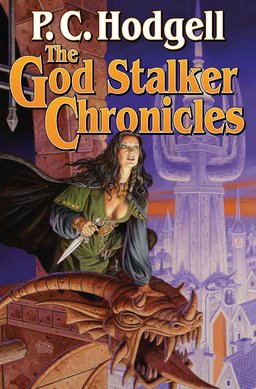 The entire series is still available in paperback, including two omnibus volumes collecting the first four novels.
God Stalk (1982)
Dark of the Moon (1985)
Seeker's Mask (1994)
To Ride a Rathorn (2006)
Bound in Blood (2010)
Honor's Paradox (2011)
The Sea of Time (2014)
The Gates of Tagmeth (2017)
The God Stalker Chronicles — omnibus collection of God Stalk and Dark of the Moon (1987)
Seeker's Bane — omnibus collection of Seeker's Mask and To Ride a Rathorn (2009)
As fantasy series go, this is one of the more enduring — the first volume appeared 35 years ago, and the series has been in print (off an on, presumably) ever since. The biggest gap (12 years) was between the third and fourth volumes, but more recently they've been more regular.
The Gates of Tagmeth was published by Baen Books on August 1, 2017. It is 368 pages, priced at $16 in trade paperback and $8.99 for the digital edition. The cover is by Eric Williams. Read the first three chapters here.
See all our coverage of the best in Series Fantasy here.